Bespoke Post Review: Does It Deliver The Goods?
Disclosure: This is a sponsored post. We received compensation and courtesy product from Bespoke Post in exchange for our honest review only. All opinions expressed here are our own.
Bespoke Post's quality of products, interesting monthly themes, and flexible subscription options, make their boxes a worthy complement to your monthly masculine lifestyle, and a fantastic gift option.
"Where'd you get that awesome bag?"
From my uncle Bespoke, of course.
"Wow, that's a sexy looking Dopp."
Yeah, that's because I've got a secret weapon.
It's name?
Bespoke Post. Limited lineups, ever-changing swagger, and a constant influx of gear that makes it look like you know what you're doing.
No one has to know that you really don't.
Unlike a lot of other boxes where you get what you're given, Bespoke Post offer themed boxes that you can either run with, or choose to skip for the month in your account settings.
No gimmicks and no playing coy. It reminds me of that phrase 'take it or leave it.'
Why do I always seem to hear that phrase when I really don't want to 'take it'?
Luckily with Bespoke Post, I usually do want to take it. All of it. But still, I'm all about the cherry picking.
I got a chance to review their popular Weekender, Refresh, and Aged boxes. My thoughts on each are below.
But first, a few notes on the company itself.
---
What Is Bespoke Post?
---
Bespoke Post is a monthly subscription service for men, delivering a constantly changing series of tailored boxes, each with a unique element to enhance your current lifestyle.
Based in New York, the brand is run by a group of guys and gals who know a thing or two about curating cool products for the modern man.
Here are a few questions to ask yourself:
Are you the kind of guy who resists hitting your local home goods store, but knows you could do with a few more 'home goods' type items around your house?
Do you know that you're going to be completely unprepared should you need to mix a drink for an unexpected female visitor?
If you answered yes to either of these questions, or if they simply intrigued you, then Bespoke Post could be for you.
Each month, Bespoke Post crafts custom boxes with different items, all relating to a select theme. You can claim one box per month for your subscription cost.
The catch is that they output more than one new box a month on average.
If you're any way indecisive, good luck and Godspeed.
Just try pulling the trigger on which one to get. I couldn't decide. So I got two.
---
The Review
---
So far, I've tried three of the most popular boxes from Bespoke Post:
Here are my mini-reviews on each.
Sign up via our links to get 15% off your first box. Your discount will be applied automatically.
If you click our links and sign up, we earn a commission at no additional cost to you.
---
Bespoke Post Weekender Review
---
There comes a time in every man's life when he needs to stop using his highschool backpack as his main form of luggage.
I'm guilty of this. I'll admit it.
I'd been looking for a great weekender bag that didn't break the bank, looked good, and could hold up to an airport sprinting session, but nothing I found checked all those boxes.
And then Bespoke Post sent along its Line of Trade bag as part of their Weekender box.
I brought this bag with me everywhere for a week, and during that time I put it through more tests than I'd even hoped to.
My new bag and I even fell down a hill together.
Here's why the Line of Trade Weekender bag from Bespoke Post is my new favorite travel buddy.
Unboxing and First Impressions
Coming home to the signature blue and brown Bespoke Post packaging is exciting. It feels like there's a present waiting at your door.
I knew that the Weekender bag was the main event in my box, but I was curious to see what else was packed alongside it. Bespoke Post makes an effort to give you the experience of opening a care package, so even if the box features one high-value item, they'll throw in some extra goodies.
There were a few Kind bars in a muslin pouch packed alongside the bag in the Weekender box. While I wasn't expecting anything big, the granola bars didn't quite compliment the bag as I'd hoped.
The bag, however, lived up to the hundreds of positive reviews. I could tell it was quality as soon as I opened the box.

The Bag
For our review, I started with a tough choice. The Weekender bag comes in olive, navy, black, gray, and natural (off-white). I liked the color options and waffled between the natural canvas and olive.
But with certain matters there isn't a choice. If pizza is on the menu, it's going in my belly. And if it comes in olive, I'm going to wear it.
So, yeah, I went with olive.
The bag is from Line of Trade, an in-house sub-brand of Bespoke Post.
Genuine leather handles and buckle straps are riveted along the top of the bag which gives the Weekender its old-world workman vibe.
A stitched cotton adjustable strap is included if you want to toss the bag over your shoulder instead of carrying it.
There's a side pocket stitched in the bag that will fit smaller toiletries, but it doesn't quite have the clearance to fit bigger bottles of hair product or cologne.
A reinforced bottom helps keep the bag flat and rounded bolts ward off wear and tear on the canvas. A two-ply aluminum frame runs around the inside of the bag, which stood up to the bend test. It also stood up to the old 'fall down a large hill' test.
In fact, let's talk about that 'test.' The Weekender took a beating and still looks great. While shooting some photos, I tried to take a shortcut down what seemed like a manageable hill. I slipped and rolled a good twenty feet down the hill, tossing and slamming this Weekender bag all the while.
After brushing the mud off (and checking if anyone saw—they did… they all did), you couldn't tell the difference. The aluminum frame didn't bend, the buckles didn't break, and neither the leather nor the canvas had a single scratch on it.
While I don't plan on falling down many more hills in my lifetime, it's good to know my bag is up to the challenge.
The Design
I took this bag with me to the gym for a day hitting the weights. In the locker room, a kind old man said "nice bag." I was just getting ready to hit the shower myself, so there's a chance he was talking about something other than my Weekender. In any case, I'm adding the compliment as another point for Bespoke Post here.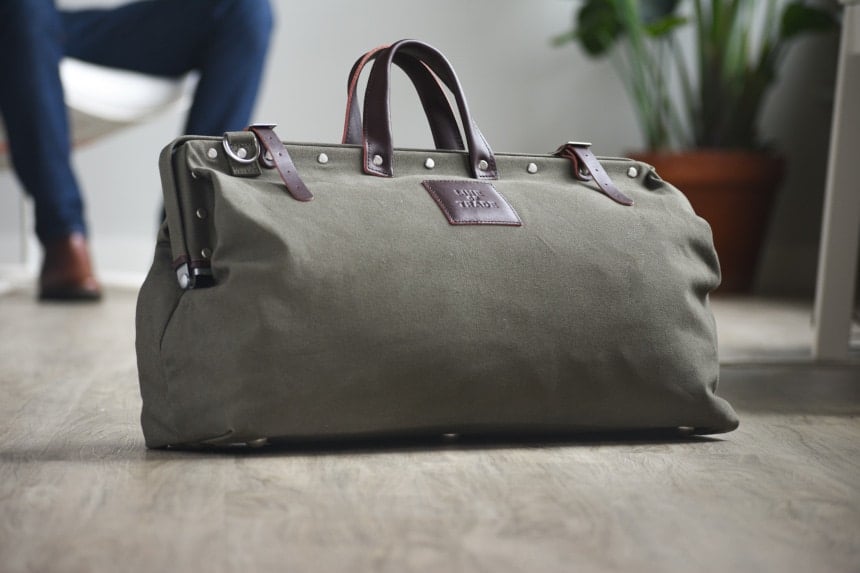 The design was based off the tool bags stone-masons used back in the day. Line of Trade kept the bag straight-forward—no zippers or extra pockets. The only flair is the embossed leather patch near the handles. The simplicity was what originally drew me to this bag, and I think anything extra would only cheapen the design.
The Size
The measurements on this bag are (L)20"x (H)12" x (W)8". Here's what that means.
I was able to fit a pair of shoes, two pairs boxers, two pairs socks, jeans, shorts, two t-shirts, a button down, a book, sunglasses, and toiletries in this bag. Note that I went full Marie Kondo with my folding. If you're the kind of guy who thinks of folding as a dying ancient art, you may fit a little less.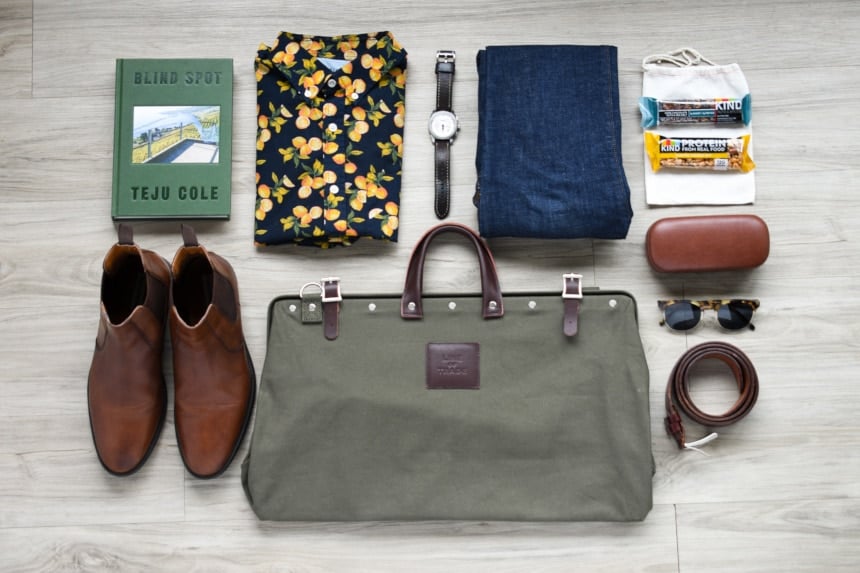 The Weekender works nicely if you're planning a two or three day trip. Anything beyond that is a stretch. But think of the name. If your weekends are longer than three days, that's called unemployment. You'll need a bigger bag for that.
The Value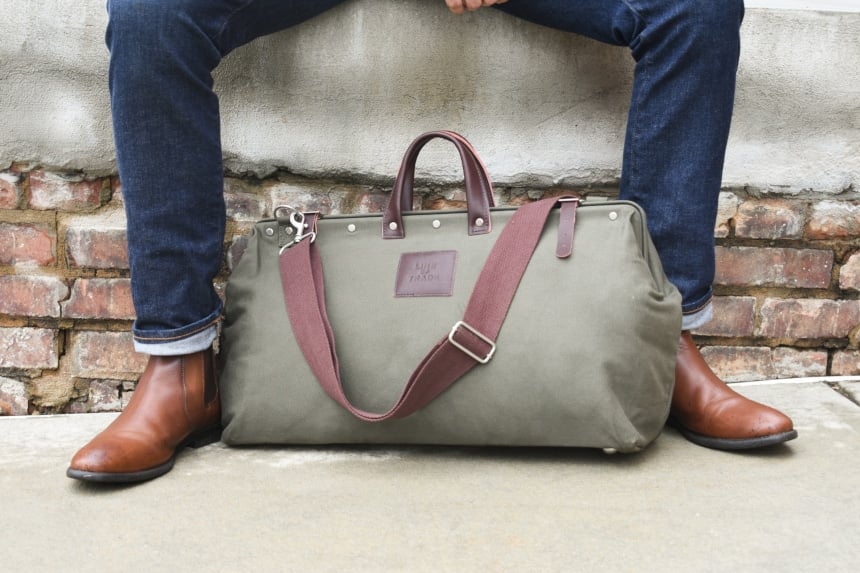 For the Bespoke Post subscription rate, the value of Weekender is hard to beat. I took a look through the reviews for other similarly priced bags, and there weren't any reliable options. Sure, there were stylish bags, but they had zippers that broke on the first use or pockets that came unstitched.
Like I said earlier, simplicity is this bag's strength. I know first hand how durable the canvas is. No unnecessary frills mean Line of Trade can match value and durability, which works for a clumsy person like me.
---
My Overall Thoughts on Bespoke Post Weekender
---
(Get 15% off your first box simply by following our links)
---
Bespoke Post Refresh Review
---
When you hit your late 20's, no one tells you that you'll be going to weddings, baby showers, and house warming parties every weekend of your life.
It's time to end the madness.
If you're a bright-eyed 26-year-old, hear this. Your late 20's and early 30's are coming.
You will celebrate. Constantly.
You'll want to have a solid Dopp kit to haul your toiletries. Mine was frayed by weekend after weekend of travel.
After adding the Weekender bag from Bespoke Post to my travel arsenal, I was curious about some of the other items they had that could upgrade my weekends away.
And then Bespoke Post's Refresh came to my door.
Could it be my home away from home? Check out my full review below.
Unboxing and First Impressions
Refresh comes with a Dopp bag from Blue Claw Co., Mitch Shampoo + Conditioner, Mitch Construction Paste, Maapilim Face Cleanser, an all-natural bar of Base Light soap, and a tube of Marvis toothpaste.
I tested each of these products for a few days. Here's what I thought;
The Dopp Kit
The highlight of Bespoke Post's Refresh kit is the Blue Claw Co. Dopp.
The bag is made from 15 oz waxed canvas and has Blue Claw's signature royal-blue ballistic nylon lining. There are four different color options available—tan, grey, navy, and olive.
I resisted the urge to go with olive, and instead chose tan. I thought the color combo would match well with the olive Weekender bag. What do you think?
Blue Claw Co. crafts their Dopp in the US with canvas sourced from American mills. I'm happy to see something homegrown with such an influx of overseas products coming in every day.
Homegrown or not, a good Dopp needs to be sturdy. Because let's be real—it's going to take a beating throughout its life. Enough airport security lines and car trunks will put any bag to the test.
I like how sturdy Blue Claw's Dopp feels given the tall order ahead of it. The waxed canvas and ballistic nylon are a solid duo that will protect my luggage if an accidental spill happens. I tugged at the stitching along the bottom and zipper as a strength test, and the Dopp passed. There was no budge in the stitching at all.
Blue Claw riveted in a leather handle which is a nice touch. The leather, brass, and canvas play well together stylistically while making the bag more convenient to carry and use.
After looking into similar Dopp kits, there wasn't anything else I could find that offered the same durability and value. I found a Dopp that had the same construction quality, but triple the price. I found others in the same price range as the Blue Claw Co. Dopp, but not with the same durability.
Shampoo
The Dopp comes fully loaded with all sorts of goodies. I was surprised to see a large bottle of shampoo packed in along with everything else.
I gave the Mitch Double Hitter 2-in-1 Shampoo and Conditioner a try. The shampoo had a nice, fresh scent which lingered for an hour or so. I have fairly short hair, so I didn't notice a significant difference between using Mitch shampoo and my regular brand.
As a side note, the shampoo comes in an eight-ounce bottle, so it'll have to be left at home or packed in checked luggage if you plan on flying anywhere with it.
Soap
My Dopp also came with a peppermint and sea salt soap from Base Light. I often make my own soap at home (yeah, I'm that guy), so I'm used to the gentle cleaning of all-natural soaps.
With olive and coconut oils as the main ingredients and no unpronounceable chemicals, the Base Light bar got the go-ahead for shower use.
I've had peppermint soap experiences where the cooling effect was so strong I felt like someone was holding a leaf-blower straight to my crotch—so, not gonna lie, I was a bit worried seeing the Base Light had added peppermint.
I liked the mild-cooling effect from the added peppermint. It wasn't nearly as strong as some other peppermint soaps I've tried. Rather than over-the-top, leaf-blower strength minty, the soap left me feeling refreshed.
Mitch Construction Paste
If you didn't think I was weird for making my own soaps, I'll surely get you with this one—I make my own hair product as well.
My hair is a tough beast. No one can cut it right. No product seems to tame it right. So I've had to go it alone and learn these things for myself.
I have curly and wavy hair, so the hair product I use needs to hold everything in place without looking greasy. I was skeptical of using a new hair product, but since Bespoke Post recommended it, I knew it was worth a shot.
The Mitch Construction Paste dried matte with a firm hold. After the paste dried, there was a bit of a crispy feeling to my hair, but I worked my fingers through and the shape held.
The Construction Paste is on the runnier side, and a nickel-sized dollop should be enough to style your hair. This product would work well for guys with straight to wavy hair.
Maapilim Face Cleanser
I gave the Maapilim face cleanser a try, and I found it worked double-duty. While it's great as a cleanser, it can also act as a fragrance.
The cleanser is scented with bergamot, jasmine, and cedarwood oils, and the fragrance lasts for a few hours. I used it during my morning shower and skipped the cologne that day. As an addition to a Dopp kit, this face cleanser almost eliminates the need to bring along a fragrance.
Some might view the strong fragrance as a negative because it could clash with a signature scent, but I took it as a positive given that it goes with a travel kit.
The Size
The Blue Claw Co Dopp is the perfect size for traveling. At (L)10" x (W)6" x (H)4", the Dopp can hold everything mentioned above plus a razor, a small shaving cream, and a toothbrush.
With those items, you'll have a snug fit. I think a great Dopp needs to strike a balance between fitting all your essentials while taking up as little space as possible in your bag. This Dopp does just that.
The Value
As I get older, I'm starting to see my purchases in a different light. I have no problem spending a bit more on high-quality products that will last me years.
The Blue Claw Co Dopp is worth every bit you spend. In fact, I wouldn't mind spending even more given that this Dopp will likely last a lifetime. The fact that the Dopp came filled with products I can use for travel only makes it a better value.
---
My Overall Thoughts on Bespoke Refresh
---
---
Bespoke Post Aged Review
---
If you want to stand out for having a great home bar, get ready to put in some work.
I've been slowly building mine over the past seven years.
And when I say "building," I don't just mean buying new bottles of liquor. To put you over the top, you need the glasses, the shakers, the tools—every little detail counts.
I'm always on the hunt for something cool to add to my bar. Maybe I'm just weird, but I genuinely enjoy looking through home-goods catalogs for their bar-ware.
This month, Bespoke Post sent me their Aged box.
Could I use another method of making cocktails to add to my bar?
Do I want a new set of whiskey glasses?
Yes, please.
I used the Bespoke Post Aged box to put a spin on three of my favorite simple cocktails.
Did it help, or was it all just for show?
Let's get into it.
Unboxing and First Impressions
The Aged edition comes with a 375ml bottle, two charred white oak cores, and two Sempli glasses.
As a home-bar builder and cup enthusiast, this month's Bespoke Post was right up my alley.
The Bottle + Oak Staves
The 375ml bottle seemed a bit small when I first opened it. With the oak staves, it holds about one-third of a bottle of spirits. When it came time to pour my aged spirit, I appreciated the size more.
Even though it seems small right off the bat, it can make about four drinks.
To test it, I aged two spirits and one cocktail. The oak gives a nice, mellow vanilla flavor to whatever you're aging. I wanted to get a feel for how the aging process changed the flavor for different liquor qualities, too.
The oak made a huge difference when I aged cheap white rum. The extra toastiness cut most of the sharp notes from the previously sub-par liquor.
I also tried the oaking process with a higher-end vodka and was really pleased with it. Vodka drinkers usually prefer the clean flavor, so they're less inclined to enjoy it aged.
But I'm more of a bourbon guy, so I figured I'd try it.
As you'll see in my recipe below, the aged vodka lends a sweet note to the otherwise dry vodka-tonic, which I enjoyed.
And last but not least, I aged a cocktail—my favorite: the Old Fashioned.
I've had a few aged mixed-drinks before, but I've never had the right tools to make one at home. A friend passed along his recipe for the best Old Fashioned I've ever had (which I'll share with you, too). I couldn't resist having a fresh version as a prepped a batch for aging.
Of the three ways I tried the oak aging process, I preferred the cocktail method. For individual spirits, I think you're better off leaving white spirits clean and clear. Leave the aging to the professionals.
The extra oak flavor was nice, but it lacked the subtlety you find in professionally aged spirits. And it makes sense. These oak staves are meant for rapid infusion. The honeycomb effect increases the surface area a lot. But to truly get the aging process down, there's no substitute for time.
But when it comes to mixed-drinks, you want to taste the spirit, but you're also playing with different flavors. The oak flavor becomes an ingredient on its own.
The standard Old Fashioned feels like a totally different cocktail from the Aged Old Fashioned. For that reason, I'll be aging another batch and leaving it on the shelf for when guests come over. It's definitely fun to bust out when guests are over.
The Aged kit gives you the chance to share some of your top-shelf stuff, even if you're buying inexpensive liquor.
White Oak Staves from Black Swan Cooperage
Black Swan Cooperage in Minnesota has been making wine, spirits, and beer barrels for over a decade. They have a variety of different HoneyComb (the kind that comes with Bespoke Post Aged) staves available.
They use White American Oak for their barrels. American oak is less expensive than French oak and imparts a stronger flavor. Personally, I like the subtlety of French oak for wine and the brashness of American oak for spirits—especially bourbon.
I think that's why I enjoyed the aged cocktail over the single spirits. The oak flavor comes through clear, and for me, it worked better treated as an ingredient rather than a substitute for time.
Sempli Cupa-Rocks Glasses
Bespoke set me up with a new way to make cocktails but didn't leave me hanging when it came time to serve.
The Aged box comes with two rocks glasses made from lead-free Italian crystal. But these aren't your grandpa's tumblers.
We're millennials and we've had it with perpendicular lines.
Sempli has crafted these rocks glasses to roll gently around a single point. Now you can finally do a sultry glass swirl with half the effort.
I've always been wary of these types of glasses because they look unstable. But when I gave them a try, they worked perfectly. And they look cool.
I still prefer my heavy-bottomed rocks glasses, but these glasses make for a great addition to my home bar. I've actually used them for wine more than I have for cocktails or spirits. They're fun to play with and add a little intrigue.
But if you haven't spent as much time obsessing over the perfect glass to serve your favorite drinks, you'll probably get a lot of use out of these.
The Value
For the subscription price, I'm happy with what I got. There's a chance I could search the internet and get the individual items for slightly less for the Aged box.
But when it comes down to it, I love the experience of opening a box and having a new project to try.
Of the three Bespoke boxes I've tried, Aged most helped me improve a part of my manly arsenal: my cocktail game. I'm usually off-and-on with my home-bar, but getting this kit got me excited about making something new to share with my friends.
That alone was well worth the cost.
---
My Overall Thoughts on Bespoke Aged
---
---
Bonus: 3 Super Easy Cocktails to Make with Bespoke Post Aged
---
I told you I was going to share my favorite Old Fashioned recipe, didn't I?
Well, here it is, along with two other mixed-drinks I made using aged spirits.
These cocktails are super easy to make and require only a few ingredients. When your Bespoke Post Aged box arrives in the mail, give these a shot and let us know what you think.
Brandt Bailey's Old Fashioned
Back in my college days, I was a waiter at Sutro's Cliff House restaurant in San Francisco. One of the waiters there, Brandt Bailey, spent years perfecting the Old Fashioned. He shared his recipe with me, and it's truly the best Old Fashioned I've ever had.
I've aged it to go along with the theme—try it both ways and see what you like.
Ingredients:
Oak Stave, Aging Bottle, Two Rocks Glasses, Sugar Cube, Angostura Bitters, Orange, Bourbon, Ice
Process:
1. In a tall glass, mix together six double-jiggers of your favorite bourbon, six dashes of bitters, and one-inch shaving from an orange peel.
2. Using a funnel, pour that mix into your aging bottle and add an oak stave. Let sit for four to six days.
3. Place sugar cube in the center of two rocks glasses.
4. For each cube, add two dashes of bitters and let sit for 30 seconds.
5. Add Ice. One large cube is preferred, but two smaller cubes will do.
6. Pour a double shot over the ice.
7. Run a strip of orange peel around the edge of the glass, squeeze the oils over the top, place the peel in the glass.
8. Give one stir and serve.
It seems complicated, but once you've made it you'll see how simple it really is.
Aged Vodka Tonic
My wife is a big vodka-tonic fan, and after a tough work week recently, I wanted to treat her to something special.
The oak flavor here adds a bit of sweetness to the otherwise dry and slightly bitter drink.
And if you want to put this one over-the-top, use a top-shelf vodka and great tonic. Yes. Great tonic. There's such a thing.
Your supermarket will likely have a few different types of tonic. If you're in the beer and wine section, browse your options. With such a simple drink, you'll want top-of-the-line ingredients.
Ingredients:
Oak Stave, Aging Bottle, Vodka, Tonic, Lime, Ice
Process:
1. Fill the aging bottle with vodka and an oak stave. Let sit for five to seven days.
2. Add ice to a highball glass. Squeeze a wedge of lime over the ice.
3. Pour two jiggers of aged vodka over the ice and let sit for ten seconds.
4. Fill the glass with tonic and serve with a slice of lime.
The Old Man and the Sea Daiquiri
Ernest Hemingway's favorite drink toward the end of his days was the Daiquiri.
It's become synonymous with the slushies one might find in a comically oversized cup while partying pool-side in Las Vegas. But the true drink is nothing like that.
It's a tropical classic. And when made true-to-form, it's unforgettable.
To go with our Aged theme, I chose the daiquiri because it was Hem's choice cocktail as he wrote his final book, The Old Man and The Sea.
When the manuscript was done, he patrolled the coast of Florida on a fishing boat, armed with a shotgun, looking for Russian submarines.
Love that guy.
To make the simple syrup, just boil a cup of water and add a cup of sugar. The ratio is one to one so you can scale that as much as you'd like. It lasts months in the fridge and it's used in hundreds of different mixed-drinks
Ingredients:
Oak Stave, Aging Bottle, Lime, Light Rum, Simple Syrup, ice
Process:
1. Age light rum with an oak stave for three to five days.
2. Add one jigger lime, two jiggers aged rum, and a half jigger simple syrup to a shaker filled with ice.
3. Shake vigorously for ten seconds. Strain into a cocktail glass and serve.
---
My Thoughts Overall On Bespoke Post
---
---
---
Getting started with Bespoke is quick and easy. They'll throw ten multiple choice questions at you with three answer choices for each.
You'll then fill out some details about your account, shipping and billing information, and you're good to go.
Each of their pages load quickly on desktop and mobile. They walk you through each step with helpful info along the way. You'll spend maybe three minutes in total.
Click here or on the button below to get started and get a 15% discount on your first box:
(your discount will be applied automatically)
---
Managing Your Bespoke Post Subscription
---
Bespoke Post is all about choice.
As part of your subscription management, the brand offers you multiple boxes to choose from monthly.
On the 1st of each month, you'll be notified via email that the new lineup is ready.
You'll see new boxes as well as some boxes carried over from the previous month. But it's all pretty refreshing stuff (this also gives you a chance to grab a box that you wanted last month when you opted for another after agonizing on the decision for 11 minutes).
You're given from the 1st until the 5th to decide what you want. If you're not interested one month, that's okay. Give it a skip.
Access your account settings, and just skip the box for that month. I really, really like this feature. Many other subscriptions would force you to cancel outright in this spot.
---
About the Bespoke Post Shop
---
The brand also has a shop on their site where they feature other items that don't form part of their subscription boxes.
The Bespoke gents keep that online store in the same philosophy of their monthly subscription. Quality. Nothing but quality.
It's all hand-selected items, curated by their team. Take a peek, there's some cool stuff there.
---
Bespoke Post Competitors: How Do They Compare?
---
Bespoke Post has been around longer than a lot of the competition, and I think their focus on quality and flexibility is a big reason for that.
Where some others focus solely on fashion, BP maintain an assortment.
While the below aren't replicas of Bespoke Post, they're popular services competing in the men's subscription box space.
SprezzaBox
SprezzaBox shoots for 5-6 items each month, both in men's fashion and men's lifestyle, with a lean toward accessories.
SprezzaBox is about half the price of Bespoke Post, and while you'll get five to six items in every box, you don't get anywhere near the same level of quality.
Bespoke Post may comparatively put less items in each box, but it's because they focus on high-end quality over quantity.
SprezzaBox is an awesome box, but it's more suited to guys looking for a great way to pad out their sock, tie, and general accessories collections.
JustFab
I had to put this here as a cautionary tale: don't waste your time. They try to compete with Bespoke Post, evening offering the same "Skip by the 5th" option. JustFab prices themselves at $40 per month just to compete.
But it isn't enough. Terrible customer service, well over 1,000 horror stories about them online. It was a mockery attempt to make a subscription service, attempting to copy the same fundamentals of Bespoke Post. Avoid at all costs.
---
Is Bespoke Post Worth It?
---
If you enjoy choice and quality in your subscription services, then Bespoke Post deserves your attention.
Yes, every once in a while you may receive an item or two that you can't find practical use for (no matter how hard you try). And this may make you question your monthly spend on that one particular box.
But on the plus side, due to Bespoke Post's overall quality, choice, and flexibility, this is a rare event. And it becomes even rarer as you get used to the service and a feel for their offerings.
This flexibility shines through with their single-month box option as well. If you're looking for a thoughtful gift that most guys will appreciate, you've found it here.
Remember, these boxes are more for men's lifestyle, not necessarily clothing. The items are themed and they're curated to improve various aspects of your life through home goods and functional items, so if you're looking for strictly a men's clothing subscription box, this isn't what you're after.
I believe that your goal with any subscription service should be either to try new things, to automate your shopping habits, or to simply add value in your life.
If you open your mind a little, you really can achieve all three with Bespoke Post.
After two boxes, I've upgraded my Dopp and added some quality grooming supplies, and replaced my old weekender bag with a new and improved one.
But the best part? I've had fun doing it.
So, is it worth it?
My head says yes. My heart says yes. And while it's not the case for every decision I make, those are all that matter for this one.
Yes.
Follow this link to get 15% off your first box with Bespoke Post (no code needed).
---
Bespoke Post Coupon Code
---
(your discount will be applied automatically)
More Subscription Box Reviews