Bespoke Post Review: Does It Deliver The Goods?
Disclosure: This is a sponsored post. We received compensation and courtesy product from Bespoke Post in exchange for our honest review only. All opinions expressed here are our own.
Bespoke Post's quality of products, interesting monthly themes, and flexible subscription options, make their boxes a worthy complement to your monthly masculine lifestyle, and a fantastic gift option.
"Where'd you get that awesome bag?"
From my uncle Bespoke, of course.
"Wow, you're pretty good at mixing drinks."
Yeah, that's because I've got a secret weapon.
It's name?
Bespoke Post. Limited lineups, ever-changing swagger, and a constant influx of gear that makes it look like you know what you're doing.
No one has to know that you really don't.
Unlike a lot of other boxes where you get what you're given, Bespoke Post offer themed boxes that you can either run with, or choose to skip for the month in your account settings.
No gimmicks and no playing coy. It reminds me of that phrase 'take it or leave it.'
Why do I always seem to hear that phrase when I really don't want to 'take it'?
Luckily with Bespoke Post, I usually do want to take it. All of it. But still, I'm all about the cherry picking.
I got a chance to review their Alchemy and Weekender boxes. My thoughts on both are below.
But first, a few notes on the company itself.
---
What Is Bespoke Post?
---
Bespoke Post is a monthly subscription service for men, delivering a constantly changing series of tailored boxes, each with a unique element to enhance your current lifestyle.
Based in New York, the brand is run by a group of guys and gals who know a thing or two about curating cool products for the modern man.
Here are a few questions to ask yourself:
Are you the kind of guy who resists hitting your local home goods store, but knows you could do with a few more 'home goods' type items around your house?
Do you know that you're going to be completely unprepared should you need to mix a drink for an unexpected female visitor?
If you answered yes to either of these questions, or if they simply intrigued you, then Bespoke Post could be for you.
Each month, Bespoke Post crafts custom boxes with different items, all relating to a select theme. You can claim one box per month for your subscription cost.
The catch is that they output more than one new box a month on average.
If you're any way indecisive, good luck and Godspeed.
Just try pulling the trigger on which one to get. I couldn't decide. So I got two.
---
The Review
---
Sign up via our links to get 15% off your first box. Your discount will be applied automatically.
If you click our links and sign up, we earn a commission at no additional cost to you.
---
Bespoke Post Weekender Review
---
There comes a time in every man's life when he needs to stop using his highschool backpack as his main form of luggage.
I'm guilty of this. I'll admit it.
I'd been looking for a great weekender bag that didn't break the bank, looked good, and could hold up to an airport sprinting session, but nothing I found checked all those boxes.
And then Bespoke Post sent along its Line of Trade bag as part of their Weekender box.
I brought this bag with me everywhere for a week, and during that time I put it through more tests than I'd even hoped to.
My new bag and I even fell down a hill together.
Here's why the Line of Trade Weekender bag from Bespoke Post is my new favorite travel buddy.
Unboxing and First Impressions
Coming home to the signature blue and brown Bespoke Post packaging is exciting. It feels like there's a present waiting at your door.
I knew that the Weekender bag was the main event in my box, but I was curious to see what else was packed alongside it. Bespoke Post makes an effort to give you the experience of opening a care package, so even if the box features one high-value item, they'll throw in some extra goodies.
There were a few Kind bars in a muslin pouch packed alongside the bag in the Weekender box. While I wasn't expecting anything big, the granola bars didn't quite compliment the bag as I'd hoped.
The bag, however, lived up to the hundreds of positive reviews. I could tell it was quality as soon as I opened the box.

The Bag
For our review, I started with a tough choice. The Weekender bag comes in olive, navy, black, gray, and natural (off-white). I liked the color options and waffled between the natural canvas and olive.
But with certain matters there isn't a choice. If pizza is on the menu, it's going in my belly. And if it comes in olive, I'm going to wear it.
So, yeah, I went with olive.
The bag is from Line of Trade, who works extensively with Bespoke Post. Genuine leather handles and buckle straps are riveted along the top of the bag which gives the Weekender its old-world workman vibe.
A stitched cotton adjustable strap is included if you want to toss the bag over your shoulder instead of carrying it.
There's a side pocket stitched in the bag that will fit smaller toiletries, but it doesn't quite have the clearance to fit bigger bottles of hair product or cologne.
A reinforced bottom helps keep the bag flat and rounded bolts ward off wear and tear on the canvas. A two-ply aluminum frame runs around the inside of the bag, which stood up to the bend test. It also stood up to the old 'fall down a large hill' test.
In fact, let's talk about that 'test.' The Weekender took a beating and still looks great. While shooting some photos, I tried to take a shortcut down what seemed like a manageable hill. I slipped and rolled a good twenty feet down the hill, tossing and slamming this Weekender bag all the while.
After brushing the mud off (and checking if anyone saw—they did… they all did), you couldn't tell the difference. The aluminum frame didn't bend, the buckles didn't break, and neither the leather nor the canvas had a single scratch on it.
While I don't plan on falling down many more hills in my lifetime, it's good to know my bag is up to the challenge.
The Design
I took this bag with me to the gym for a day hitting the weights. In the locker room, a kind old man said "nice bag." I was just getting ready to hit the shower myself, so there's a chance he was talking about something other than my Weekender. In any case, I'm adding the compliment as another point for Bespoke Post here.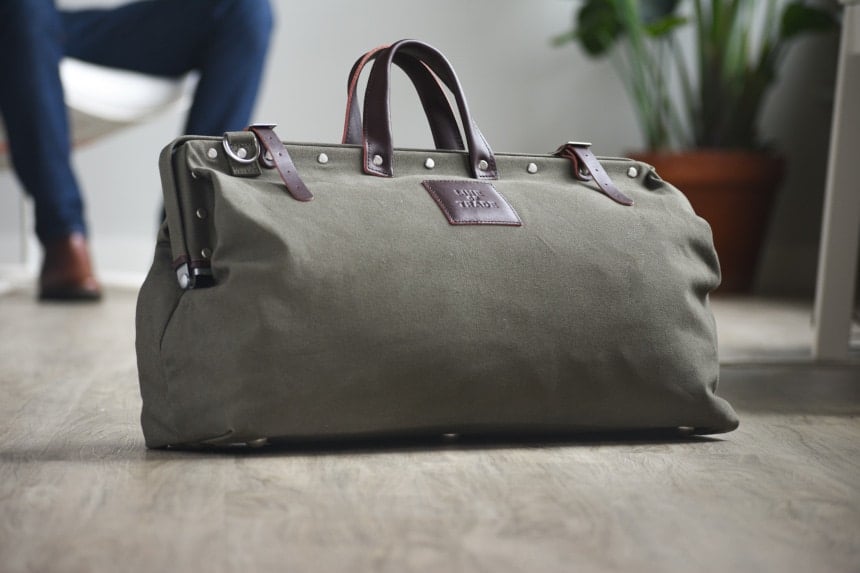 The design was based off the tool bags stone-masons used back in the day. Line of Trade kept the bag straight-forward—no zippers or extra pockets. The only flair is the embossed leather patch near the handles. The simplicity was what originally drew me to this bag, and I think anything extra would only cheapen the design.
The Size
The measurements on this bag are (L)20"x (H)12" x (W)8". Here's what that means.
I was able to fit a pair of shoes, two pairs boxers, two pairs socks, jeans, shorts, two t-shirts, a button down, a book, sunglasses, and toiletries in this bag. Note that I went full Marie Kondo with my folding. If you're the kind of guy who thinks of folding as a dying ancient art, you may fit a little less.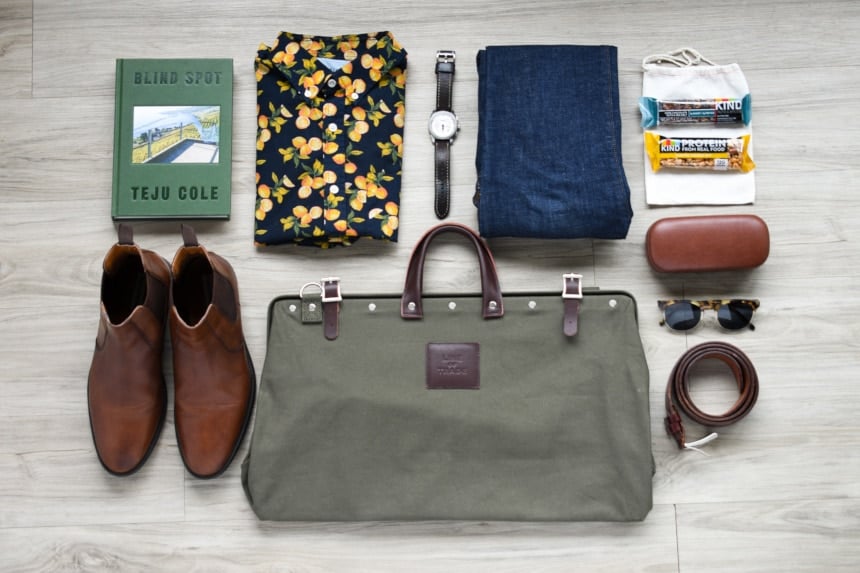 The Weekender works nicely if you're planning a two or three day trip. Anything beyond that is a stretch. But think of the name. If your weekends are longer than three days, that's called unemployment. You'll need a bigger bag for that.
The Value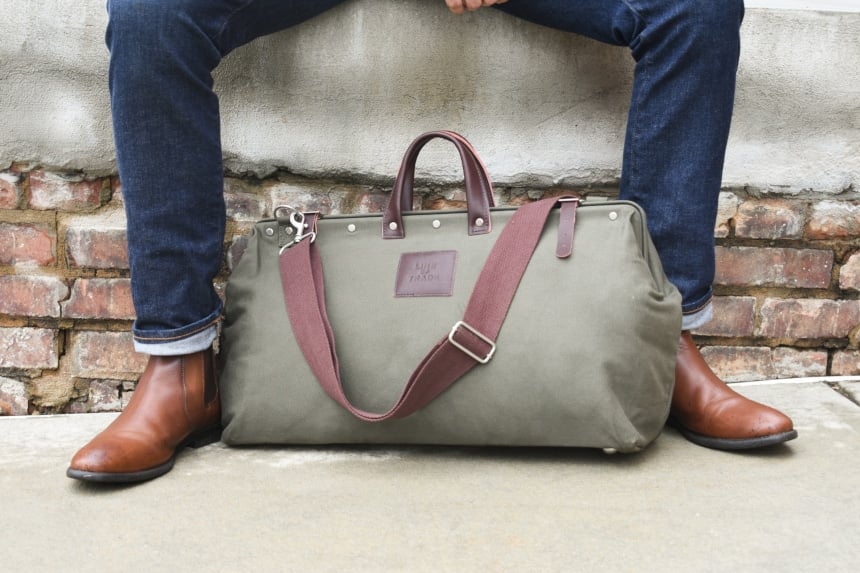 For the Bespoke Post subscription rate, the value of Weekender is hard to beat. I took a look through the reviews for other similarly priced bags, and there weren't any reliable options. Sure, there were stylish bags, but they had zippers that broke on the first use or pockets that came unstitched.
Like I said earlier, simplicity is this bag's strength. I know first hand how durable the canvas is. No unnecessary frills mean Line of Trade can match value and durability, which works for a clumsy person like me.
The Alchemy box is a carefully selected mix of barware from Cocktail Kingdom®. You get a shaker, barspoon, jigger, strainer, bitters, and a large ice cube tray.
I went for this box because the cocktail kit I had was a cheapo version and it was getting old. I've been meaning to get a new high quality set and this one looked the business.
The entire set has a quality feel to it. The bar spoon and jigger are sturdy and hold well in your hand. And the two Boston Shaker tins (featured here on the Wirecutter) fit neatly over each other (this wasn't the case with my old kit after a year or so of use and cleaning).
I had never used a silicone ice cube tray before, but now it'll be tough to go back. It creates larger cubes to slow melting so your cocktail doesn't end up watery.
---
My Thoughts Overall On Bespoke Post
---
---
---
Getting started with Bespoke is quick and easy. They'll throw ten multiple choice questions at you with three answer choices for each.
You'll then fill out some details about your account, shipping and billing information, and you're good to go.
Each of their pages load quickly on desktop and mobile. They walk you through each step with helpful info along the way. You'll spend maybe three minutes in total.
Click here or on the button below to get started and get a 15% discount on your first box:
(your discount will be applied automatically)
---
Managing Your Bespoke Post Subscription
---
Bespoke Post is all about choice.
As part of your subscription management, the brand offers you multiple boxes to choose from monthly.
On the 1st of each month, you'll be notified via email that the new lineup is ready.
You'll see new boxes as well as some boxes carried over from the previous month. But it's all pretty refreshing stuff (this also gives you a chance to grab a box that you wanted last month when you opted for another after agonizing on the decision for 11 minutes).
You're given from the 1st until the 5th to decide what you want. If you're not interested one month, that's okay. Give it a skip.
Access your account settings, and just skip the box for that month. I really, really like this feature. Many other subscriptions would force you to cancel outright in this spot.
---
About the Bespoke Post Shop
---
The brand also has a shop on their site where they feature other items that don't form part of their subscription boxes.
The Bespoke gents keep that online store in the same philosophy of their monthly subscription. Quality. Nothing but quality.
It's all hand-selected items, curated by their team. Take a peek, there's some cool stuff there.
---
Bespoke Post Competitors: How Do They Compare?
---
Bespoke Post has been around longer than a lot of the competition, and I think their focus on quality and flexibility is a big reason for that.
Where some others focus solely on fashion, BP maintain an assortment.
While the below aren't replicas of Bespoke Post, they're popular services competing in the men's subscription box space.
SprezzaBox
SprezzaBox shoots for 5-6 items each month, both in men's fashion and men's lifestyle, with a lean toward accessories.
SprezzaBox is about half the price of Bespoke Post, and while you'll get five to six items in every box, you don't get anywhere near the same level of quality.
Bespoke Post may comparatively put less items in each box, but it's because they focus on high-end quality over quantity.
SprezzaBox is an awesome box, but it's more suited to guys looking for a great way to pad out their sock, tie, and general accessories collections.
JustFab
I had to put this here as a cautionary tale: don't waste your time. They try to compete with Bespoke Post, evening offering the same "Skip by the 5th" option. JustFab prices themselves at $40 per month just to compete.
But it isn't enough. Terrible customer service, well over 1,000 horror stories about them online. It was a mockery attempt to make a subscription service, attempting to copy the same fundamentals of Bespoke Post. Avoid at all costs.
---
Is Bespoke Post Worth It?
---
If you enjoy choice and quality in your subscription services, then Bespoke Post deserves your attention.
Yes, every once in a while you may receive an item or two that you can't find practical use for (no matter how hard you try). And this may make you question your monthly spend on that one particular box.
But on the plus side, due to Bespoke Post's overall quality, choice, and flexibility, this is a rare event. And it becomes even rarer as you get used to the service and a feel for their offerings.
This flexibility shines through with their single-month box option as well. If you're looking for a thoughtful gift that most guys will appreciate, you've found it here.
Remember, these boxes are more for men's lifestyle, not necessarily clothing. The items are themed and they're curated to improve various aspects of your life through home goods and functional items, so if you're looking for strictly a men's clothing subscription box, this isn't what you're after.
I believe that your goal with any subscription service should be either to try new things, to automate your shopping habits, or to simply add value in your life.
If you open your mind a little, you really can achieve all three with Bespoke Post.
After one month and two boxes, I've upgraded my barware, replaced my old weekender bag with a new and improved one, and I've had fun doing it.
So, is it worth it?
My head says yes. My heart says yes. And while it's not the case for every decision I make, those are all that matter for this one.
Yes.
Click this link to get 15% off your first box with Bespoke Post (no code needed).
---
Bespoke Post Coupon Code
---
(your discount will be applied automatically)
---
More Subscription Box Reviews
---