TRUWEAR Review: Make Room for the New Kid on the Block
Disclosure: This is a sponsored post containing affiliate links. We received compensation and courtesy product from TRUWEAR in exchange for our honest review only. All opinions expressed here are our own. What's this?
TRUWEAR launched their first line of performance menswear designed for the office just last year. Even as a new brand, their focus on the details results in comfortable, flexible menswear that keeps up no matter how active your lifestyle.
Back when I was a high school teacher, I started up a dodgeball team for the kids.
On Wednesdays, they'd all go into a forgotten room on the wing of the gym and take their aggression out on each other. It was great.
I'd get in on the action, too. I'd really huck it at them.
But I had to take a step back one day. No, it wasn't because I'd accidentally pelted a kid in the face (like that would ever stop me). It was because I went to duck under an incoming ball and my pants exploded.
Yes, the whole seat of my pants tore right open. Nothing was exposed thankfully, but I still had a room of 16-year-olds laughing at me.
And I thought I'd escaped high school with only minor trauma.
But it taught me an important lesson about wearing the right clothes for the job.
At the time, TRUWEAR didn't exist.
They've created a line of professional shirts and pants that, in their words, bridge the divide between style and functionality. In my words, they're pants that you can be both a teacher and a dodgeball coach in.
You can bet if I was wearing TRUWEAR pants that fateful day, that embarrassing mishap wouldn't have happened. Maybe then, I'd still have a deep passion for dodgeball.
But the question remains: is TRUWEAR right for you? I took their shirts, pants, and joggers for a spin and compared them to other performance menswear brands. My verdict is in.
---
What Is TRUWEAR?
---
TRUWEAR launched in November 2019. So yeah, they're the new kid on the block.
But their launch is impressive, with nine long sleeve professional shirts, eight short sleeve shirts, a pair of pants, joggers, ties, socks, and even a backpack.
TRUWEAR's goal is to take over your professional wardrobe, supplying you with everything you need to comfortably go through your workday.
Not only that, but they're backed by an upcoming NFL star.
Taysom Hill
Taysom Hill, quarterback for the New Orleans Saints, is a founding partner of TRUWEAR.
Now, I won't lie to you—the only football game I watched this year was the Super Bowl. And I couldn't make it past the third quarter. So that's just to say I'm not a huge NFL guy. But I looked up some Taysom Hill highlights to learn more, and this is what I found:
For a quarterback, his highlights are all over the place—kick returner, defense, running back, receiver. Taysom Hill is a beast.
I don't know many current NFL players, but I'm sure there aren't many players out there who serve as many roles as Taysom Hill. Seriously, what kind of backup QB also returns kicks? Amazing.
But let's get to the heart of this thing: yes, TRUWEAR is a new brand backed by an NFL phenom, but are their clothes any good?
After testing the brand for a few weeks, I'm ready to tackle that question.
---
TRUWEAR Unboxing & Review
---
For our review, TRUWEAR sent over one of their shirts, their pants, and a pair of joggers to try.
While I'm not a dodgeball coach anymore, I still put these items through the paces to see if they truly were a bridge between professional style and performance.
Phenom Professional Shirt
I picked up a Phenom long sleeve shirt in light blue gingham. When looking through their site, I noticed that most options were some variation on blue.
As a new brand, I understand they need to focus on the most popular colors, but it would be nice to see a pink, black, or even a patterned red (though the red they have available is awesome) Feb 20 update: Black shirts are now live. Obviously, this doesn't speak to the quality of the shirt, and I'm sure they'll continue to expand their collection.
I really liked the fit of the Phenom shirt. I'm on the border between medium and large, and unless I have previous experience with the brand, I always size down. So I went with a medium, slim.
The shirt is snug but not too tight around the chest and arms. One thing I've noticed from a few menswear brands is that slim fits still have regular collars and cuffs. So when you try the shirt on, it fits through your torso and arms, but the cuffs don't match that same tailored look.
It can become an issue, especially if you're wearing a sport coat or blazer.
But TRUWEAR keeps the tailored look through their cuff and collar, too.
Even though the shirt was a trim fit, it was easy to move around in, and it looked great with the sleeves rolled up.
The fabric is crisp, and the collar has plenty of structure which means it's perfect for the office.
Some of TRUWEAR's short sleeve shirts, particularly the ones with the breast-pocket, seem like they'd be better in a casual or business-casual wardrobe. But the long-sleeve Phenom is perfectly suited for office-wear. There's nothing loud or obnoxious about it—just a great fitting shirt you can freely move around in.
Prodigy Performance Pants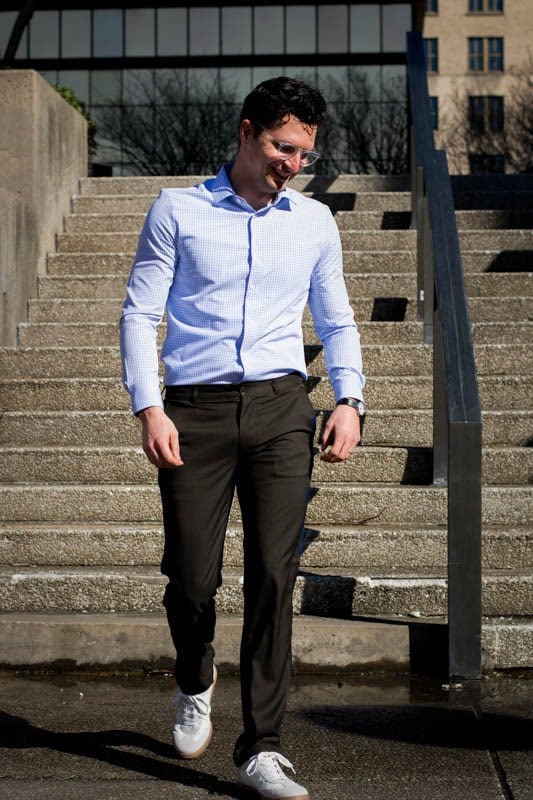 You can't go to the office without pants. Trust me, I learned the hard way.
Ok, no I didn't. It was a joke. But I've had plenty of dreams where I went to the office with no pants. Very embarrassing.
The first thing I noticed about the Prodigy pants was the cool shirt grips along the waistband. These are invaluable for keeping your shirt tucked and in-place. The rubber grips the shirt so it's less likely to move around if you twist and turn throughout the day. Which we all do because we're humans and we like to move.
The fit was good—plenty of room in the seat and thigh, but still tailored looking. I liked how much stretch there was in these pants. Since the dodgeball incident I mentioned in the intro, I'm inherently fearful whenever I wear professional slacks.
But as I continued to wear these pants throughout the week, I felt like a superhero slowly discovering their abilities.
One day I learned I could move my knee up to my chest without them ripping. The next day I discovered my ability to bend down and grab something from the floor without them exploding. And at one point, I went for the whole thing—I tried a flying jump kick.
Voila. No problems with the pants, and as a bonus, the shirt grips kept my shirt in place.
Peak Lifestyle Jogger
TRUWEAR understands we can't just be "all-work all the time." You've got to have those moments of downtime, too. Time to spend chilling around the house, being with your family, traveling, and enjoying all the fruits of your labor.
That's why they've added the Peak Lifestyle jogger to their lineup.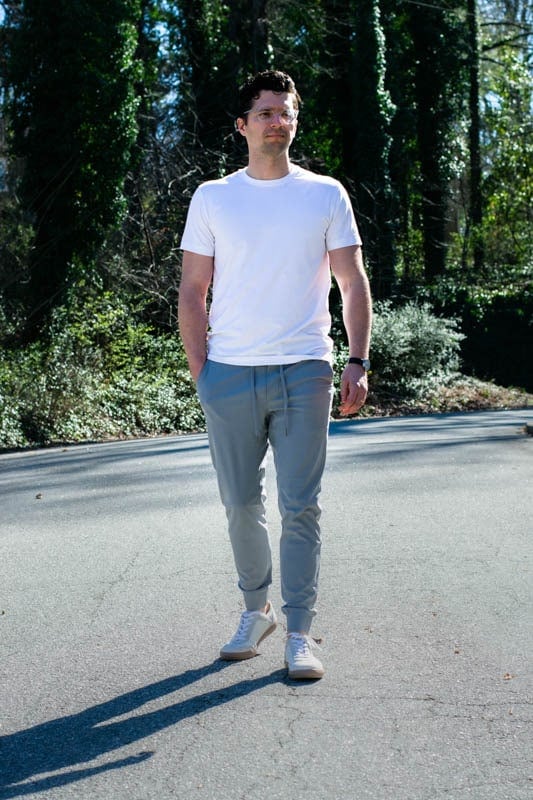 And what can I say? These are excellent lounge pants. But more than that, their modern tapered cut is perfect for Saturday morning strolls to the farmer's market and taking care of errands.
And if you love a good workout, these joggers are perfect. The two zippers at the back mean you can safely stow your wallet or whatever else you may need on your way to the gym.