Separatec Men's Pouch Underwear Review
Disclosure: This is a sponsored post containing affiliate links. We received compensation and courtesy product from Separatec in exchange for our honest review only. All opinions expressed here are our own. What's this?
It takes a little time to get used to separating your main man and your boys in your underwear. But when it all clicks, you'll wonder why you didn't give Separatec a try sooner.
You know the feeling.
Laundry day is long overdue and you've let yourself get down to that pair of underwear.
They're at least a size too small, the elasticity is shot, and they're now grey when they were navy.
But there's just something about them. They've been by your waist for so many of your fondest memories.
Did you meet your wife in them? Were they there when you got that big promotion? Did they definitely earn you the win in that badminton game?
It doesn't matter. It's personal. You're not giving up on them. Not this year.
So you climb in. And ten minutes later you instantly remember why they're always the last pair of briefs in your closet.
Your junk is squashed together like a tin of sardines. And they're no less dry.
This leads me to a question.
What if there was an affordable pair of men's underwear that took separation seriously?
I wanted to find out if Separatec's Men's Pouch Underwear was the answer. So I gave them a good old fashioned go for a few weeks.
My thoughts are below.
---
What is Separatec?
---
Founded in 2010, Separatec class themselves as men's underwear specialists.
They currently make boxer briefs, trunks, and sport underwear. And they're a big part of the pouch revolution that has been going on for a few years now in men's underwear.
The brand states that their mission is "to ensure men's health and well-being with their patented technology and innovative designs."
Alright, I know what you really want me to explain.
That pouch.
Separatec's idea was to form-fit your package into a pair of underwear.
1 penis + 1 scrotum = two pouches.
After 8 years of trial and error (and I'm guessing plenty of scrotum stuffing), they've now patented their design in the US and Europe.
Check out Separatec's page on Amazon for more info including some sales guff about why they think they're better than the rest.
Also, there's this:
---
How Does It Work?
---
They say pictures speak louder than words. In this case, I tend to agree: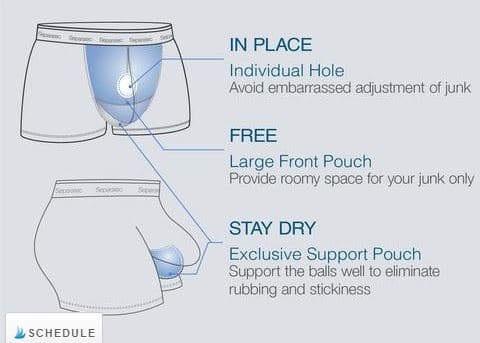 Alright, so what did I think of Separatec? Here is my review after a few weeks of wear.
---
Separatec Colorful Cotton Boxer Briefs Review
---
I tried the Separatec Colorful Cotton Boxer Briefs 7 Pack (Everyday Logo).
---
Features
---
You can choose either colorful or all black with a colored waistband. I like living dangerously so I went for the colorful pack.
The briefs feature a 6.5 inch leg and are 96% cotton and 4% spandex. Prefer a little less length in your briefs? Separatac also have a 2.5 inch version .
The fabric is 'cotton stretch' which is really quite comfortable. I've also found the shape to retain pretty decently, even after a couple of wears. The waistband doesn't have any internal ridges so you won't get those annoying marks around your waist that you get from cheaper underwear.
The briefs have an 'Ezy-off tag' which is a nice touch. There's nothing more annoying than having to cut off a tag with scissors but you can never quite get it all off so the remnants of the tag dig into your lower back all day. The tag comes all the way off with one quick peel.
Let's be real though. The major drawcard of these briefs is their patented dual pouch technology. As pictured in the diagram above, the idea is that your boys get support and airflow in the lower pouch while your main man is kept 'Separatec'd' in the exclusive front pouch.
There's also a functional fly so you don't need to readjust everything when nature calls.
---
My Thoughts
---
---
Get Separatec In Your Life, Too
---
Last update on 2020-04-01 / Affiliate links / Images from Amazon Product Advertising API
What do you think of Separatec? Let us know in the comments.