Johnston And Murphy Shoes Review: Are They Truly Presidential?
Disclosure: This is a sponsored post. We received courtesy product from Johnston & Murphy in exchange for our honest review only. All opinions expressed here are our own.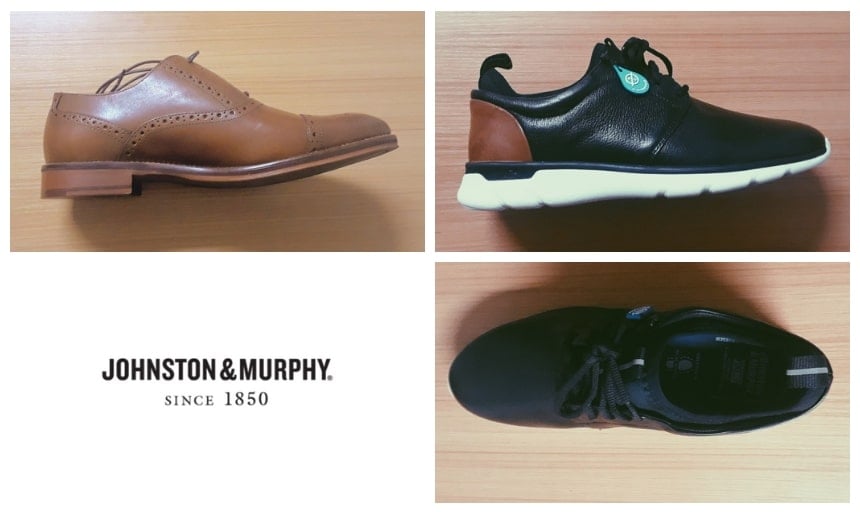 Johnston & Murphy design their shoes with the purist in mind. Their comfort and durability exceed other similarly priced mid-range brands, even though they can lack the support and finer detail of their higher priced competitors.
With the XC4® Prentiss, J&M has blended high-quality leather with a full rubber outsole, and I have to say, they've executed it well.
As an added touch, I enjoy the extra laces which feature a white stripe down the middle. This kind of unexpected extra always adds a positive feeling to an unboxing experience.
And I like that I can now easily diversify my style.
Support is the name of the game with Prentiss. Between the cushioned sock liner and sturdy insole, I've enjoyed walking around in these. Much like the Conards, they're super comfortable.
These come with natural waterproofing thanks to the solid leather exterior. I took them out on one of the saddest, rainiest days yet this Winter, and yep—the verdict is in:
My socks stayed dry.
I wouldn't use these as trainers, but they do mimic the breathability of a quality running shoe.
---
Are Johnston & Murphy Shoes Worth Buying?
---
Johnston & Murphy shoes are built to last and look stylish. They do take some time to break in, which I see as a testament to their durability.
Overall, I rate them as a slight step-up from the other mid-range dress shoes and sneakers I have in my collection.
Even with the few issues mentioned, the value for money makes them well worth the investment, particularly if your budget is within the $150 to $250 range.
From what I've read and from my own experience, with J&M you don't only get what you pay for.
You get more than that.
And that's clearly why they're still custom designing shoes for Presidents.
Click here to check out J&M's entire range on their online store.