Gentleman's Box Review: Do The Premium Details Add Up?
Disclosure: This is a sponsored post. We received compensation and courtesy product from Gentleman's Box in exchange for our honest review only. All opinions expressed here are our own.
Gentleman's Box delivered big value going for quality over quantity, and while some items could have used more attention to detail, this package helps complete the image of the modern gentleman.
Heads up: If you're a new subscriber, use our special code "TAM20" for 20% off your first box from Gentleman's Box.
---
Dress for the job you want, not the job you have.
We've all heard it a thousand times.
If you're here, you know a thing or two about style already.
You may have already established yourself as the most fashionable guy in the office. But we both know how hard it is to stay on top of your fashion game when you work long hours.
So how are you going to defend your title as the most stylish guy?
As it turns out, it's not hard to keep your outfits looking new and fresh. It's all in the details.
That's where Gentleman's Box comes in.
They aim to outfit guys with new stylish accessories every month, and they even offer a quarterly subscription with some big-ticket items every guy needs.
Gentleman's Box sent me their Fall 2019 Premium package to check out.
Were they able to pack worthwhile products, or are they just another subscription company filling packages with bargain-basement deals?
Keep reading to see my full review.
---
What is Gentleman's Box?
---
John Haji, the founder of Gentleman's Box, worked in the automotive industry years ago. A lifelong lover of fashion, long hours at work meant he was having trouble keeping his style game on par.
While visiting a friend, John came upon Birchbox, a grooming and skin-care subscription.
What if there was a way, he thought, to deliver classy accessories to guys who just don't have the time?
The idea for Gentleman's Box was born.
The company launched in the Spring of 2014 and has been delivering men's accessories ever since.
Haji has made a simple promise that's helped the steady growth of his subscription service—every Gentleman's Box offers at least three times the value of what it costs.
Not only that, but every subscriber also gets a 1-year subscription to GQ magazine on signing up. Not a bad perk.
There are two subscription options:
Gentleman's Box has a new release every month based on a famous gentleman. Whether it's Jack Nicholson or Jason Momoa, these packages are filled with little details that paint a dapper picture.
Generally, the Classic subscription features a tie and a pair of socks. Beyond that, you'll find cufflinks, tie-bars, lapel pins, bracelets, headphones—the small things that busy guys love but never find the time to buy.
For those that want access to even more high quality accessories, Gentleman's Box offers a premium subscription, too. It's delivered quarterly rather than monthly and is packed with a few high-end goodies.
Featuring four to six items, the Premium box still keeps the 3x value promise. These items are high-end accessories—the kind of details that make a truly distinguished man.
For our review, Gentleman's Box sent us their Fall 2019 Premium edition. With the heat of summer fading away, I couldn't wait to join over 40,000 guys in learning what this quarter's box was all about.
---
---
Packaging
The packaging for the Premium subscription is great. It's large but still easy to handle.
Fall 2019 featured The Commuter Edition.
Everything was neatly wrapped and carefully placed, and I enjoyed reading the accompanying booklet. I was able to learn all about the individual companies that produced the items in the package. Plus, the note from the founder, John Haji, was a great touch.
Modern Made Man Leather Backpack
The largest item in The Commuter Edition is the leather backpack from Modern Made Man.
Retailing at $169, the price of the backpack is greater than the cost of the Premium subscription.
That's a good start.
The design is clean and minimalist. I love the strap across the top of the bag and it helps a surprising amount when traveling.
There are three major pockets in the bag—one in the back for a laptop, a main compartment, and a smaller pouch in the front.
The laptop pocket features a dedicated space to stow your computer when you're on the go. There's a button-down strap you can secure across the top, which is great for when you set your bag down. The padding in this pocket is pretty sparse—it feels like a thin layer of styrofoam—so you're not getting a ton of protection.
The main compartment has plenty of spaces for pens, wallet, cellphone, a book—whatever you need for your daily commute. Modern Made Man put some thought into how this bag would be used and went the extra mile to make sure it was a great value.
The front pouch is just a front pouch. Nothing special. But I like the look and I appreciate the extra space.
I love the leather pulls on the zippers. I took this bag out with me for a workday during one of North Carolina's first true fall days. After a hot and humid summer, 40 degrees was feeling pretty chilly (the whole state of Washington is laughing at me). The leather zipper-pulls really made a difference in how easy it was to open the bag. They're not just for looks.
This leather backpack isn't easy to adjust on the shoulders. You have to work at it. But I like the silver and leather look, so I'll take the stiff adjustment hoops.
To be honest, I don't think I'd pay $169 for this bag. That being said, I'd value it at nearly the cost of a Gentleman's Premium subscription. So just with the first item, I'm feeling like it was worth it.
But that's just the beginning. There's still the rest of the box to go.
Armoir Fashion Leather Portfolio
Next up is the Armoir Fashion Leather Portfolio.
This simple leather design has a very rustic appeal to it. There are plenty of places to see the unique leather grain, complete with scuff marks and defects.
I dig the rustic look, and I'll definitely get a lot of use out of this piece. It does appear to be made from scrap leather, though. The stitching is a bit uneven and the edges are unburnished. Armoir Fashion isn't sending a fine-finished piece, and a little effort could've gone a long way.
The leather portfolio is exactly the reason I like subscription services. It's a small item that I'd never think to get for myself. But once I see it, I can think of ten different ways to use it. And while it's not a deal-breaker, I would have liked a little more attention to detail from Armoir Fashion.
Andar Leather Corditos
What the heck are corditos?
I'll tell you.
They're awesome, that's what they are.
The Fall 2019 box packs three of these super simple leather patches that save a world of headache.
I love a simple design that saves frustration. The Andar Corditos are perfect for packing headphones and charger cables. Since I work from cafes a lot, I'm always stashing cords for my camera and computer. These have come in handy nearly every day since I first got them.
I wish I had twenty, but three will have to do for now.
Gentleman Collective Umbrella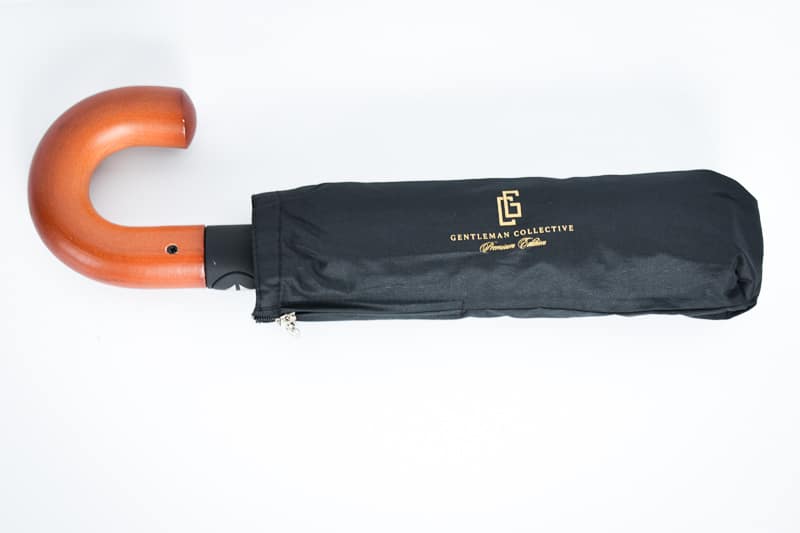 The Gentleman Collective umbrella couldn't have come at a better time.
In my move from California to North Carolina, I didn't pack an umbrella. It's crazy. It literally never rains in Cali. And when it rains in North Carolina, it's the sort of rain that makes you want to build a boat and start herding pairs of animals.
Still, for the last year, I've been totally unprepared. I actually had an umbrella in my Amazon cart but hadn't hit the buy button yet.
So that's a total win for Gentleman's Box. They sent me something I didn't have and I was willing to buy on its own. A lot of times with subscription services, you're getting cool items that you like but don't need. This one was different.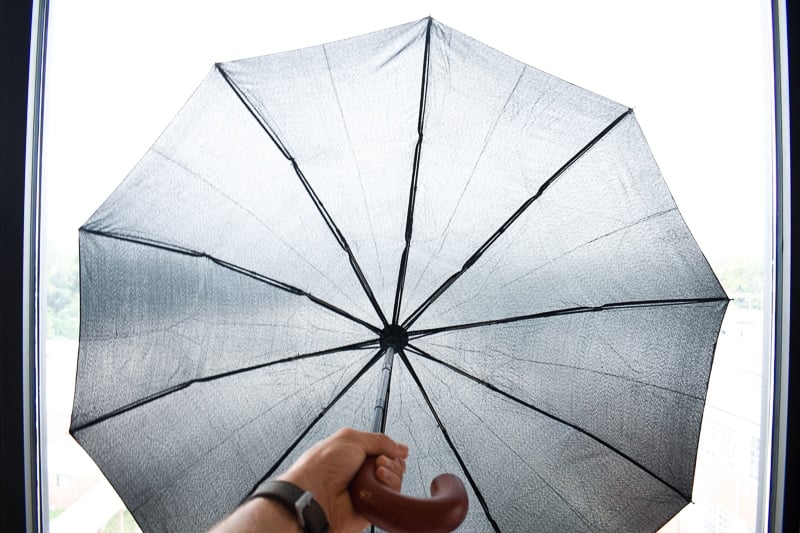 I haven't personally used my umbrella yet, but you know who has? My wife.
It was a stormy day and she was about to leave for work. She pulled out a paper grocery bag to hold over her head (because she knew we didn't have an umbrella) and was about to leave. I stopped her. Bam. Umbrella. Such a gentleman I am.
---
What Others Say About Gentleman's Box
---
Over 450 reviews on Trustpilot average out to over 4 stars—earning them a "Great" rating. 50 Amazon ratings come to the same conclusion.
The Youtube community also has great things to say about their experience with both the Classic and Premium subscriptions to Gentleman's Box.
One issue that came up is their "call-to-cancel" policy. They claim it's so they can gather feedback from the community, but it also makes canceling more difficult.
Other unhappy reviewers just didn't care for the look of the items they were getting. Your best bet is to take a look at previous shipments. If you don't like what you see, you won't like what's coming.
On the flip-side, if you like what you see, you can expect more great things every quarter or every month.
Based on all the online-love, most people agree that Gentleman's Box offers a great value for the cost.
---
Get Gentleman's Box In Your Life, Too
---
(Use code TAM20 for 20% off your first box)
---
Gentleman's Box Discount Code
---
Use code "TAM20" for 20% off any box (new subscribers only):
More Subscription Box Reviews