DreamCloud Mattress Review: Is It Worth Floating On?
Disclosure: This is a sponsored post containing affiliate links. We received compensation from DreamCloud in exchange for our honest review only. All opinions expressed here are our own. What's this?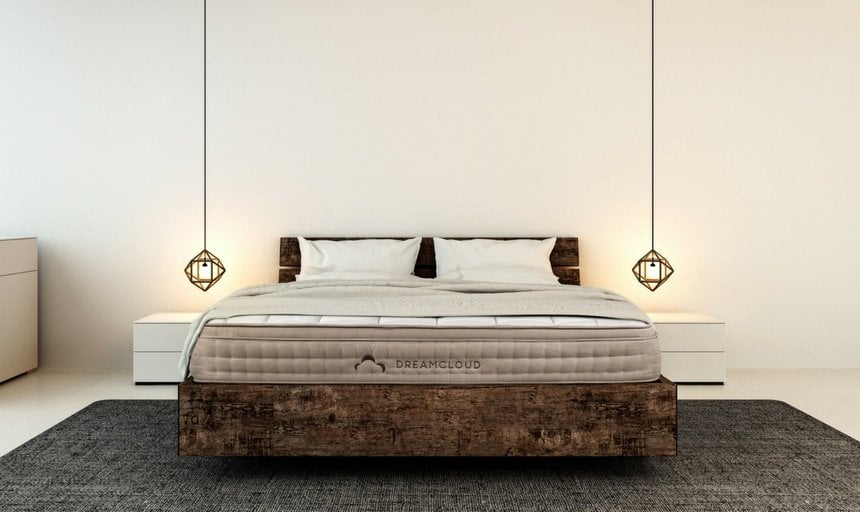 If you've ever wondered what it'd be like to sleep on a cloud, you can't get much closer than this.
Although it's a relatively new entrant to the luxury hybrid mattress scene, DreamCloud's quality of build, and industry-leading warranty options offers you peace of mind and value-for-money you'll struggle to match elsewhere.
"I get by on four hours of sleep a night."
"Yeah, well, I'm running on two and still made it to the gym this morning."
We've all heard the guy bragging about how little sleep he needs.
Hey, you've probably done it yourself.
But let's be real.
Sleep is crucial to staying healthy and productive—and the quality of your mattress matters more than you think.
That's why we decided to take a look at DreamCloud, the new luxury hybrid mattress brand that have been stirring up a major buzz since they arrived on the better-sleep scene last year.
Their namesake mattress, the "DreamCloud" is a fair whack cheaper than many other high-end mattresses we found. And they deliver straight to your door.
We've looked in depth at the DreamCloud's features, pros, and cons to see if it lives up to the hype.
---
Why Is It Important For Guys to Get a Good Night's Sleep?
---
We spend about a third of our lives sleeping (well, if we're lucky).
And it's not lost time.
Getting enough sleep is crucial to your health, happiness, work performance, and even your relationships.
And though it's important for everybody, there's evidence that guys are actually more affected by sleep deprivation than women, and that their internal clocks are set to wake up later in the day.
Though we often underestimate the power of sleep, it's key to staving off depression and anxiety, staying alert, and avoiding the irritability that can kill your everyday mood fast.
And as it turns out, there's not just "beauty sleep," but "brawn sleep," too.
Sleep helps you build and maintain muscle, lose fat, and stay more mentally focused.
---
How Can a Good Mattress Make a Difference?
---
Why consider a luxury mattress like DreamCloud at all?
All those nights on hostel mattresses and dorm room twin beds (remember being wedged in there with a stranger?) might have seemed harmless, but a good mattress actually matters quite a bit.
Obviously, a bad mattress can make you do that neck-cracking thing your girlfriend hates and force yourself to begrudgingly consider yoga, but it can also add to your overall stress level. A new, high-quality mattress can decrease your overall pain and even increase your work productivity and life satisfaction.
That's where quality mattresses like DreamCloud come in. Let's break it down.
---
The first thing to know about the DreamCloud mattress is that it's ultra-tall at 15 inches (leaving room for all those different layers). It comes in several sizes ranging from twin to California king.
DreamCloud is a "hybrid" mattress, meaning it's got all the premium bells and whistles you'd expect from a high-end mattress in one comfy package.
It has eight layers of dense memory foam and natural latex. Encased hypoallergenic coils make for a deep, plush night of sleep. And don't worry if you have a latex allergy; the latex layer is deep within the mattress, so you're unlikely to be affected.
DreamCloud is topped off by a "hand-tufted" (meaning hand-woven) Cashmere blend cover. The double tufting leaves the mattress soft-yet-firm—you know, I think I've heard that phrase somewhere before?
Now, here's the key thing that sets DreamCloud apart: It's a direct-to-consumer mattress, meaning it gets shipped and delivered for free right to your door.
This is what allows DreamCloud to charge you less (from $799 for a twin to $1,499 for a Cal king) for premium construction, because direct delivery (mostly) cuts out the middleman.
And you get peace of mind as well. DreamCloud's Everlong warranty means that you have a full year to decide if DreamCloud is right for you, and if you (or anybody you share your bed with) isn't into it, you can return it for a full refund.
---
Conclusion
---
Well, you've floated all the way to the end of this review.
So tell us.
Have you tried a DreamCloud mattress? We'd love to hear what you think. Chat with us about it in the comments.
If not, why not give it a try? With their Everlong warranty and 365-night trial, you've only got great sleep to lose.
Further reading: