The Personal Barber Subscription Box Review: A Classic Shaver's Dream?
Disclosure: This is a sponsored post containing affiliate links. We received compensation and courtesy product from The Personal Barber in exchange for our honest review only. All opinions expressed here are our own. What's this?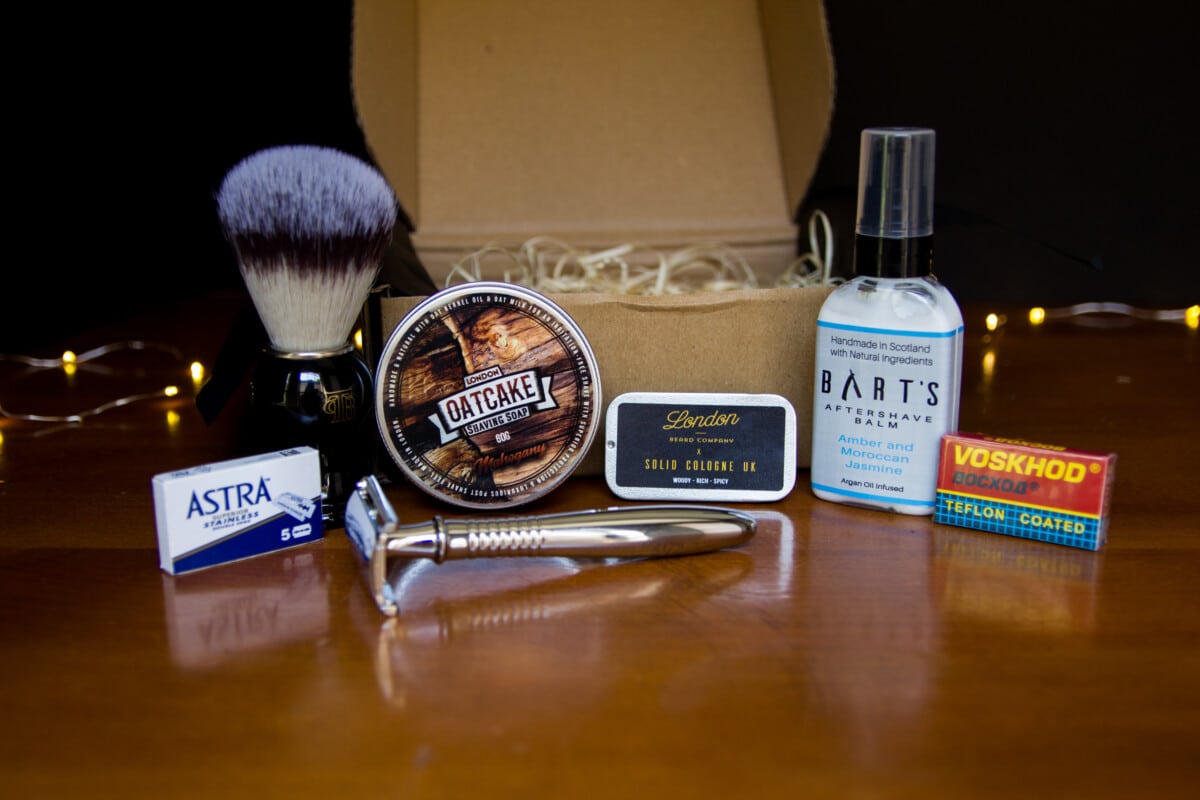 With its high quality of curation and value for money, entry-level wet shavers will struggle to find a better priced launching point into the world of traditional shaving, while the variety of new products and ongoing convenience of new blades is sure to attract the attention of experienced shavers alike.
I subscribe to a few subscription boxes.
And I've said this before, but I think they're at their most valuable when they automate a recurring purchase for you that you're consistently making anyway. Whether it's through traveling to a store or buying online.
If a box also claims to offer a variety of new products to try every month? Sounds like a potential double win to me.
I've been wet shaving for a few years. But I'm always running out of blades. It's amazing how often I learn that I'm clean out, right when I really need to shave (even though I used my last one when I really didn't need to shave).
I know what you're probably thinking. Why don't you just buy in bulk, dummy? Well for one, I've tried it, and I had the same issue and I ran out. And I also don't like to hoard stuff.
After some poking around online, The Personal Barber entered my frame.
---
What is The Personal Barber?
---
The Personal Barber (TPB) is a UK based monthly subscription box for men.
They're all about curating high-quality products for shaving.
Well, actually—traditional shaving—with a single blade safety razor, brush, and high-quality shaving cream.
If hacking at your face with a BIC® disposable razor and water is at one end of the spectrum, this is at the other.
I won't recite the brand's philosophy from their about page, but it's a good read if you want to get a feel for what they're about. By offering variety, quality, and convenience, they're focused on making it as hassle-free as possible for guys to get into and stick to a wet shaving routine.
You've got two options for getting on board the TPB train:
Subscribe (as I did). Your first box is basically a wet shave starter kit. You'll get TPB's own safety razor and brush for free, alongside 10 new blades, shaving cream and more pre or post shave goods such as oils, balms, and scrubs, etc. It also includes step by step instructions to help you out if you're new to this style of shaving.
Buy standalone products via their online shop.
Their promise is that every product is hand-picked and hand-tested, and that applies to whichever option you take.
Even though I already have my own safety razor and brush, I opted for the subscription so I can walk you through the complete experience.
Alright, I'm not that selfless—I think the brush might be an upgrade for me anyway.
---
The Subscription Box Online Sign-Up Process
---
Signing up for a TPB box took me about two minutes, tops.
First, you select your shave frequency:
Pretty self-explanatory.
You then choose between a monthly pay-as-you-go option or a prepaid six or 12-month option for a discount. You can also choose to give a subscription as a gift.
Heads up: you need to be 18 years of age or over to sign up for a box (sorry young werewolves).
The system then confirms what you'll get in your first box:
A free signature safety razor and shaving brush and step by step instructions on how to use it
10 new blades
Shaving soap/cream
A variety of pre or post shave goods (oils, balms, scrubs, etc)
In the second box and beyond you'll get blades, soaps/creams, and extras.
That's it. You're then all set to check out with your details.
The only change I made was to get TPB's premium razor for an additional £10 (usually £19.95 if bought standalone) to replace the basic safety razor you'd usually get in the first kit.
I've been wet shaving for a while (with more expensive razors) and so I wanted to try the best version they make themselves. You can do the same by adding the razor to your cart and using the code PREMIUMRAZOR.
So what'd I think of my first box?
---
Unboxing & Review
---
The TPB box comes in a fairly standard subscription style cardboard box. I like that it's wrapped in plastic for extra security in transit (trust me, not all subscription boxes are).
Opening the box revealed some branded tissue wrapping paper which is another nice touch.
Peeling below that layer I found the instructional cards, including a list of what's in the box.
There's a nice little blurb about each product including some instructions on how to use each one. Not only does this help you know what you're looking at (especially important if you're new to classic shaving), but it shows that TPB has genuinely put some thought into the curation.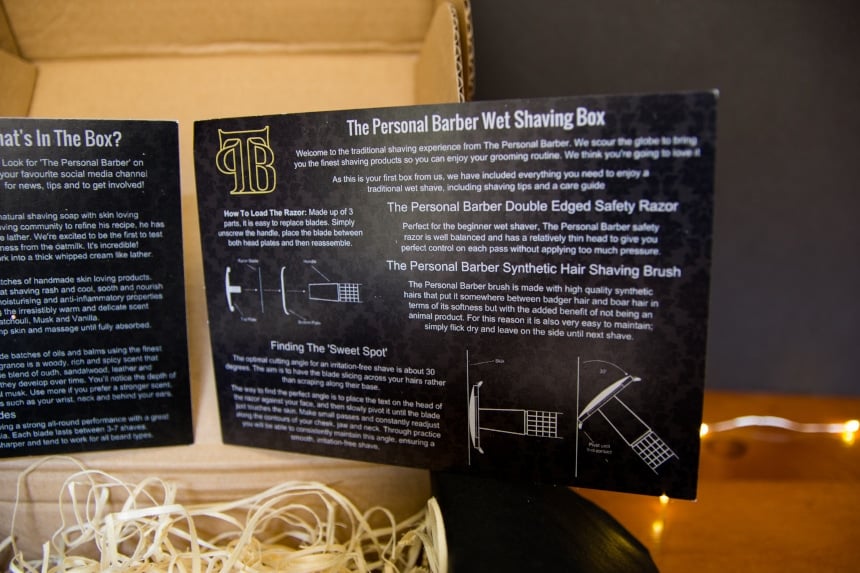 Below the cards, the products were smiling up at me on a bed of wood wool.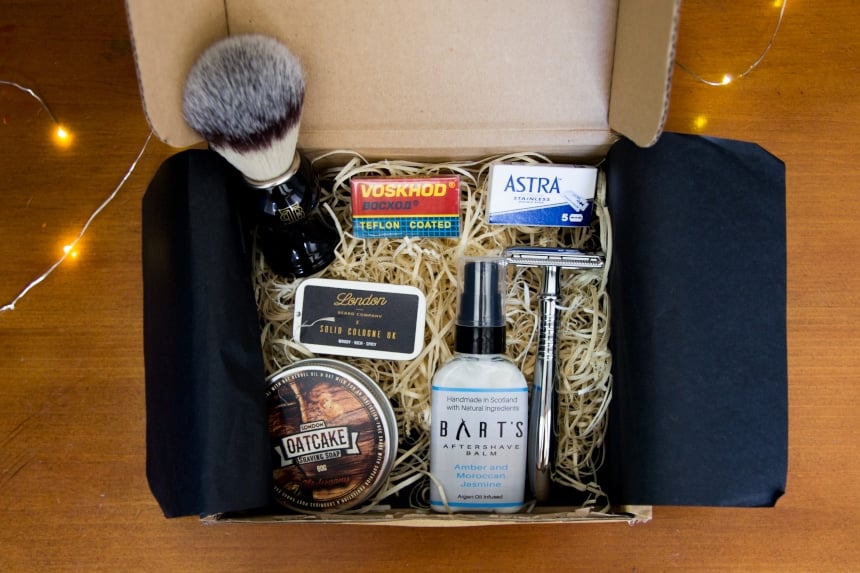 Overall, I enjoyed the unboxing experience. The box itself is fairly ho-hum but the tasteful touches with the paper and the wood wool are on-brand, and I really like the detail on the instructional cards.
Now for the products themselves. Here's the official list of what I got:
The Personal Barber Double Edged Safety Razor
The Personal Barber Synthetic Hair Shaving Brush
Astra Blue Stainless Steel and Voskhod Replacement Blades
Bart's Aftershave Balm
Oatcake Shaving Soap
London Beard Company Solid Cologne
I'll run through each one below, including my thoughts after using them for a week's worth of shaves.
---
The Personal Barber Double Edged Safety Razor
---
As mentioned above, I paid up a little for TPB's premium safety razor. If you don't do the same, you'll get the cheaper basic version in your first box.
The razor weighs in at ~3.5 oz ~4.5 in which is both heavier and longer than the basic version (but I couldn't find the exact specs of the basic version anywhere).
It feels noticeably heavier than my Merkur 34C which is a two-part and weighs in at 2.4 ounces and 3in.
It features an intentionally forgiving blade gap—a design trait targeted squarely at beginners. The smaller the gap, the less you need to focus on the angle of the razor. TPB clearly knows that a lot of beginner wet shavers will be picking up their box and so it makes sense that they opted for the safer design.
TPB's premium razor is made up of three parts—a handle and two head pieces and is finished in chrome plating.
Most safety razors come in either come in a one, two, or three-part design. The three-part design is popular because they're really easy to clean and maintain and they allow you to swap out the handles. The only downside is that compared to a one or two part design, it can be a little more finicky to change out the blades.
I don't think there's any clear 'best' choice out of the three, it really all comes down to your personal preference.
While it took me a few shaves to adjust to the heavier weight and longer length compared to my Merkur 34C, I definitely warmed up to it.
I found this razor to settle really comfortably in my hand. This is the heaviest safety razor I've tried and it definitely allowed me to apply less pressure and let the razor do more of the work.
I do still prefer the shorter handle of my Merkur for dexterity and getting into harder reach places, but that's just a personal preference.
I'm not sure if the TPB razor will replace my Merkur, but it has given me pause to consider whether I should upgrade to a heavier razor. I can see myself using it every now and then, especially if I need to shave two days in a row and don't want to apply as much pressure.
That said, if I was new to wet shaving, or if I didn't already own a 'fancy' safety razor, I'd be really happy with this one from TPB. It's nice and sturdy, and the weight and length feel proportionately balanced. And the forgiving blade gap makes it a great choice if you're just starting out.
---
The Personal Barber Synthetic Hair Shaving Brush
---
Next up is the free TPB shaving brush.
A shaving brush is a must-have in the world of wet shaving. It gives you a consistent lather of shaving cream and lifts your hairs in preparation for the follicle destruction to come.
Plus, it totally feels awesome. It gets you into the ritual.
TPB's shaving brush is made with nylon hairs which are known to be easy to maintain. It's handmade and has a solid lacquered plastic base and a chrome shoulder.
The other popular brush types you'll find are made with badger and boar hair. Boar hair brushes are generally cheaper, with many high-end brushes opting for badger hair.
The only real benefit of using either badger or boar hair over nylon is that their bristles are tougher, which allows you to sweep more dead skin away from the surface of the skin.
There are quite a few upsides to using nylon though. There's the obvious one that you're not using an animal product (one of TPB's philosophies is minimizing environmental impact), but nylon is also faster drying and should last longer in almost all environments. I'm blessed with sensitive skin and I also find a nylon brush to be much less abrasive.
I like the brush, it lathers well and the bristles feel about as firm as I'd want them to on my face. While I'd be surprised if they didn't, the bristles have kept their shape after a week's worth of shaves.
I was actually using a fairly average nylon shaving brush from my local shaving shop and so this brush is a welcome upgrade for me.
---
Astra Blue Stainless Steel and Voskhod Replacement Blades
---
TPB always includes 10 blades in your first box. Another one of the brand's philosophies is variety, and it shows in their decision to include both a set of Astras and Voskhods.
And if you're new to wet shaving, it's particularly helpful, because finding out which blade works best for you takes some trial and error. It's a personal thing.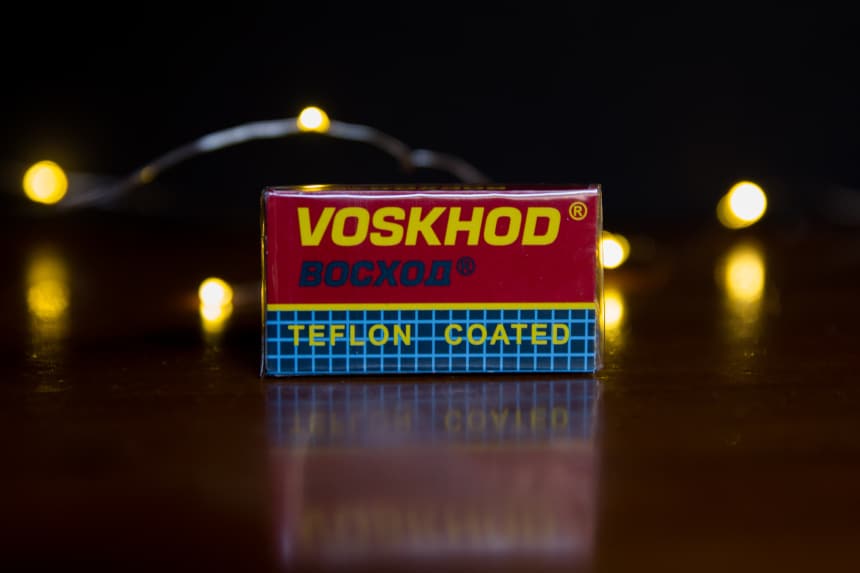 I personally prefer the Astras—they feel a bit smoother against my skin. The Voskhods are known to be sharper, but I find them to pull my hair a touch and give me a bit of a burn after.
I do have sensitive skin though, and as mentioned—your mileage may vary. If you pick up a box, be sure to give them both a try.
Both are quality and well-known blades and it's cool to see them included in the first box.
---
Oatcake Shaving Soap
---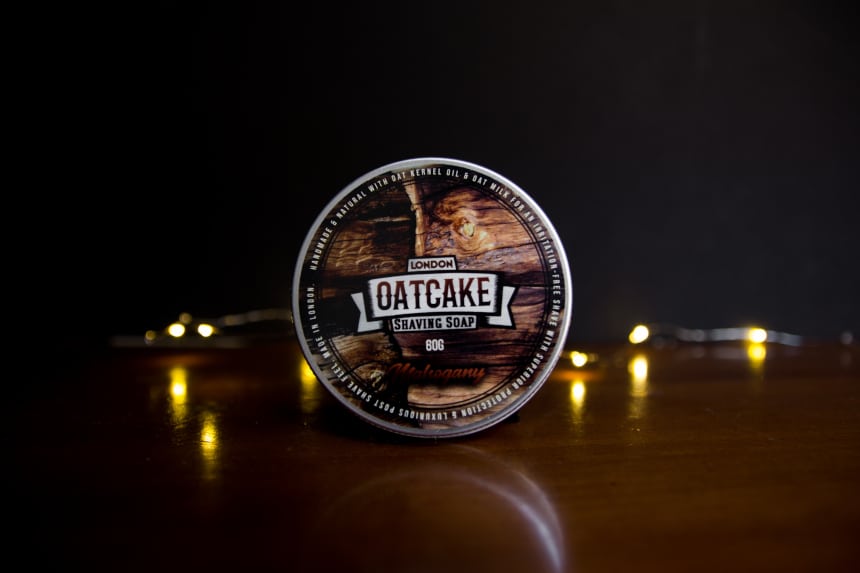 Next up is the shaving soap which comes from UK brand, Oatcake in a 60g size (a little over two ounces). It's all-natural and handmade, and this is the mahogany scented version.
The first thing you notice in opening the tin is the smell—in a good way. The scents are superb.
I used the Oatcake for a week and I did find the lather density and thickness to be lacking a little compared to the soap I usually use (FYI, it's Taylor of Old Bond St, Sandalwood).
But it made up for it in how fresh and moisturized my face felt after. I've got dry skin and I usually moisturize after shaving but I didn't feel the need to with this which was a nice change.
I enjoyed trying the Oatcake. It was new to me but I'll for sure be emptying the tin.
---
Bart's Aftershave Balm
---
I was pretty excited to try this little guy out. I get razor bumps (yes, no matter how much I alter my technique) and I'm always trying new products to try to minimize the inevitable red bump party that gathers on my neck the day after shaving.
Bart's is an aftershave balm designed specifically to soothe, calm, and moisturize your skin after shaving and to help prevent razor bumps. It's been on my to-try list for a while but for whatever reason, I just hadn't pulled the trigger on it. This is the Amber & Moroccan Jasmine version, but it's available in 8 scents.
So, did it work?
Hold up, Jack. First, let's talk about the scent.
I was expecting it to be a little feminine, but I found the smell to be pleasant. If I was ordering it again I'd probably go for a different scent just to mix it up, but I like it.
OK. now we can talk about performance. And to my surprise, this actually does seem to help with my razor bumps. It's only been a week and so I'd like to give it a bit more time before I truly give it the green light. But I've genuinely noticed a pretty significant reduction in redness the day after shaving with this.
Of course, we're not reviewing Bart's Aftershave Balm here, but it does show the value that can come with picking up a box like this. You get to try things that you may not have tried before—including if you're like me and the thing was on your want-to-try list for well over 6-months. And now this balm has a good chance of staying in my daily shaving regimen.
---
London Beard Company Solid Cologne
---
Last up we have a cologne, which is a joint venture between Solid Cologne UK and London Beard Company (the former's sister company). It's a was based perfume made from natural ingredients and oils including shea butter, beeswax, and jojoba oil.
It comes in a tidy travel-size tin. I dig the smell—what breaks through for me is the pepper and sandalwood. It's quite masculine, but not overpowering.
Another solid inclusion from TPB which will I'll use in full (eventually, I have that many colognes).
---
My Overall Thoughts on My First The Personal Barber Box
---
---
Get The Personal Barber In Your Life, Too
---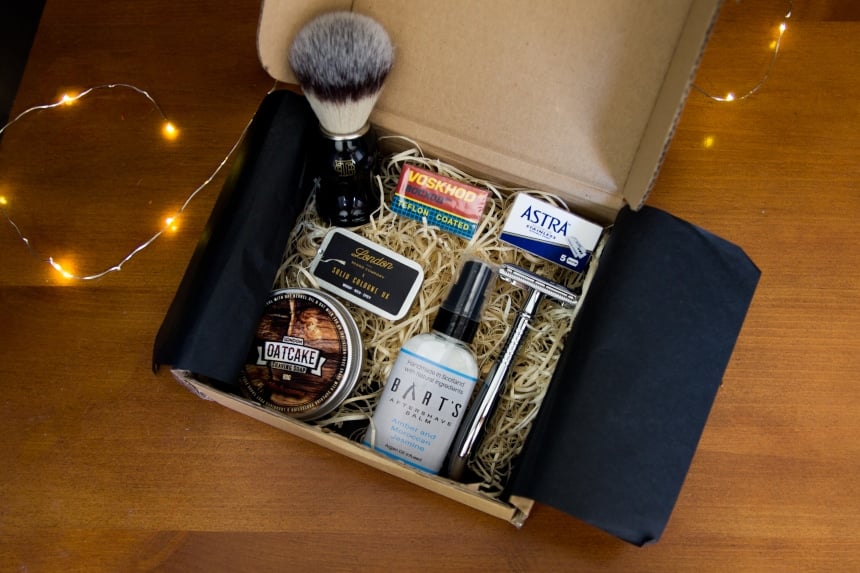 Use code ADULTMAN15 for 15% off your first box (note, only applies to rolling monthly subscription), or use code USAPOST50 for 50% off shipping to the US, which will apply for the life of your subscription.
---
The Personal Barber Deals, Promos & Discount Codes
---
Prefer to shave off some of the shipping cost to the US?
Use code USAPOST50 for 50% off shipping to the US, which will apply for the life of your subscription.
More Subscription Box Reviews