Rocky Mountain Barber Company Review: Do They Live Up To The Hype?
Disclosure: This is a sponsored post containing affiliate links. We received compensation and courtesy product from Rocky Mountain Barber Company in exchange for our honest review only. All opinions expressed here are our own. What's this?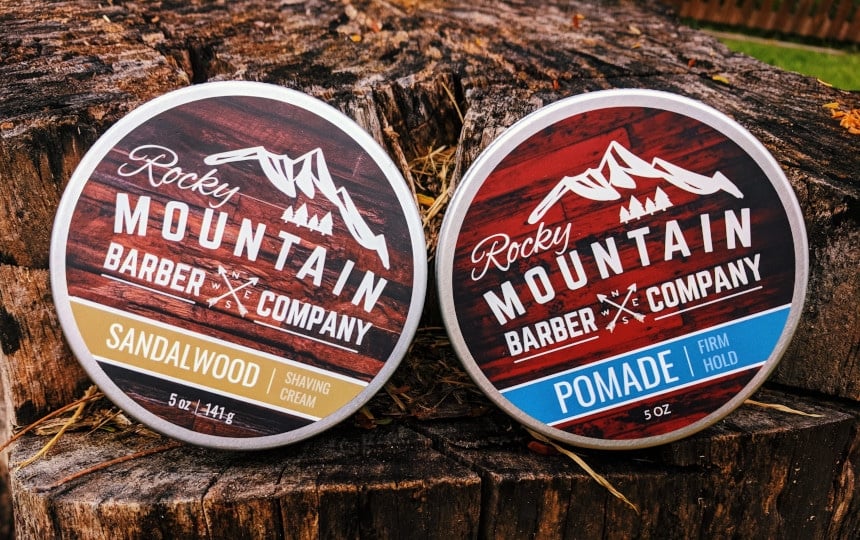 Minor personal gripes aside, I was highly impressed with the quality of ingredients and utility of Rocky Mountain Barber Company's shaving cream and pomade products, as well as the excellent value for money they offer at the sub $20 price point for both categories.
There are three things I put on my body almost every day without fail.
The first is briefs because my dog is the only true commando in our house. And the other two are pomade and shaving cream.
So I'm excited anytime I get the chance to try a new product across these staples.
I first heard about Rocky Mountain Barber Company from a buddy. Sometimes I'll ask my friends what they're using at the moment for taking care of X, Y, and Z. Partly because it's what I do for a living, but mostly because I enjoy invading upon my friends' grooming rituals.
Y'know, good old-fashioned market research.
In this case, I had asked my friend Justin what he was using to hold together a pretty fresh looking slick back. You probably would've asked too—there wasn't a hair out of place on this thing.
With a smirk, he replied, "It's al naturale."
Sure, buddy.
Long story short, I got it out of him that it was pomade by Rocky Mountain Barber Company, which led me to their website and tracking them down on Amazon.
I liked the look of their reviews, and I noticed their pomade is an Amazon Choice product . So I knew I had to try the brand out for myself. I reached out directly to the guys behind the goo (you can't believe I left this in, can you?), and here we are.
I gave their shaving cream and pomade a try for a couple of weeks. My reviews on both are below.
But first, some background info on the brand.
---
Who Are Rocky Mountain Barber Company?
---
Rocky Mountain Barber Company was founded in Canada in 2015 with the lofty goal to change the men's grooming industry. They believed they could achieve this by focusing on natural materials, small batch production, and a quality over quantity approach.
Three years later and they now produce over 30 products across beard care, shaving, hair care, and skin and body care.
Natural ingredients such as coconut oil, beeswax, sandalwood essential oil, and shea butter feature heavily across their grooming range, and they lock in the freshness with frequent production runs.
Oh, and they also give out two free razor blades or a product sample with every product purchased.
Read more about their story here and about what makes them unique here.
---
Wait a Hot Minute. Do They Really Give Out Free Razor Blades for Every Item Ordered?
---
Yessir. And I'll be honest, this one surprised me too.
After adding any of their grooming products to your cart, you can choose one free additional item. So if you're grabbing three items, you get three freebies.
Your choices for free items include a two pack of triple razor blades, a razor handle, or a sample of one of their other products.
We tested it and can confirm it works for any product you order. For more info, check out this page, or, if you prefer Western style jingles, watch this video:
Pretty cool idea. I'm yet to find any other men's grooming company offering this kind of loyalty incentive. Let me know if the comments if you know of another one.
---
The Review: Which Products Did I Try?
---
I tried Rocky Mountain Barber Company's Sandalwood Shaving Cream, as well as their Firm Hold Pomade.
The Sandalwood is the only shaving cream in the brand's collection. But they do have other hair care products, including a Styling Clay and Texture Paste. They're all firm hold.
Which Hair Product Should You Use for Your Hairstyle?
I hear what some of you are thinking. How do you choose between pomade, clay, and paste?
In general, follow these rules:
Pomade works best for neat haircuts like slick backs, pompadours, or side parts, as it provides a high shine finish. If you're using a comb to form your hairstyle, then pomade is probably for you.
Styling clay is a relative newcomer to the haircare scene. The use of clay adds thickness and structure to your hair which makes it best suited to hairstyles that require a lot of volume such as the quiff or brush up.
Texture paste is usually water-based and thicker in consistency than pomade. This makes it the most versatile of the three and suitable for virtually any hairstyle or hair length.
Further Reading: 
---
---
As a company all about using natural ingredients, Rocky Mountain Barber Co's Sandalwood Shaving Cream is obviously named with a nod toward its key component, sandalwood essential oil.
Other key ingredients include coconut oil and glycerin for added moisture and a better glide for your razor.
It comes in a well presented and sturdy 5 oz metal tin, with the ingredients and instructions labeled clearly on its base.
The cream itself has a creamy, marshmallow type texture to it.
Pick up a tin of Sandalwood Shaving Cream for yourself on the Rocky Mountain Barber Company store here.
(Use code TAM for 5% off)
Rocky Mountain Barber Company's Pomade also comes in a 5 oz metal tin. Which is pretty sizeable given that most pomades on the market are packaged within the 3 to 4.5 oz range.
Again, the ingredients and instructions are labeled clearly on the base.
It's water-based and crafted for a firm hold. The pomade has a liquid feel to it, and very similar to other water-based pomades I've tried.
Pick up a tin of Pomade for yourself on the Rocky Mountain Barber Company store here.
(Use code TAM for 5% off)
Or you can find it on Amazon here:
Last update on 2020-04-02 / Affiliate links / Images from Amazon Product Advertising API
---
Are Rocky Mountain Barber Company Products Worth It?
---
I can't speak for the brand's entire product range. But when it comes to shaving cream and pomade?
Absolutely.
Both products really impressed me. To the point where I'm quite curious now to try some of their other products.
I believe the best men's grooming brands today recognize that many of us guys care about the quality of what we put on our bodies and we demand value for money.
Rocky Mountain Barber Company offer high-quality products in generously sized containers at a great price point and with a focus on natural ingredients and small batch production.
And those are all things I look for in a grooming product.
So after trying two of their products that perform their intended purpose very well, I can confidently say I'm a fan.
But hey, don't just take my word for it. Check out some of the customer reviews on their store or on Amazon . And if you're still curious, give them a try for yourself.
And then let me know what you think about them in the comments.
Because, y'know, market research.
---
Rocky Mountain Barber Company Discount Code
---
Use code TAM for 5% off your order.