Watch Gang Review (Black Tier): Thumbs Up Or Thumbs Down?
Disclosure: This is a sponsored post containing affiliate links. We received compensation and courtesy product from Watch Gang in exchange for our honest review only. All opinions expressed here are our own. What's this?
If you can let go of the need for total control over what you receive in a subscription box at this price point, Watch Gang is a lot of fun, and a convenient way for you to organically develop your own sense of watch style alongside tens of thousands of fellow watch enthusiasts.
Heads up:  Watch Gang is currently running the best promo we've seen for some time so we wanted to make sure you're across it (working as of 3/31/20).
Use code BIGFIVE when signing up to Watch Gang Black Tier to get 50% off your first month.
---
I first came across Watch Gang when I was researching boxes to feature in my round-up post of the best subscription boxes for men.
Right off the bat, I was pretty intrigued by the mixed reviews I was seeing online.
Watch Gang is unique in that they're a subscription service that exclusively curates watches. It's a brave combination of the still-somewhat-skeptically-received subscription box model and the extremely opinionated world of watches.
They've also experienced some super impressive growth, ballooning to over 20,000 subscribers in just over two years.
It all sounded like the perfect storm for me to dive into with my own review.
So I reached out to the team at Watch Gang and they hooked me up with my own Black Tier subscription to try. I'll first break down some background info on Watch Gang and how it all works, before diving into an unboxing on the watch I got.
I'll then wrap up with my thoughts on whether I think Watch Gang's Black Tier is worth it.
If you're already clued up on Watch Gang's story and how the membership works, feel free to jump ahead to my review.
Let's get into it.
November 2019 Update: If you've got a higher budget or you're more interested in premium microbrand or large name watch brands, you may get more value out of my recent review of Watch Gang's Platinum Tier subscription.
---
What Is Watch Gang?
---
Watch Gang is an L.A. based subscription service and online community for (you guessed it) watches.
Founder and current CEO, Matthew Gallagher started the company in 2016, inspired by a touching final gesture by his father.
When Matthew's father passed, he gave Matthew his Rolex Oyster Perpetual. It was a birth year model, 1953, and his father's most prized possession.
This idea that there's a human story behind every watch was inspiring to Matthew. He was driven to get more people enthusiastic about collecting watches that they can pass on to their loved ones.
Six months later, Watch Gang was formed. You can read more about Matthew's personal story here. Or check out this video:
---
How Does Watch Gang Work?
---
Watch Gang partners with both new and historic watch brands around the world to deliver you a brand new watch style every month.
It's no different from most other curation-based subscription services. You choose a plan and get a thing in the mail every month.
When signing up, you're presented with different styles of watches to vote yea or nay on. It's a bit like watch Tinder:
Their system will tell you once you've voted on enough watches for it to know your style. But you can keep on choosing if you want to really nail it down.
Watch Gang Tiers
Once you've made your style choices, you then lock into one of three monthly pricing tiers:
Clearly, the more expensive the level of subscription, the higher the retail value of the watch you'll receive each month.
And as you'd expect, the prestige of brands and quality of movement rises as you transition up each tier:
Original: Fashionable, quality watches, with some name brands thrown in (Miyota or Seiko movement)
Black: Premium microbrands and some brand names (Japanese or Swiss movement)
Platinum: Premium microbrands and large name brands (Japanese or Swiss Automatic movement)
You then choose your subscription frequency (this is a 2019 udate to the service). You now have the choice of getting a new watch monthly, quarterly, or on-demand, which I think adds some much needed flexibility to the service.
Overall, I found the online signup process to be pretty straightforward. It took me about five minutes from start to finish.
(Use code ADL10 for 10% off your first month of any subscription)
Retail Value
Watch Gang promise to send you watches that have a list price (also known as manufacturer's suggested retail price or MSRP) of up to five times the cost of your monthly subscription.
It's important to note here that when it comes to watches, list price and actual market value can vary significantly.
Based on the many other Watch Gang reviews I've read, while you're likely to get watches that you can resell at a market value that meets or slightly exceeds your subscription cost, it's rare that you'll be able to successfully resell a Watch Gang watch at its list price and make epic profits.
As with all things, the true value of something is only what others are willing to pay.
Membership Details
Every watch you're sent is yours to keep. Watch Gang isn't a lending club.
You can also choose to gift a subscription to someone. This process is identical except you can't select style preferences.
Regardless of tier, if you're a member, you're eligible for all flash sales and giveaways, including their famous weekly TAG and Rolex giveaways.
You'll also become a member of Watch Gang's private community where you can buy, sell, trade, or simply shoot the breeze with other members about all things watches.
Watch Gang Rolex / TAG Weekly Giveaway
Yep, you read that right.
Every Tuesday one Watch Gang member wins a TAG, and every Friday, another wins a Rolex.
Watch Gang's, Founder & CEO, Matthew Gallagher explains his reasoning for the giveaway in this interview:
Grail watches have traditionally been something you would buy during a milestone, like graduating, getting a raise, or getting married. I wanted to give everyone a chance to get the Grail they've always aspired to own, regardless of where they are in life. Plus, the Grail watch is something they can pass down to their kids…just like my dad did for me. – Matthew Gallagher, Watch Gang Founder & CEO
Watch Gang has between 20,000 and 30,000 members, and so while you still need to be lucky, your chances are not lottery-level-bad to win.
They announce all their monthly winners on their YouTube channel, like this:
They also do smaller giveaways three other days every week. Click here to see the full list.
---
---
I signed up for Watch Gang Black Tier.
Watch Gang Black is a $99 / watch subscription. To repeat, this is what makes Black different from the other tiers:
You get watches with a list price from $150 to $500
Watches are from premium microbrands and large name brands
Japanese or Swiss movement
I reviewed the first box, and William reviewed the second (with a video review as well).
Box 1: Charles Hutton Aristocrat Unboxing & Review
In my first box I got a Charles Hutton Aristocrat 78468-10I. It's listed for $285 on the Charles Hutton online store. On eBay, it's going for anywhere from $100 to $200 brand new.
My Aristocrat came in a fairly stock-standard black box with a removable lid.
The Charles Hutton logo is planted squarely on the top of the box which also features a silver edged trim.
There was a warranty card inside the box which lists the retailer as Watch Gang as well as the date of purchase. This watch came with a 24-month warranty.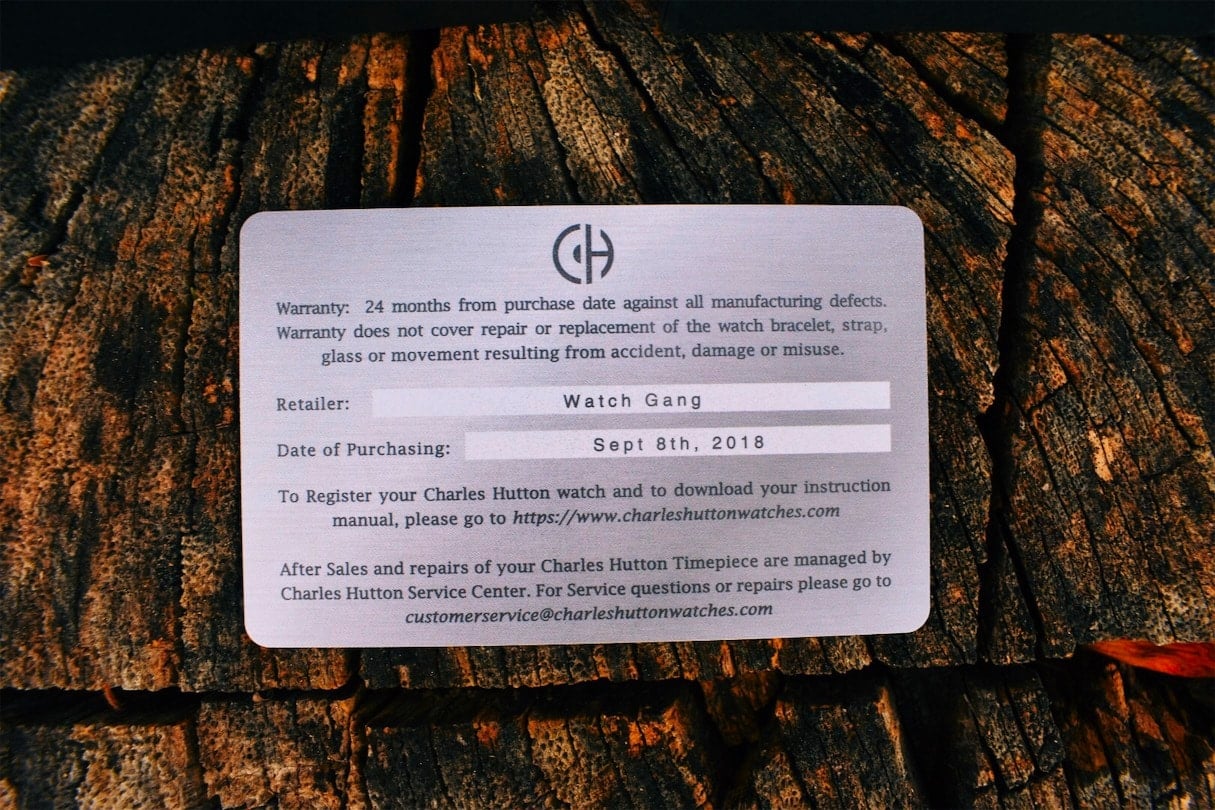 Onto the watch itself and this model of Aristocrat is a classic looking black-dial stainless steel chronograph with Seiko Quartz movement. The sub-dials and date window have a silver border.
Interestingly enough, the minute and hour hands are silver, as is the hand on the 24H sub-dial. The rest of the hands are red.
It features a 44mm case which is 11mm in thickness including the glass. There's a slight pop to the glass, which is sapphire coating on mineral.
The strap is a five-link silver plating stainless steel bracelet. The case is also stainless steel but also polished and brushed. I tend to like that look. It gives the watch a bit more character. The strap has a foldover clamp with the Charles Hutton named logo on the bumper.
It has a standard push/pull crown with a small Charles Hutton logo.
I really like the case back. The large logo with the key specs circling it is a cool touch.
---
My Overall Thoughts on the Charles Hutton Aristocrat Watch
---
Box 2: Thomas Earnshaw Longitude Unboxing & Review
In our second box I (William this time) unboxed a Thomas Earnshaw Longitude ES-8803-SETG-02.
While I hadn't heard of the brand, my first impressions were that I really liked the look of the watch. I can tell it's not something I'll wear every day, or even every week, but it's unique and will fit nicely with my navy suit.
But if you watched the video above, you know I wasn't impressed with the unboxing experience. It looked like whoever packed the watch threw it in from half-court.
I've unboxed a lot of watches in my day, and I hardly care about the unboxing experience. But as I've written more and more, I've learned that a lot of my readers are doing research for potential gifts. While I don't think a bad presentation is a deal-breaker for anyone thinking about buying a watch as a gift, it's definitely a consideration.
That said, if you're shopping for yourself and you just care about the quality of the watch, a sloppy packing job doesn't matter as much (at least to me).
The face of the Earnshaw Longitude quickly makes up for it though—it's striking.
If I had to put it in a design category, I'd say it's something like fancy-steampunk.
The most fascinating feature is the open-heart Japanese automatic movement, which starts firing away as you pick the watch up. Just above that is a 24-hour dial set against a textured blue backdrop.
Two silver bars hold the indices, which mark 11-3 in roman numerals, and 5-8 in arabic numerals. 4, 9, and 10 are intentionally missing, though the design is balanced and intriguing.
With a 42mm case width and a 13.5mm height (100g weight) this is a hefty, sturdy watch, especially when paired with the stainless steel mesh band.
I couldn't find any information about the crystal on the Thomas Earnshaw website, the instruction manual, nor through Watch Gang. Based on the glare, plus the way water beads on the crystal, my guess is that we're dealing with a sapphire coated mineral crystal. I'm disappointed that there's no information on such a standard feature.
The watch came with two bands, which is a nice bonus. Watch Gang doesn't promise multiple bands so it's cool they included another band for versatility.
The second band is blue imitation crocodile leather, which just so happens to be my least favorite style. I guess I just don't understand the imitation crocodile leather look.
But the mesh band is outstanding, and I love the way it looks and feels. It's not pinchy and it's easy to adjust.
As I mentioned earlier, this timepiece runs on a 24 jewel Japanese automatic movement. Again, there isn't more information on the brand's website about the specific model. But given the reputation Japanese movements have, I'm confident this is a solid and reliable caliber.
Overall, I'm happy with the style. After my initial glance and research, I felt confident I scored a solid value at $99.
But nothing can ruin your contentment like a quick trip to eBay.
This watch retails on the Thomas Earnshaw website for 600 British pounds, which equates roughly to $750USD (at the time of writing).
But before we get too excited, the price was much lower on eBay with the same model going for $150 USD.
Ah, good old online watch buying price discrepancies.
Still, at Watch Gang's Black Tier subscription price of $99 (even less if you use some of the discounts we're offering), this watch is good value.
---
My Overall Thoughts on Watch Gang Black Tier
---
---
Join Watch Gang
---
Use code BIGFIVE when signing up to Watch Gang to get 50% off your first month of Black Tier (new members only).
Or use code ADL10 to get 10% off your first month of Platinum or Original Tier:
---
Final Thoughts: Is Watch Gang's Black Tier Worth It?
---
Alright, I hear what you're thinking.
Two watches is a pretty small sample size.
And you're totally right. It's tough to make a call on Watch Gang after getting just a few watches. Particularly when the first watch didn't really nail it on my own personal style.
But to me, Watch Gang is no different to other curation focused subscription boxes. It's all about the long game.
Approach it as a fun way to learn more about watches in general. And more importantly—for you to get a better understanding of what it is that you truly love in a watch.
Yep, we're getting all Tony Robbins up in here. It's about finding yourself. It's about finding yourself when it comes to watches. It's about watching yourself.
Ok, too far.
But in all seriousness, you'll learn something new about your own taste in watches with every box you open.
You can do all the reading in the world online, but there's nothing like holding a watch in your hands to truly appreciate how you feel about it.
And to me, it's no surprise that over 20,000 people have signed up to Watch Gang to get that feeling.
Their private community, flash sales, and giveaways are also nice perks and they do help you to feel connected with other likeminded watch lovers.
If you're ready for a journey, Watch Gang is worth it.
You can always sell the watches that you don't like. And because you're getting them at three to five times list price, you'll usually be able to at least break even if you sell.
Although my first watch was not to my personal taste, as a team, we're much happier about the second one.
I've read that at Black Tier and above you'll receive more hits than misses, and resale value is a lot better.
And this mirrors my own experience because I really liked the first watch I got for my Watch Gang Platinum Tier subscription.
But your mileage may vary. Like with anything, go with what your budget allows.
Start your quiz now to get started with Watch Gang.