Oversized watches can be a dangerous game.
Go too far and you'll look like you're wearing a Flavor Flav necklace around your wrist.
But if you get it right, they can be a bold statement piece asserting both confidence and strength.
TW Steel focuses on nailing that perfect balance in its designs. Only producing large and oversized watches, the brand combines classic Dutch engineering principles with contemporary men's fashion.
With all the positive reviews I'd been seeing about TW Steel, I felt it was time to take a closer look.
We got our hands on the brand's limited edition CEO Tech and put it under our magnifying glass. Keep reading to find out what we thought of it.
What Is TW Steel?
Founded in 2005 by father and son team, Ton and Jordy Cobelens, TW Steel specializes in oversized watches for men.
With case sizes ranging from 44mm to 50mm, TW Steel aims to create classic and elegant watch designs in bold proportions.
The Story
Ton Cobelens, a Netherlands native, has been designing watches since the 80s. When his son, Jordy, noticed more and more oversized watches popping up in clubs around Amsterdam, he mentioned it to Ton.
Apparently, the discussion was brief. It took Ton Cobelens a few seconds to realize the potential in Jordy's idea and he said, "let's give it a go."
In 2005, they launched TW Steel together with four different designs. 14 years later, TW Steel is a global company with offices and retail outlets around the world.
The Mission
TW Steel aims to be more than a niche watch company. CEO Jordy ambitiously sees the brand becoming a lifestyle.
From Formula One drivers to firework fueled New York parties, the watchmaker has positioned itself as a go-to brand for the masculine, sophisticated, and adventurous.
TW Steel CEO Tech
Boasting rugged durability, high-quality components, and the sophistication of European design, the CEO Tech from TW Steel is a classy looking oversized watch that's oozing with masculine style.
Check Best Price
If you click this link and make a purchase, we earn a commission at no additional cost to you.
TW Steel CEO Tech Review
Unboxing
Each watch comes with a heavy gauge, two-piece protective cardboard box. Tucked inside is a black stitched leather case prominently featuring the TW Steel logo.
I rate the packaging—TW Steel clearly makes an effort to give you a great first impression.
The watch came with instructions on how to authenticate the time-piece online. I like to have some sort of authentication for any watch valued over $150. I expected this from TW Steel, but it's always good to see, regardless.
The Box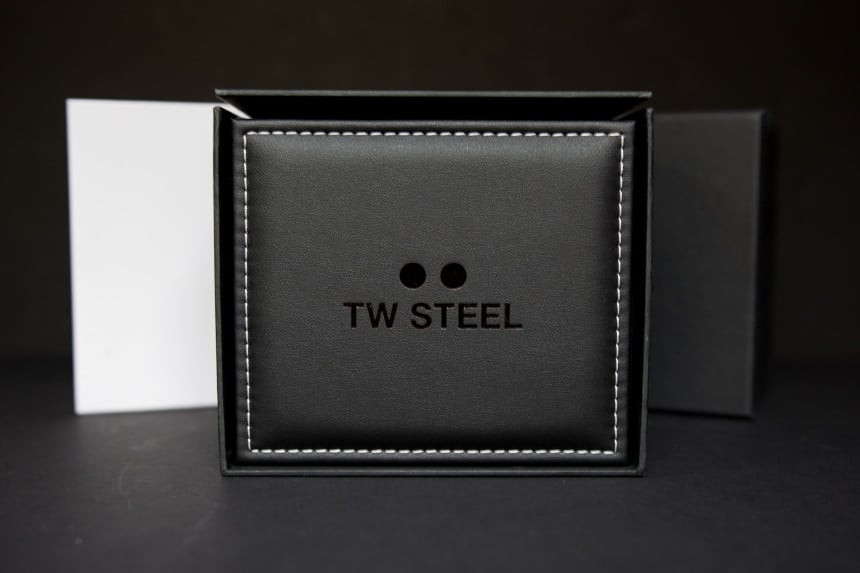 The stitched leather case features the trademark TW Steel double-dot logo embossed in black. The rich texture of the black leather box lends a sense of sophistication to the unboxing experience.
The Case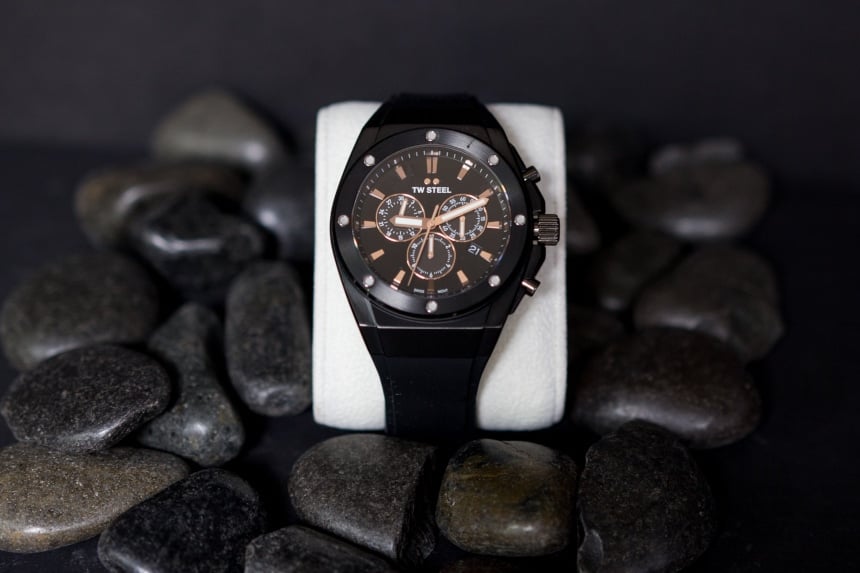 Taking the watch out from the case is an experience unto itself. There's a ton of heft behind this beast. It's no Excalibur or anything, but you may feel like the Chosen One when you pick it up for the first time.
Now, you may think this is a typo, but I assure you it's not—the 44mm case is the smallest offering from TW Steel. Still an oversized watch by any means.
The CEO Tech comes in eight different colors. I really like the black on black with rose gold accents which is why I opted for this CE4044 model.
TW Steel is branching out a bit more with their color schemes in this collection, offering both red, blue, and white renditions. But for me, it was hard to deny the rugged look of an oversized all-black steel watch, so I went with my gut.
The case is made from high-grade 316L brushed PVD black coated steel.
One thing I love about the design is the clear motorsports/Formula One influence. The crown looks like it's locked in place with a lug nut, giving it the top-down feel of a racing wheel.
There are also eight titanium screws lining the PVD black coated bezel which only adds to the raw masculine aura.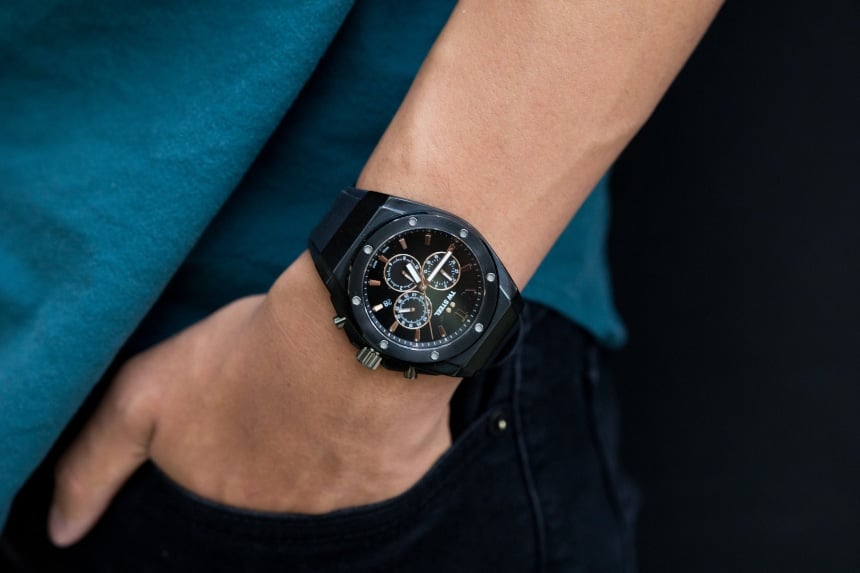 It also features curved lugs which means the case follows the natural curve of your wrist.
This means that if you like the oversized style, it won't look silly on you if you have small wrists.
The case back notes the key specs and model number, as well as the serial and catalog number showing that this one is number 418 out of 1000. Overall, it looks quite cool and has a similar masculine style as the bezel, albeit with screw holes instead of screws.
The Dial
The dial on the CEO Tech has more depth and dimension than Matthew McConaughey's bookcase in Interstellar.
The rose gold batons are more substantial than most watches I've seen. This gives the face a ton of depth. It's as if you're gazing into a tiny mechanical world.
Am I the only one who gets that feeling? I am? Ok. Moving on.
Watches with chronograph movements should balance the fine details to avoid looking cluttered. Luckily, TW Steel has done a great job of that here. The rose gold bezels around each dial add enough separation so that all the elements on the face play nicely together.
The minute and hour hands have been treated with a lume coating, and the same goes for the chronograph hands. Unfortunately, it isn't as bright as I'd expect which is a mild disappointment given the price point.
The face also features a rose gold double-dot logo underneath 12 o'clock, which is a nice touch.
The sapphire crystal glass gives this watch a true luxury feel. It's completely clear and there's no glare, even in direct sunlight.
Most watch wearers will be familiar with the simple three-point adjusting pin. Even though the watch doesn't come with instructions on how to change the date or time, it's pretty easy to figure out on your own.
Movement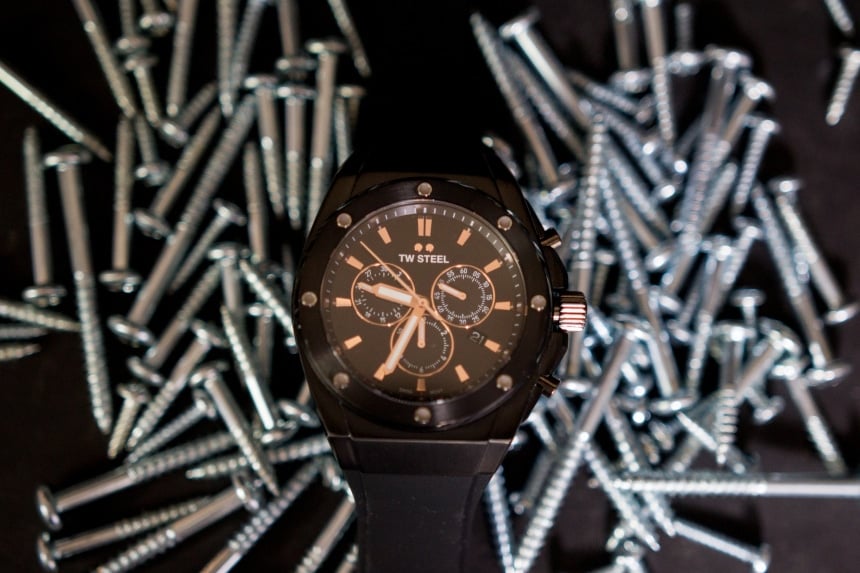 TW Steel made some major changes to the CEO Tech in November 2018. The biggest shift was switching from a Miyota movement to a Swiss Ronda 5030D movement. Reviews say that the new Swiss movement runs a little smoother than previous editions. In my experience, Swiss Ronda movements run quiet, smooth, and rarely need to be reset.
The Ronda 5030D features three dials that act as a stopwatch and can track seconds, minutes, and hours passed. The stopwatch function is controlled with the buttons on the side of the case.
Strap and Wearability
The CEO Tech is designed to be an all-purpose luxury watch. From the office to the ski slopes, from the boardroom to the beach, from the cubicle to an active volcano, this watch can stay right on your arm.
And for all you office-dwelling volcano enthusiasts, this bad boy is resistant in up to 10 atmospheres of pressure. But that counts only for water, not lava. You've been warned.
The silicone band is unconventional for a watch aiming at the higher end, but it fits the vision of the designers. The CEO Tech is a sports watch meant to look professional and sleek while maintaining its durability in any situation.
This isn't the kind of watch you'd wear if you're looking for total comfort. It's an oversized steel watch, so it's on the heavy side. I don't think this is a downside because the purpose of an oversized watch is to make a statement, but it's good to know what you're getting into.
My Overall Thoughts on the CEO Tech
What I Like
The updated design features premium materials but maintains great value.

Using curved lugs for the case helps this oversized watch fit my wrist better. Even a 44mm case can be unwieldy, but I can tell TW Steel put a lot of thought into making the CEO Tech appealing to a broad audience.

The silicone strap makes this watch an every day, every occasion timepiece. You could wear it to a waterpark if you wanted to.

I liked the repetitions in design. Maybe that's the design-nut in me talking, but I think it shows meticulous planning.

Durability. This goes beyond the CEO Tech, too. Based on other reviews I've read, TW Steel watches don't break easily.
The Verdict
TW Steel has a clear vision for their products. They're bringing oversized luxury sports watches to a broader audience.
You're getting all the hallmark materials of a classic luxury brand, just updated to be more versatile for the modern man.
TW Steel also backs up their products with a great warranty. And the best thing?
It's worldwide.
So even if you're shark diving off the coast of South Africa, they'll help you find a way to get your watch fixed.
TW Steel has drawn their line in the sand. They're not afraid of making a statement. These are watches for the 21st-century renaissance man.
With one foot in the world of classic European luxury watch design and one foot on the way to the motocross track, the CEO Tech is the bold timepiece that can handle hard work and hard play.
TW Steel CEO Tech
Boasting rugged durability, high-quality components, and the sophistication of European design, the CEO Tech from TW Steel is a classy looking oversized watch that's oozing with masculine style.
Check Best Price
If you click this link and make a purchase, we earn a commission at no additional cost to you.
More TW Steel Collections
With 8 different executions, the 46mm Chrono Sport is middle of the road for TW Steel. It's their version of a mid-sized watch blending style and sport. The chronograph movement and tachymeter give you all the bells and whistles.
The Maverick shows how versatile TW Steel can be. Coming in a 45mm 3-hand version and a 48mm chronograph version, there are 34 different executions of this particular design. Each watch case has easily removable bands so you can switch it up between leather, stainless steel, and stitched textile straps.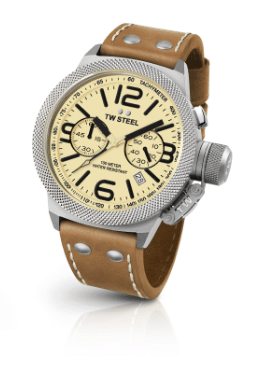 The Canteen is one of the first designs TW Steel launched with and they've stuck by it ever since. They offer a 45mm case and a 50mm case version. Though TW Steel is a masculine brand, they've broadened their scope by adding a few feminine color schemes in this collection.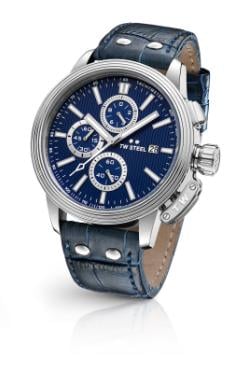 A more modern twist on the original Canteen design, you can choose a 45 or 48mm case for the CEO Adesso. Leather strap or steel bracelet, this is one of TW Steel's more elegant offerings.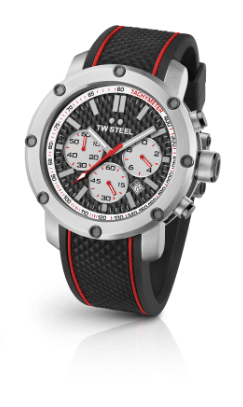 I knew a chef who owned one of these. The amount of abuse it took was incredible. The 48mm steel case, silicone strap, and reinforced mineral crystal glass will stand up to whatever beating you plan on putting it through. Their most rugged and sturdy design.
Inspired by high-speed Formula One drivers and designed for motorsports lovers, the Volante collection brings classic European fashion and design into a large format. With 45mm and 48 mm cases, you can mix and match colors with four textile strap options.
The ACE Aternus collection aims to offer opulence at a bargain. Again, TW Steel shows off their variety with two size options, three types of Swiss-made movements, and an array of straps.
TW Steel's high-end offering. Italian calf leather strap and Swiss movement make for a true luxury watch experience at an affordable price. This collection has a sleek case design similar to what's found with the CEO Tech.