Trask Shoes Review: Built On The Story of America
Disclosure: This is a sponsored post containing affiliate links. We received compensation and courtesy product from Trask in exchange for our honest review only. All opinions expressed here are our own. What's this?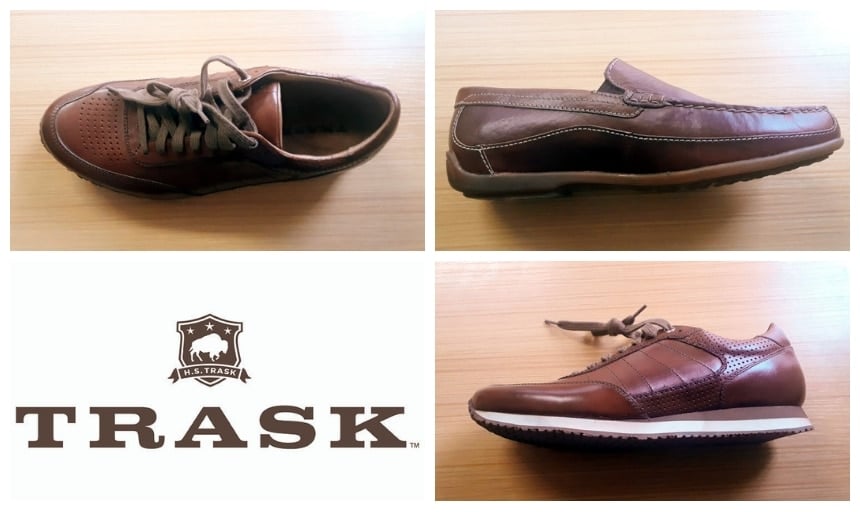 Despite a minor fit consistency issue, Trask impressed me with their quality of materials, comfort, and their wide range of simple yet attractive shoe designs that are clearly built to last.
At 32 years of age, I've become downright picky when it comes to shoes.
I don't wear trainers unless I'm actually out on a jog, but I enjoy the casual feel they give me.
And that's what initially brought me to Trask.
I was browsing online for a high-quality jogger that I could wear casually.
The Aiden from Trask seemed to fit the bill.
That's when I started taking a closer look at Trask as a brand and their process.
With men's fashion in general, you see the word "Premium" thrown around a lot. In my experience, it often draws you in but fails to deliver.
So, how did Trask measure up?
I pored over reviews and I did my own research, including asking Trask to send me a couple of pairs to try out for myself.
Keep reading for my thoughts after wearing them for a week.
---
What Should You Keep in Mind When Buying Any Pair of Shoes?
---
Cost: I don't care how exquisite a pair of shoes are—price can sometimes be unjustifiable, and is always a factor.
Quality: It's all about how long it lasts, how much it can handle, and what materials are used.
Comfort: Looking good shouldn't mean being uncomfortable. You need a supportive and cozy insole.
Sizing: This is usually specific to the brand. Whether they run large, narrow, or there's some other common issue, you need to know before ordering.
Design & Style: Design determines function and capability. Style purely refers to aesthetics.
Sock Liner: Sock liners help remove sweat without ruining your interior. Try to make sure they're removable so they can be properly cleaned.
Traction: Style is only half the game: if it doesn't grip, you're bound to slip.
---
---
The Story of a man who followed a river and found his dream. – Trask
Founded in Montana in 1993, Trask is an iconic shoemaker and leather brand who are all about innovation and the American dream.
Here's a link to their full story. One point is driven home—they want to be the reliable shoes you turn to when all the others have faded away.
To achieve this reliability, they claim to only use high-end materials that are built to last.
And honestly—you can really feel and smell the quality when you first open one of their shoe boxes.
They're about quality first and foremost, and when it comes to shoes, you should be too.
---
The Review
---
I chose the Aiden which is a casual leather sneaker. I also picked up the Declan—a classic loafer.
I wanted to test two totally different shoe styles so I could form a more well-rounded opinion on Trask for you.
---
---
The Aiden was the first Trask shoe to catch my eye.
They're made from Italian washed sheepskin with a leather lined insole. The footbed is removable and made from a cushioned molded-polyurethane with a Clarino microsuede cover.
They're capped off with flat cotton laces and a Vibram rubber outsole.
They're now easily the most comfortable sneakers I own. But they did take a while to break in, and I think it's down to the padding on the collar and tongue being quite minimal.
Good traction is something you expect from a sneaker, and while the Aiden holds up well, it's not as gripping on slick surfaces as you'd think by looking at the tread.
As a big plus for a sneaker, after kicking these off at the end of the day, they don't leave your feet saturated in sweat. On the Aidens, Trask has installed airways through the heel, arch, and toe box for breathability.
Crafted with hand-selected imported Norwegian elk and Horween American bison, the Declan loafer features a leather lining and an EVA cushioned footbed. The loafer has a shock-absorbing rubber outsole and comes together with handsewn moccasin construction.
I find the Declans to be very comfortable. I love slipping them on to go for a drive or when I'm running a few quick errands. They have this cloud-like feel to them which I really like. Be sure to wear invisible socks that fit properly at the heel otherwise you may get some irritation.
Trask uses a Lactae Hevea insole, and it supports your foot really well. They include a card in the shoe box that discusses this technology in-depth.
I've owned plenty of loafers that fall flat on traction. The Declan has a thick, durable rubber outsole with a sturdy grip.
---
Are Trask Shoes Worth Buying?
---
Trask prices their shoes firmly at the mid to high end of the market. They're an investment.
If you care more about the very latest trends and less about things like longevity, Trask probably isn't the brand for you.
While I encountered some minor issues with fit and traction, Trask shoes are built to last, crafted of high-quality leather, and super comfortable.
And when I'm investing at the mid to high end of the market on shoes, I know it's their quality, comfort, and longevity that I'll be praising first and foremost after eight years of wheeling around in them.
If your budget allows (or even nearly allows), then yes, Trask is very much worth buying or saving up for.
At this price point, your shoes should almost last as long as your pets, and with Trask, this is realistic.
It's probably obvious, but you're better off buying one pair of shoes for $245 that will last for 10 years rather than three or four pairs of the same shoe for $150 a pop over the same period.
Check out the latest styles on the Trask online store.