Personalized Men's Bracelets: The Steel Shop Review
Disclosure: This is a sponsored post containing affiliate links. We received compensation and courtesy product from The Steel Shop in exchange for our honest review only. All opinions expressed here are our own. What's this?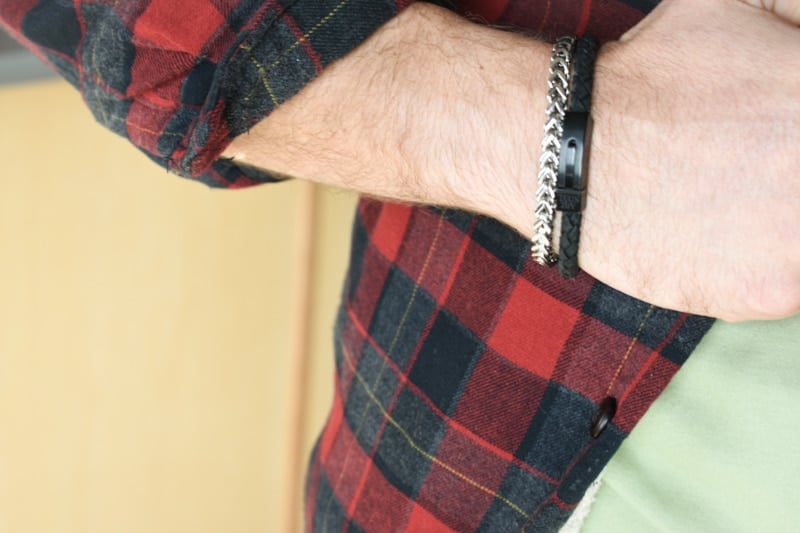 The Steel Shop has put together an extensive catalog of accessories that can help elevate your style. While the engraving feature was a bit simple for my taste, the quality of the bracelets was undeniable.
Heads Up:  Use code TAM15 for 15% off at The Steel Shop. 
---
I have a long, troubled history with men's jewelry.
It all started with the puka-shell craze of the late nineties. Do you remember those?
Luckily, I gave up on puka shells before they were fully out of style (unlike that kid, Mark, who wore his puka necklace all the way through high school).
My jewelry game was dead.
And then Pirates of the Caribbean came out.
I'm all for swashbuckling, but to be honest, I only wanted to emulate Johnny Depp's style because it's what the girls liked.
So I went to the mall and bought roughly ten-thousand bracelets and wore them to school the next day.
"Are you ok," my friends asked.
"Did you join a cult?"
No, I didn't join a cult. I'm just looking cool and casual like Johnny. Isn't that obvious?
Well, no, it wasn't obvious. And since then, I've laid off the bracelets. There's a right way and a wrong way to wear them. I was doing it the wrong way.
But when I stumbled upon The Steel Shop, I knew it was time to do it right. I took what I've learned about men's style over the past decade and decided to break my bracelet boycott.
The Steel Shop sent me three of their top-selling items to try.
So what did I think? Do these bracelets really stand out?
Keep reading for my full review.
---
What is The Steel Shop?
---
The Steel Shop is an online jewelry shop that focuses exclusively on stainless steel and sterling silver bracelets, rings, and necklaces.
Most of what they have to offer is aimed toward guys, though they're beginning to branch out into women's jewelry, too.
For every purchase, The Steel Shop donates to a fund that provides communities with clean drinking water. At the time of this writing (November 2019), they've provided an entire year's worth of clean water for over 4,000 people.
I'd heard great things about them (like their 4.8-star average from 500 reviews on Shopper Approved), so I wanted to reach out and give their products a try for myself.
They sent me two leather and one stainless steel bracelet to try. I've been wearing them for the past two weeks and my verdict is in.
Did I finally achieve Johnny Depp level coolness?
Obviously not—the dude owns an island.
But did I at least elevate my style?
Let's find out.
---
The Steel Shop Unboxing and Review
---
The Steel Shop sent me three of their best sellers:
Before we dive into specifics, let's cover the basics.
Packaging
The Steel Shop sends each of their products in a heavy-gauge cardboard pull-out box. Each piece is placed in a felt pouch with a Steel Shop logo on the front.
They go above and beyond with the packaging experience. These boxes look great on my dresser next to my watch cases and the soft cushioned interior is a cool bonus.
Delivery and Shipping
I was impressed with how quickly my order arrived. I had my bracelets just two days after clicking the "buy" button.
I wasn't expecting to get them for a week or so, but having them sooner meant I could work on my Jack Sparrow impression for an extra three days.
---
---
This is the thickest of the three bracelets sent by The Steel Shop. At 12mm wide, it can stand on its own, but I liked it best stacked with the others.
I chose to have mine custom engraved (for a small extra fee).
The customization options are great for gifts, though I felt that the lettering was a little too simple—the engraving on my second leather bracelet seemed more tasteful.
The clasp on this thick braided leather piece is easy to work with—just slide one end into the other and a magnet locks it in place.
This will be a great piece for fall and winter. It fits nicely under a coat sleeve and has a substantial weight to it.
---
---
Of all three pieces I got, this one's my favorite. It's super simple and goes with everything in my casual wardrobe.
The clasp is a basic male/female button with a lever. I had this one engraved on the inside of the clasp, and I like how it turned out. The lettering has a serif font, which is a little more elaborate than the engraving on the first bracelet.
Because the engraving is on the inside, it doesn't show. I always like to have a little secret here and there.
The leather for both bracelets is soft and pliable. They never felt too stiff, not even out of the box.
It takes a while for bracelets to really wear in, but with the quality, these were comfortable right away. I'm sure they'll continue to get softer over time, and I'm looking forward to that.
---
---
I've always liked the look of a thin silver bracelet paired with a suit. To me, that's accessorizing at its finest—when you personalize a classic look.
I went with the Franco Link because it's more unique than a classic Cuban link. Cuban links definitely have their place, but I think of them more as everyday wear. I plan on busting out this Franco Link when it's shock and awe time.
At least that's what I thought at first.
I've been pairing the Franco with the thin Italian braid and it looks great paired with my favorite fall flannel.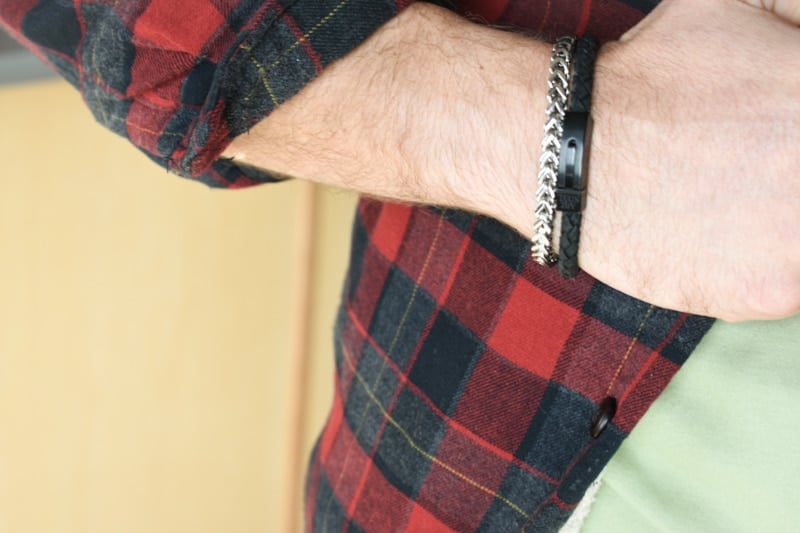 That just goes to show how versatile silver jewelry is. I still like it dressed up, but I didn't expect how much I'd like it totally dress down.
For me, the Franco Link was a big win.
Other Reviews for The Steel Shop
The Steel Shop has praise all over the internet.
From over 450 5-star reviews on their own site to the 4.8 average rating on Site Jabber, it's safe to say that these guys have a lot of happy customers.
Many reviewers mentioned quick responses from the owner on questions they had. On the downside, a few said that customs and taxes made getting their accessories a bit harder than it should have been. Those cases were rare and only applied to a few European countries.
---
My Overall Thoughts on The Steel Shop
---
---
The Steel Shop Discount Code
---