Parker Clay Review: Heirloom Quality Bags That Tell a Story
Disclosure: This is a sponsored post containing affiliate links. We received compensation and courtesy product from Parker Clay in exchange for our honest review only. All opinions expressed here are our own. What's this?
Ethiopian full-grain leather is something to behold. Parker Clay keeps the focus on incredible materials and lets them speak for themselves. The designs are simple, but the quality is excellent.
Heads up: Get 25% off your entire order with code THEADULTMAN.
---
Two years ago, my wife and I went on our honeymoon in Italy.
She wanted to get an Italian leather designer bag while we were there.
When I first saw the price, I shot chocolate milk out of my nose (figuratively. I don't think Italians believe in chocolate milk).
Eventually, I stumped up the cash and got her the gift she wanted.
When we came back to the states, I was able to recoup the investment by pawning my cat and moving into a nice cardboard box under a bridge. I'm joking—I'd never own a cat—but the experience did get me interested in high-quality leather.
I spent a lot of time researching the different tanning methods and I even hand-crafted a small leather hand purse for my wife.
And then I heard about Parker Clay. They proudly display that their handcrafted bags are made in Ethiopia (which I learned in my leather-working days is one of the premier places to find top-quality leather).
If a brand boasted that, I knew they were onto something.
Parker Clay sent me their Atlas Backpack. Did it live up to my expectations? Keep reading to get the full story.
---
What Is Parker Clay?
---
Parker Clay is a luxury leather bag company with their head in Santa Barbara and their heart in Ethiopia.
Originally founded by husband and wife team, Ian and Brittany Bentley, the idea for Parker Clay came about accidentally.
Ian and Brittany moved their young family to Ethiopia to help create programs and systems that empower young women to avoid the prostitution and human trafficking that's still prominent.
When Ian was out shopping for a birthday gift for his wife, he came across an incredible leather bag. When he learned a local Ethiopian factory made it, he had to discover the story behind it.
I'm sure you get where this is going from here. The bag Ian found was incredible enough that he decided right then and there that he needed to start a business around it.
Years later, the Bentley family moved back to Santa Barbara (their hometown) and launched Parker Clay—designer-quality leather bags that empower women. It's what the brand calls "fashion on purpose."
Parker Clay offers a range of leather bags for both men and women that all have a similar minimalist look. Duffle bags, weekenders, totes—they carry all the standard bags you'd expect.
But where the brand stakes its claim is on the quality of the leather.
Ethiopia is Africa's largest leather producer—in fact, it's one of the largest leather producers in the world. Much of that leather goes to Italy and England, where it's used to craft designer brand shoes and bags.
So even if Ethiopian leather isn't hailed throughout the world as the highest-quality material, the people "in the know" snap it up as much as they can.
I used my small amount of leather-working experience and the knowledge I've gathered over the years working with high-quality leather goods to take a close look at Parker Clay's Atlas Backpack. Here are my thoughts.
---
Parker Clay Bag Review
---
Atlas Backpack Unboxing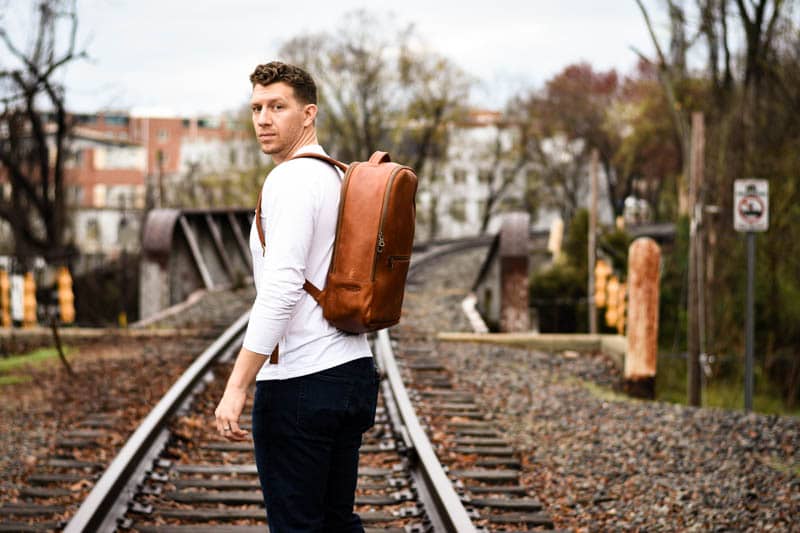 It's always a treat to have a large package show up at your front door.
But when you open the box and the rich scent of fine leather pours out—that's less of a treat, more of a luxury.
Yes, the first thing I'll talk about is the smell.
I believe you can tell a lot about the quality of leather without touching it. I don't even think you need to see it. I think you can gather 80% of what you need to know just by smelling it.
Now, there's no science behind that. But if you've ever smelled a high-quality bag, you know what I'm talking about.
I ended up moving past the "smell-stage," and eventually touched the bag. The full grain leather is velvety soft and supple.
It's much easier to visualize these things, so here's what full grain leather looks like compared to lower quality.
Can you spot the difference?
There are several levels of leather quality, ranging from "genuine leather" at the bottom level, up to "full grain" at the top.
My first impression of the leather on this bag is that it's exceptional quality. The only downside to this soft, luxurious feeling leather is that it can scuff easily.
I placed my bag against a wall for a moment to read the care instructions sent in the package, and when I picked the bag up again, there was a mark along the front. Same goes for when you grab the handle at the top of the bag.
It's impossible to keep this leather looking completely brand new.
But here are some tricks to help:
First, don't expect it to stay scuff-free. Part of the beauty with this sort of leather is that it ages gracefully and takes on a unique look that reflects your use of the product.
That said, it's important to condition this leather regularly. It's not the cheapest bag you can find—not by a long-shot, so I recommend investing in some care-products to protect it.
Parker Clay conditions the leather before shipping your bag. Still, they offer an all-natural beeswax and lanolin conditioner, which I recommend. The extra cost and small time investment will ensure that the leather lasts a lifetime.
Atlas Backpack Construction
Enough about the leather—let's talk about how this bag functions.
The bag is simple—a main compartment and small zippered pouch in the front, and a compartment in the back where you can stow your laptop. The inside is lined with a soft beige cotton fabric. It's a classy and timeless look.
The main interior compartment is big enough to pack a day's essentials. If you travel like me, you can stuff a weekend's worth of clothes in here—but I travel light.
But if you like to have a new change of clothes for every day you're travelling, Parker Clay's Montecito Weekender or Omo Overnight Bag might be more your style.
Still, I can pack a pair of pants, two changes of undies, socks, two shirts, my laptop, sunglasses, charger, and Dopp kit in here. I've studied Marie Kondo's work. She's a genius.
There are plenty of places to tuck items away, but the bag doesn't feel over-engineered. Some bags I've gotten have a pocket for everything, which takes up a ton of space and doesn't allow me to pack as much as I want.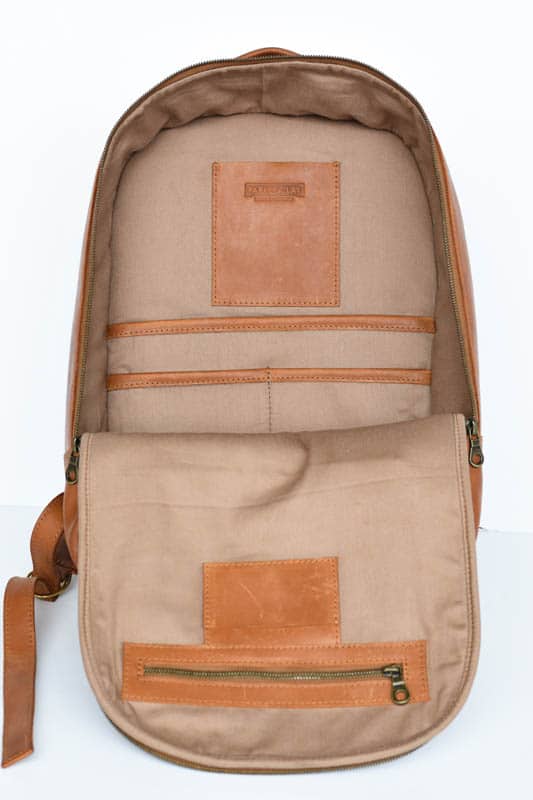 The back compartment is very simple—a good spot for your laptop or if you're packing any books. There isn't any padding back there, so I'm not going to pack anything that doesn't have a large, rectangular surface. Otherwise it'll poke me, and that's uncomfortable.
While I can definitely see taking this as a main bag on a quick weekend or overnight getaway, it's best suited for everyday use.
I'm most excited to see how this bag ages. Full grain leather has a tendency to look more beautiful over time, and in five years, this bag will look amazing (assuming it gets taken care of, which it will).