Original Grain Watches Review: Cool Mission, But Are They Any Good?
Disclosure: This is a sponsored post containing affiliate links. We received compensation and courtesy product from Original Grain in exchange for our honest review only. All opinions expressed here are our own. What's this?
With their unique use of repurposed materials, quality craftsmanship, and a focus on a more sustainable future, it's no big surprise that Original Grain has grown to become one of the most popular wood and steel watchmakers in only six years since the birth of the brand.
Heads up: Get 15% off at Original Grain with code TAM15.
---
I come across too many watch brands in this crazy job that is running this site.
But I don't pursue or review all that many.
And it's not because I'm not a fan of watches. It's more that, these days, the watch space is about as crowded as Times Square on any Saturday in June and so it's rare for a watch brand to really grab me.
I know that you know where I'm going here. You're waiting for the classic "but Original Grain is different" line.
And you're right. You've caught me.
Because as you're about to find out, they absolutely are.
---
---
Based in San Diego, Original Grain is a watch company that makes watches using mainly reclaimed wood and steel.
Using unique materials like old Kentucky Bourbon barrels, retired seats from Yankee Stadium, or decommissioned military ammo crates, the brand, in its Reclaimed Series, claims to "create timepieces that both keep time and tell time".
Because each piece of wood is different, no two watches are the same.
Original Grain only uses wood that is either repurposed or certified as sustainable by the Forest Stewardship Council. Sustainability is a cornerstone of the business and has been a north-star for the founders, brothers Ryan, and Andrew Beltran, from the get-go.
For every watch sold, Original Grain, and its partner, Trees for the Future commits to planting a tree in Senegal. These trees afford over 26,000 people more food and a chance at a better tomorrow.
I'm always impressed to see any brand genuinely making a positive environmental impact via its platform and profits.
And I really dig the reclaimed idea. It adds character and gives you a legitimately cool story to tell your tipsy Uncle when you get the classic "where'd you get your watch?" question.
The Barrel Brewmaster (review below) was crafted from staves of a German oak barrel used to ferment and age beer. A fact which certainly aligns with the brand's tagline:
"You're not just getting a timepiece, you're getting a piece of time".
---
The Story: Two Brothers and a Big Idea
---
Your story is unique. Your watch should be, too. – Original Grain
Ryan and Andrew Beltran grew up in the Pacific Northwest playing in the woods and camping outdoors. As they say, you can take the boy(s) out of the forest, but you can't take the forest out of the boy(s).
That's the saying, isn't it?
After creating a series of designs featuring exotic hardwoods and stainless steel, Ryan and Andrew launched Original Grain on Kickstarter. The campaign was a roaring success, raising over $390,000 against a $10,000 goal. The boys were in business.
Fast forward to 2019 and the company has just celebrated planting its 500,000th tree. A pretty remarkable achievement if you ask me. To commemorate it, the brand released a Founders 6YR Anniversary Collection designed by—you guessed it—Ryan and Andrew.
Hear the Original Grain story told by the brothers themselves in this clip:
---
Original Grain Barrel Watch Review
---
I picked up the Barrel for this review, because, well—I just love the clean and simple design. And also, it kind of looks like you can smell the wood before you even get it. In that nice barrel smell way.
Oh, that's just me? Roger that.
Original Grain offers a variety of colorways, each corresponding to a different type of wood.
I'm a big time beer guy, so I felt like I had to go with the Brewmaster. And yes, it's made from reclaimed german oak barrels, so it had my interest right away. But it also happened to be my favorite colorway. Double-win.
You can also find the Whiskey, made with reclaimed American bourbon barrels, and a beautiful African Sapele wood watch in the Original Grain Barrel collection.
As with all Barrel style watches, you have a choice between a 42mm case or the larger 47mm version. I went with the 42mm because I'm not a huge fan of oversized watches. Some guys can pull it off, but I'm not one of them.
The stainless steel and wood band comes standard, but if you'd like to add some versatility, you've got the option to add a brown leather strap for a fairly reasonable extra cost.
---
Unboxing
---
The Box
The watch came in a sturdy wooden box wrapped in a black sleeve.
I was genuinely looking forward to finding out what was inside after I'd slipped the wooden box out of its sleeve. It has a rustic print of the logo on top which set the tone for the unboxing experience to come.
Upon first seeing the watch itself and feeling it in my hot little hands, the quality was evident right away. The grain of the German oak barrel shone through brilliantly on the face and it felt smooth and solid against my skin.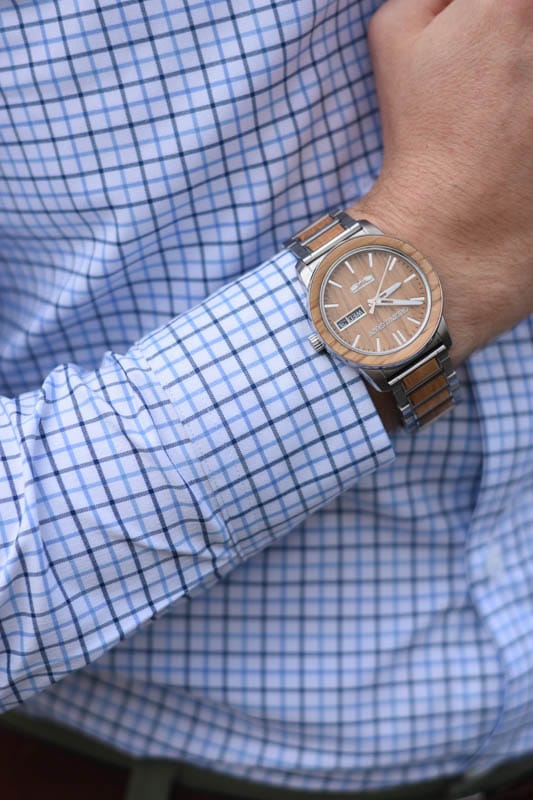 The box was loaded with goodies, including a folding brochure unique to the Barrel collection (always a good sign) with a few promo images. It also listed specifications and a quick guide on how to adjust the date and time.
Original Grain provides a certificate of authenticity for each of its watches. This is is comforting and something I always like to see for any watch valued above about $150.
The most unique part of the packaging for me was the token medallion you get that represents the tree planted as a result of your purchase.
It doubles as a keychain so, if you want, you can get a daily reminder that you've done at least one good thing this year.
Overall, my first Original Grain unboxing experience was up there with one of the best I've had with any watch brand. Only Melbourne Watch Company comes close.
It's clear the brand has put a lot of care and thought into making a solid first impression and highlighting its mission. The attention to detail makes these watches a great candidate as a gift.
The Case
The case is made with 316L stainless steel and wood reclaimed from German oak used to ferment and age that sweet, sweet German beer.
Which German beer, you ask?
Well, there's absolutely no way of knowing, but I'd like to think it once held Ayinger Bock (for those who don't know, that's hands-down the best German beer—fight me in the comments if you dare).
The watch has a nice, solid weight to it, but it's not so heavy that you'll struggle to lift your arm to point at birds, kites, and whatever else is getting around your neighborhood.
With a 10.8mm height, the case is pretty chunky. Because the design is firmly in the "casual" style, I like the larger, bulkier appearance. It works really well on its own paired with a t-shirt or polo.
That said, I wouldn't wear this for a formal occasion.
Unless it's a formal challenge to meet up at Oktoberfest and have a stein-carrying contest (bucket-list).
A simple three-point crown adjusts the date and time. A half pull adjusts the date (which you can also set in Spanish) while pulling the crown fully out will allow you to move the hands.
The casing is splash proof which means you'll be all good in the rain or when washing up. But I'd advise playing it safe—this is a 100% All Natural Wood watch and your best bet is to keep it bone dry.
Besides, the warranty doesn't cover water damage.
The Dial
The dial is kept quite minimal on the Barrel Brewmaster. There's plenty of free real estate on the face which allows the intricate patterns of the wood grain to pop.
Stainless batons and numbers fill out the dial and bring dimension and structure to the design. A black window carved out from the wood displays the day of the week and date. As I mentioned earlier, you can set the day of the week in Spanish, too.
There's no lume, which isn't a big surprise given the all-natural sentiment of the watch. The mineral crystal face doesn't give off an obnoxious reflection in direct light and I'm yet to have a problem with glare.
The dial is covered with shatterproof mineral crystal. A downside to the mineral crystal face is that it isn't scratchproof, which can be an issue if you're the type of person who takes their watch off and puts it in your pocket when heavy lifting.
As long as you're careful not to put it next to your keys, you shouldn't have a problem with scratching.
Still, at this pricepoint, I expect to have a sapphire coated crystal at minimum.
Movement
The Barrel movement is Japanese Miyota quartz. This is a common automatic movement used by many mid to low range watch brands. While it isn't a high-end movement, it's made by Citizen and is universally well-regarded for its manufacturing quality and reliability.
It's also nice and quiet.
Strap & Wearability
The band on all Barrel watches is 21mm wide and made with stainless steel and reclaimed wood inlays.
The clasp is a double fold-over locking mechanism and has a wood grain design etched into the steel.
The band arrives with two extra links which is plenty to adjust accordingly based on your wrist size. Luckily for me, I didn't have to make any adjustments.
I have average-sized wrists, so if you do too, you should be able to wear yours straight out of the box as well.
---
Get The Barrel Brewmaster
---
(Use code TAM15 for 15% off)
---
My Overall Thoughts on Original Grain
---
---
Original Grain Deals, Promos & Discount Codes
---
---
More Original Grain Collections
---
Original Grain has released a range of core collections. These are supplemented with the ongoing release of new collections/series' (such as the Reclaimed Series) and using the design philosophies from the core collections.
Here's a brief rundown of the core men's collection and the Reclaimed Series, as well as my notes explaining the unique features of each individually:
The Alterra Chrono line features a 44mm watch head with a five hand Japanese Quartz movement. As you guessed from the name, it's a chronograph, with a 60-second stopwatch and a one-hour timer. This model is an Original Grain staple—you can pick up all watches in its Chrono design.
The Barrel collection, despite the name, isn't necessarily made from barrels. The name of the line refers to the watch's shape, which places emphasis on its face. When compared with the Classic line, the Barrel watches have less stainless steel components which serve to really bring out the wood (not that wood, you filthy animal). With a 47mm case, the Barrel is the largest watch Original Grain offers. If you've got a smaller wrist, or simply prefer the smaller style, you can get it in 42mm as well.
The Classic is a reboot of the brand's first design, hence the name. It's got a dressy, elegant look to it and comes in a 43mm case only. With options like Hawaiian Koa wood, military surplus, and ebony, there's some wiggle room here to match with your preferred color palette and style.
The Minimalist line is, well, minimalist. With a 40mm face and single crown for adjusting the time, it has a simple face which lets the wood do the talking (again…don't think like that, guy). These come with a narrow leather band rather than the interlocking stainless steel bands featured throughout the rest of Original Grain's collections.
The Hawaiian Acacia koa tree is the largest native tree on the islands. OG honored this "Hawaiian mahogany" and created a version of their Alterra, Barrel, Classic, and Minimalist watches to highlight the wood's unique grain and texture.
The Brewmaster series is made with reclaimed German oak barrels used for aging beer. It comes in the Barrel and Alterra Chrono style only. This watch pays homage to the rich tradition of brewing in Germany and would make a pretty sweet gift for any beer lover or homebrewer.
What do you get when you take reclaimed wood from real-life ammunition crates and mold it into a timepiece with a classic military field watch dial? You get Original Grain's Military collection, in all its heroic glory. A cool touch for this series is that proceeds for each watch sold are directed toward families of fallen United States military heroes. Another is that each watch includes an extra reclaimed military surplus strap. And did I mention they look pretty badass too?
Hooray. You can finally throw away your 1978 plastic Dodgers watch made from the same plastic they use to make slip'n'slides. The MLB collection offers luxury watches for baseball fans. With designs for 12 teams, you get the official logo on the face and an engraved logo on the back of the watch. A small ring around the face is made from reclaimed ash wood from old baseball bats.
If you're a Yankees or Cubs fan, you're about to go full fanboy. OG's 1923 Yankees Chrono is crafted from reclaimed seats from the Yankees stadium, rescued out after its 1923 championship season.
While Original Grain only features three universities in their Alma Mater collection as of June 2019, each series of watches feature a near-and-dear piece of each campus. The University of Virginia series features wood from the UVA basketball court. University of San Diego alumni can enjoy a watch made of reclaimed mahogany from the original doors of Founder's Hall on campus. Duke basketball fans can celebrate their 2015 NCAA basketball championship all over again with a watch made using pieces of the court from that particular season.
While these are the only three universities that Original Grain has featured to date, the company is on the lookout for unique recyclables from colleges across the country so it can pad out the collection. Watch this space—it's only a matter of time before they feature my father-in-law's beloved Wolverines front and center.