Nordgreen Watches Sets New Funding Record With Latest Kickstarter
Disclosure: We received compensation from Nordgreen to produce this sponsored editorial. All opinions expressed here are our own.
Game Of Thrones may have drawn its last dragon breath. But there's another hallmark of the last decade that's still very much on fire:
Crowdfunding.
Alright. Forgive us for the awkward analogy, but we've been dying to squeeze in a GoT reference all week.
While you're probably familiar with the odd crowdfunding horror story, properly executed crowdfunding campaigns successfully reward early bird customers for their show of faith, while designers and manufacturers get the funding they need to make their dreams a reality.
That's certainly been the case for Danish Watchmaker, Nordgreen, whose 2018 Kickstarter campaign saw their $15,000 funding target eclipsed with a colossal $222,000 worth of pledges.
And last year's staggering success has already been outshone by their 2019 funding drive, having raised a staggering quarter million dollars with more than three weeks left to go at the time of this posting.
Co-founded by university friends Vasilij Brandt and Pascar Sivam in 2017, Nordgreen's mission is to, "make Scandinavian design accessible to all while promoting global sustainability."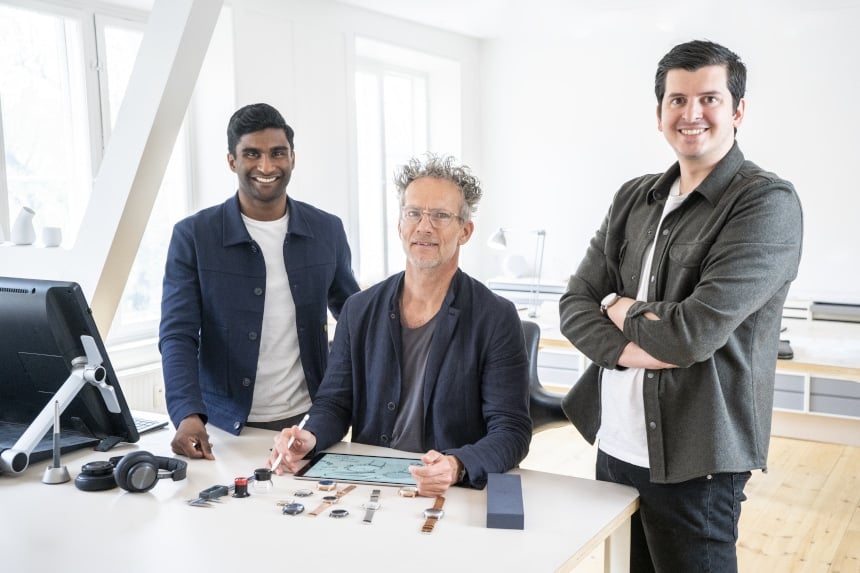 ---
Danish Designed: The Jakob Wagner Effect
---
The classic timepieces are lovingly envisioned and brought to life by legendary Danish designer, Jakob Wagner—best known for his work with audio equipment specialists, Bang and Olufsen, as well as minimalist furniture masters, Cappellini, and Moroso.
Wagner was brought on board the company shortly after it was founded, and was the perfect choice for the project, having been awarded six IF Awards, three Red Dot Awards, the Bundespreis and Designer of the Year.
Last year's launch saw three watches being offered on the Kickstarter platform—all of them showcasing classic Scandinavian minimalistic values, but without the high price tag usually associated with such a high standard of workmanship.
Backers were able to choose between the Philosopher and the Infinity, both with a 40mm diameter and finished in silver, or the Native, slightly smaller at 36mm, and mounted within a rose gold casing.
This year, Wagner has remodeled the Native, and added The Pioneer to Nordgreen's range.
Check out the latest 2019 Kickstarter video here:
Unlike the simple, no-nonsense designs already on offer, The Pioneer is clearly made for action. The traditional second hand is red tipped and acts as a stopwatch, while two additional dials help to measure elapsed time in minutes and seconds. It also features a stylish round-window calendar.
The Pioneer is a celebration of the Danish practice of Science for Humanity which strives to deliver innovation for positive change. The red tip is symbolic of the red tip found on wind turbines, while the clean space around the dial is representative of "the clean space that we strive to live in". This all ties together very nicely with their Giving Back Program, which I go into more detail on later.
The Japanese made Miyota Cal.6S21 quartz movement is accurate to 20 seconds per month, with a three-year battery life, and the face is covered by a domed sapphire crystal, which has a well-earned reputation for hardness—although Nordgreen makes no claims as to the watch's toughness.
The brand has also released a new 32mm diameter version of the Native which will suit gents with smaller wrists or who prefer a more low-profile accessory. All of the watches on offer can be customized with different colored faces, and quick-release Italian leather straps.
---
What Makes Nordgreen Special?
---
Nordgreen is dedicated to improving the world we all live in, and buyers can be satisfied that in addition to receiving incredibly good looking piece of Danish engineering and design, they will also be making the world a better place.
Making the World a Better Place – One Watch at a Time
As part of their Giving Back initiative, Nordgreen has partnered with three NGOs, and watch buyers will be able to choose a cause close their hearts to which Nordgreen will make a sizeable donation.
Purchasers can choose to help Nordgreen supply two vital months of clean water to one person in the Central African Republic through the charity, Water For Good; they can provide two months of essential education for a child in India, through the charity, Pratham UK; or they can help to preserve 200 square ft of rainforest in Latin America with the help of the David Attenborough backed Cool Earth charity.
Pascar and Vasilij envisioned the Giving Back programme as an essential part of their company, believing that "the right to good health, a clean environment, and a full education are rights for all."
A History of Innovation
Danish designers and engineers have traditionally been at the forefront of creating products which act for the betterment of mankind, pushing boundaries by creating cleaner, more beneficial technologies such as wind turbines, telephone networks, and programming languages.
Watchmaking is a natural next step for Jakob Wagner, whose exquisitely designed products are perfect examples of functionality and aesthetics combining to create conversation pieces which would be as at home in a museum or gallery as on your wrist or coffee table.
---
Make Your Pledge Now: Kickstarter Ends June 21
---
If you're in the market for a stylish new timepiece, and you like to back worthy causes, head over to the Nordgreen Kickstarter page and get up to 64% off by making a pledge.
Rewards are estimated to be delivered in October 2019.