Moral Code Shoes Review: Premium Leather Kicks for the Everyman
Disclosure: This is a sponsored post containing affiliate links. We received compensation and courtesy product from Moral Code in exchange for our honest review only. All opinions expressed here are our own. What's this?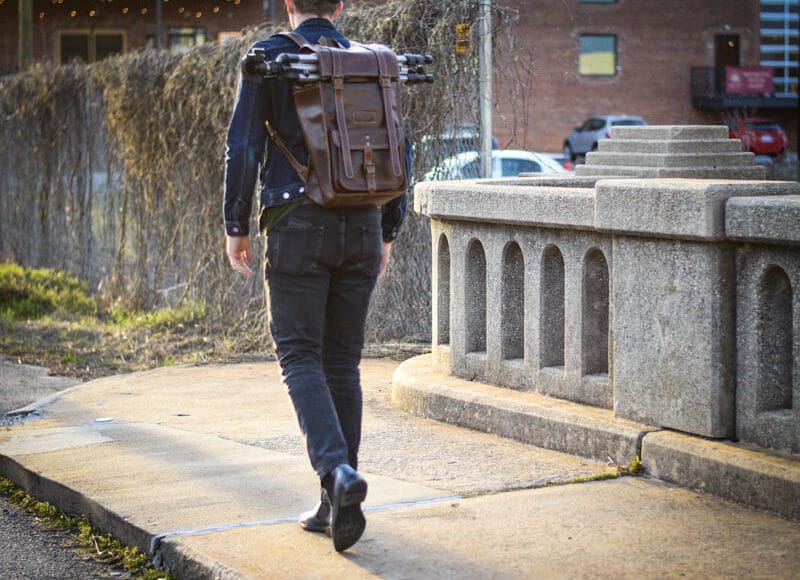 The industry experience behind the Moral Code brand shows. Their high quality shoes and leather accessories bridge the gap between clean, professional attire and casual-wear.
With so many direct-to-consumer brands popping up, I've felt like it's my duty to weed out the good from the bad.
After all, that's why we started this site.
It's not that some DTC brands are trying to trick people into buying shoddy products. But really, some brands just have more experience and deliver better quality.
I had a good feeling about Moral Code when I first came across them.
The owner, Mark Kohlenberg, had tons of experience working with men's shoe legends like Allen Edmonds.
But experience doesn't always translate into a good product. So I wanted to test Moral Code for myself and see if they could really deliver premium footwear at a low cost.
Keep reading to find out if their shoes and leather accessories are worth it.
---
What Is Moral Code?
---
Moral Code was founded in 2017 with the goal of making true premium leather shoes a possibility for younger buyers (read: Allen Edmonds level quality but roughly 50% the cost).
Mark Kohlenberg, the founder and CEO, has travelled to hundreds of factories around the world over the course of their long careers in men's footwear. When it was time to launch their own brand, he knew exactly which factory he wanted to work with.
While Moral Code owns the tannery they use for processing all their leather, they manufacture their shoes in a state-of-the-art factory in India.
Kohlenburg explained on the Buttoned Up podcast that Moral Code chose their facility based on the high humanitarian standards and ability to create a fantastic product, while still reducing the overall cost.
---
Moral Code Shoes Review
---
What is Goodyear Welting?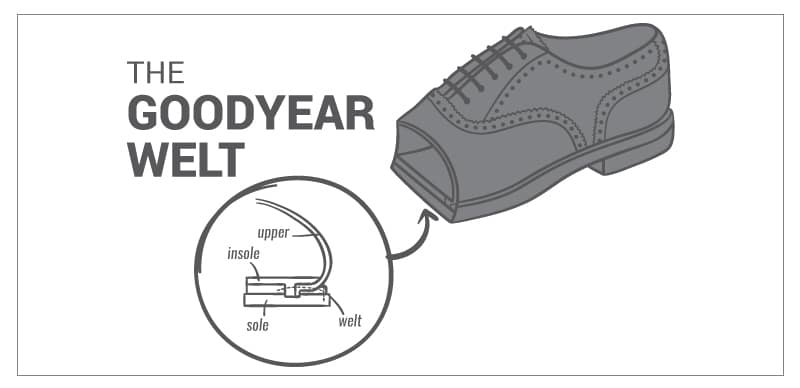 With so many shoe brands opting for cemented sole construction (it's cheap and easy) whenever a brand does something different, they tell you about it.
Moral Code is no exception.
They use Goodyear welting, which is known for its durability and the ease of resoling when the time comes.
Goodyear welting is a special technique used for making shoes and has been around since the late 1800's. It makes use of a piece of cork to attach the outsole and the leather upper. In the end, you have a long lasting shoe with extra support.
Typically, you'll see the more modern Blake stitching in Italian style shoes. It's not as easy to resole as Goodyear, but most shoe repair stores should be able to accommodate either.
The important difference is in the look.
Goodyear welting is much more common in English style shoes—so Oxfords, Brogues, and casual Chelsea boots all look fantastic with this construction.
But if you're looking for the super slim and sleek Italian look, you're better off with a brand that uses Blake stitching.
I think there's a time and place for both, but if I had to choose, I'd go with the Goodyear welt. And that's because my style is mainly American—I wear a lot of jeans, chinos, t-shirts, oxford button-downs, etc. My suits are also cut more in the American style rather than European style.
So mostly, the Goodyear welt compliments my outfits better. But I do also have a small collection of Blake stitched shoes that I wear mainly in the summer (they're considerably lighter).
I gave the Moral Code Lawry boot a thorough testing—mainly because I love Chelsea boots and I wear them just about every day.
The brand offers this design in both green and brown suede, as well as an Ice Blue leather (new for spring 2020).
While I love the look for the green and brown suede, I wanted to branch out and get a feel for Moral Code's spring additions.
The Lawry is more casual than dressy. Part of this is because of the extra size imparted from the Goodyear welting, but overall it's less slim and sleek than other Chelsea boots I own.
That's not to say that the Lawry is bulky—it's not—but if you want that super-slimmed down boot that works well with a suit, the brand's Storm design would be a better fit.
But if you're planning on wearing these with jeans or chinos, the silhouette is modern and sleek without crossing into the "dressy" end of the spectrum.
The gored elastic sides and pull-tab feel sturdy, which is always a plus. I've ripped off too many heel pull-tabs in my life, so I'm wary.
The leather lined footbed is comfortable, and I didn't have any issues with sore feet after wearing these a few days in a row.
I noticed that my heels rubbed after about a mile and a half of walking. I'm assuming that's part of the break-in period and it'll fix itself in the next few days.
04/20 Update: These are fully broken in after two weeks. They're comfortable and I have no problem wearing them around for a full day of walking.
The rubber outsole has a fantastic grip and seems durable enough to last for years.
As I said, Chelsea boots are my favorite style of shoe, and to date, the Lawry is my favorite pair I've owned.
The design is an excellent balance between size and sleekness, so it's my go-to when I want to elevate my casual wardrobe.
Moral Code also sent along their Brooks Retro sneaker in white.
The upper is a mix of white genuine leather and a slightly grey suede, sewn in a retro trainer pattern. A rubber gum sole completes the look.
If you go with all white minimal sneakers, they're best saved for spring and summer. But with the gum sole, these continue to match with a fall color palette, too. Winter is still a tough sell, but that's mainly because of the weather.
Though with spring coming, I'm looking forward to getting solid use from these retro trainers.
I've enjoyed wearing these with jeans and chinos, but they've also been a nice compliment with my new navy suit.
The suit and sneakers combo isn't technically classic men's style, but I lived in San Francisco for five years so I can't help it.
There's a padded leather layer on the footbed and soft calfskin at the heel. What does that mean? It's super comfortable—that's what.
While I'm always cautious when wearing white sneakers (they get dirty fairly easily), my feet don't get sore at all, even after a long day out and about.
I like the look of these sneakers, and when I compare the quality to other luxury minimalist white sneakers (I'm looking at you, Common Projects), I'm confident there's an excellent value here.
Moral Code Leather Accessories Review
When I really like something, I call it 'crispy.' I don't know if that's a thing or not, but I'm not going to stop any time soon.
Photos, songs, books—these things can all be crispy.
This backpack is crispy, too.
It's not over-engineered like many bags, and it's perfect for weekend getaways.
The shell is made from supple leather that looks and feels rich. The brass buckles give me the feeling that I should walk around with a snifter full of expensive brandy at all times (at least when I'm wearing the pack).
Inside the bag is a cotton canvas lining and a single pocket. It's a fairly shallow pocket, but you could easily fit sunglasses, chargers, or a few toiletries in it. There aren't any special pockets or pouches for a laptop, so it's not ideal if you're moving your tech around.
But it's fantastic for carrying a lot of clothes. I took this with me on a quick weekend trip to Virginia and it was perfect. I could easily store three days of clothes and toiletries, plus my phone charger and a book.
The quality of the leather makes this an heirloom piece. Everything is built well and feels very sturdy. With semi-regular care, I can see this backpack lasting for many decades. (I'll update this post when I'm 80 and let you know how it's holding up. It's in my calendar.)
Moral Code also sent along their slim billfold Turner wallet in green leather. Cash-money green.
I'm not one to go for omens and such, but having a green wallet seems like a great idea.
I've noticed that the more I use this wallet, the more the color changes. When I first opened the package, it was a nice pine green. But now, after shuffling my cards around, the leather has developed a marble-looking texture that I find mesmerizing.
As a nice bonus, both the wallet and the bag smell fantastic. They have that rich leather scent that can't be replicated with substandard materials.
The design is simple—a bi-fold with six card slots. A lack of frills keeps the profile slim, which is crucial for leather wallets. Too much complication and you'll end up with a bad case of wallet-butt.
Where are Moral Code shoes made?
The industry experience behind the Moral Code brand shows. Their high quality shoes and leather accessories bridge the gap between clean, professional attire and casual-wear.
Moral Code shoes are made in an ethical factory in India. According to an interview CEO Mark Kohlenberg did on the Buttoned Up Podcast, the team at Moral Code selected the best, most humane factory they'd ever visited. With Kohlenberg's extensive experience in the men's shoe space, that's saying something.
Where is Moral Code based?
The industry experience behind the Moral Code brand shows. Their high quality shoes and leather accessories bridge the gap between clean, professional attire and casual-wear.
Moral Code is based in Milwaukee, Wisconsin.