Heads up: This post contains affiliate links. If you click on a link and make a purchase, we may make a commission at no additional cost to you. What's this?
If you're like me, you want to look your best at all times.
You never know when you might be accosted on the street by a TV camera, need to deliver an emergency toast at a wedding, or rescue a beautiful lady who just left her phone in a taxi.
You need to be able to do all of this with effortless charm, rather than looking like you just rolled out of your pad to pick up a frozen pizza and some more toilet paper.
Clothes maketh the man, so the old saying goes, but if a man maketh little money, how doth he get good clothes? I'm here to tell you how to look, dress, and act like a dapper man while on a budget:
1
Decide a clothing budget
If we're talking fashion, the best thing to do before you begin is set your clothing budget and stick to it.
Those dapper dollars will be all but depleted if you're not careful, and you might be ending your shopping spree with a pair of socks and a belt.
2

Consider growing facial hair
I'm not talking about a soul patch or a wispy little kung-fu moustache, but something that suits your face.
It's free, it requires less spend on shaving products, and all it takes is a little maintenance and you'll be looking well groomed. On that note…
3

Get a classy haircut
You can dress in the finest Italian suit imaginable, but if you're rocking a cornrow mullet you'll be walking away with the award for most polished turd.
Get something sharp, it may cost you (never as much as a woman's cut), but you'll immediately look ten times better. Set the trend and check out our 33 best guy haircuts as well as our list of the most attractive haircuts for men.
4

Invest in a nice jacket
But Christopher, I thought this post was about saving money?
It is, but some things are worth spending money on. A well-fitted jacket smartens up any outfit, can be used for all occasions and will set you off on the right path. Warning: People will be asking you to not be so dapper because you're showing them up.
Can't afford that? Well…
5
Learn to love thrift stores
Popularised by Macklemore, it's a little known fact that they don't actually have to be that obnoxious.
Rather, they can be run for charity by little old ladies, and if you're patient enough to dig through two hundred Hawaiian shirts and some stained underwear, you can find a gem or two (and usually an absolute bargain).
6
6. …and vintage shops
Similarly, if you live in a city, they will be all kinds of hipster communities looking to capitalise on the vintage revival.
Don't pay over the odds for an officer's jacket from WWII or you'll look like you're in My Chemical Romance, but you'll often find something with that timeless cool.
7
….and outlet stores
TJ Maxx and others like it specialize in offering B-stock, or out of season stuff.
If you shop here for basics, like jeans or t-shirts, or plain button-down shirts, you'll very rarely go wrong (just avoid the wacky, out-there pullover with the leather sleeves, there's a reason it never got sold at the Tommy Hilfiger shop).
Why buy out of season stuff though?
8
Fashion is cyclical (so hold onto stuff)
You never know what's going to be trendy again.
Grunge is having it's revival day, as kids desperately dress like shit and then try to act like they aren't trying. Sure, it's tiring, but who knows what you've got right now that could be useful later (spoiler: not Hammer pants)?
9
Quality over quantity
Whatever happens in these places, don't go mad. You could blow your entire budget on that series of XXL jackets because they're on sale, but will you look like Tom Hanks at the end of Big?
Better to have one or two quality pieces, they'll last longer and stand the test of fashion time.
10
Watch YouTube videos
Style is constantly evolving, and the problem with high street fashion is it's seasonal. That $100 you dropped last month could be unfashionable in the drop of a (Bruno Mars-style fedora) hat.
Luckily, there's a bevy of trendy, young things on YouTube, all mugging to the camera, and desperate to take you through how they get their styles, and what to look out for. Be sure to check out our 15 Best YouTube Channels for Men.
Also…
11
Read free style guides
There are countless style guides out there online, literally thousands of people are just waiting to impart their wisdom.
The best part is, you can be a bit discerning (some of the advice is crap) take these with a pinch of salt, and get a handful of style advisers right at your fingertips, for free.
12

Use Pinterest
There's a common misconception that 90% of boards contain the words "WEDDDINNGGG AAAAARGHHH". In fact, among other things, Pinterest is an excellent source for finding things you may like to make, wear, or do.
Most importantly, it's not just for women, so you can look up pictures of sweet motorcycles while you're looking for style ideas.
Check out our Pinterest here for plenty of ideas.
13
Reddit/Imgur
I bet you never thought you'd be trawling the home of memes and Russian dashboard camera footage for style tips, but the only thing the internet loves more than cats is lifehacks, and a good subcategory of that is dedicated to style shortcuts.
People dedicate whole posts to achieving a popular look on the minimum money, usually by using online clothing shops like…
14
Amazon/Asos
Thanks to an influx of foreign manufacturers dedicated to single-handedly copying every style kind for a fraction of the cost, you can pretty much attain any clothing style for about ⅓ of the price.
15
Discount codes
If that's still too much for you, keep an eye out for websites that offer discount codes. And it just so happens that we're one of those sites! Check out our deals page here.
Obviously, you run the risk of buying a bunch of stuff you don't necessarily need, so you should stick to your clothing plan unless you really can't live without 50 Silk Bow Ties.
16
Off-brand
Of course, buying clothes online can be a pain, especially if you're not too sure of the sizing each individual company uses (how many litres in a foot?), so you should also feel welcome to search for off-brand versions of your favourite clothes.
Be careful for obvious knockoffs though, don't grab (like I have done) an Abbibas jacket or a pair of Poomas.
17
Sales rack
Not that branded clothes are out of your reach (remember quality over quantity), so consider going to any sales that your favourite shops may have.
Be warned, this is usually where you find only XS or XXL, along with some absolute horrors that some designers managed to successfully pitch to the shops.
18

Plain t-shirts are timeless
There is barely any casual scenario where you can't rock up in a nice white t-shirt and fit right in. Cheap too.
19

Shoes maketh the man
Really though, you're going to want to get nice shoes.
Cheap shoes will only get so far, literally – they will fall apart, but people (women) appreciate a good shoe, and may judge you accordingly on your choice.
For inspiration, hit up our list of 10 Types Of Shoes Every Guy Should Own.
20
Accessories over new outfits
Sometimes a simple addition can double your dapperness.
Do you need a new shirt, or would an addition of a scarf make all the difference? Or maybe even some…
21

Pocket squares
The cheapest, most dapper addition to any suit, pocket squares add a touch of personality without going overboard. Plus you'll need something wipe the brows of all those dames who will be perspiring at the sight of you.
22
Most importantly, love the clothes you've got
Keep your clothes washed, pressed, and ironed. Try to take care of them – no one looks dapper with pants covered in toothpaste/other miscellaneous stains. Invest in good hangers. If all else fails…
Repairing clothes is actually not as hard as it has to be. Buttons can be easily sewn back on, stitches can be rethreaded. Look up videos online if you're not sure.
23
Don't fall for hype
Yeah, I know. Kanye released a white t-shirt that cost $120, and it sold out because apparently we live in a broken society. But look, he also said he was the greatest rock star of our day.
It's great to get on the hype, it feels natural to be part of something big, safe, but don't let it go against your new thrifty nature. These things don't last.
24
Learn how to cook
Heating up a pizza does not count.
There's little more impressive than a man who knows his way around the kitchen. There are so many free guides online, so you can create flavorsome food that looks great, and you'll save a ton of money.
25

Read Articles / Books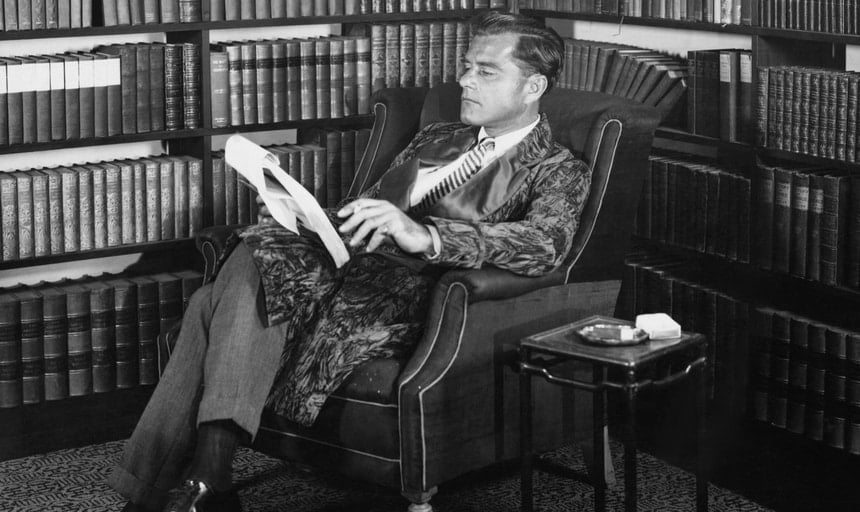 We here at The Adult Man appreciate that the dapper man needs to be informed. 
Did you know that you can read almost all newspapers online for free? The Economist, the New Yorker and others also offer a few articles a month for free.
Also be sure to check out our list of 75 Books Every Man Should Read.
26
Invest in a good aftershave
You can wear the sharpest clothing you like, but if you smell like Axe body odor you might as well go and live with your parents again.
Sure, good quality aftershave can cost a lot, but it lasts a long time.
27
Practice manners
You can smell nice, you can dress amazingly, and you can make all the Foie Gras you want, but if you're a dreadful human to be around you'll only get so far.
They say you're never fully dressed without a smile, but that's a load of crap. Just be good to people and you can be as naked as the day you were born (Disclaimer: I do not recommend this).
28
You're only as dapper as you feel
Being a dapper man is a state of mind.
It's a way of being. Clothes and style are about confidence, and it doesn't matter how much you spend if you don't carry yourself like you're the coolest man about it's all for nought.
Get a real dapper-tude, and get dapper, dude.