Everlane Review: Because Life Is All About The Essentials
Disclosure: This is a sponsored post containing affiliate links. We received compensation and courtesy product from Everlane in exchange for our honest review only. All opinions expressed here are our own. What's this?
With its high-quality essentials apparel and ethical approach to clothing production, it's no surprise that Everlane is fast becoming the go-to retailer of choice for guys who like to keep it simple.
Heads up: Everlane promos are rare and so we wanted to make sure you're across this one:
Everlane is currently running a Choose What You Pay event where you can get up to 65% off a pretty huge range of men's styles. Check it out now—we're told it'll run until they sell out.
---
Alright, confession time.
Going full-time working on this website last year led to a change for me that I didn't really expect.
No, I'm not suddenly a fan of olives (that's definitely not happening anytime soon).
It's simply this:
I'm now dressing differently than I did in my old corporate job.
I still go to an office. Although granted, it's a coworking office with much more of a startup vibe.
But for everyday officewear, the suit is no more. And you might think it'd happily be the first thing I'd want to let go.
But I actually enjoyed wearing my suit every day. There's obviously the added confidence that comes with looking as sharp as you can be. But I also think putting a suit on in the morning always puts you into the immediate headspace of I-need-to-get-stuff-done.
Nowadays, if I'm at my office, or just getting around I'm usually wearing what you would call 'basics'. Or 'essentials'.
They're simply way more comfortable when spending hours in front of a computer.
And this is what lead me to Everlane.
---
---
Everlane is a San Francisco based clothing brand for men and women.
And much like a minimalist traveler, they're all about essentials.
Their aesthetic is clean and simple. You're not going to find intricate patterns or flashy colors across Everlane's men's range.
No, real basics should be solid. And at Everlane, solid they are.
The brand also has a unique mission which is focused on using ethical factories, sourcing the finest materials, and being "Radically Transparent" about what it costs to put it all together.
And no, they're not talking about you at your 21st Birthday party.
They mean being literally transparent about their costs breakdown, as you can see here:
I don't know about you, but I haven't seen too many brands nakedly reveal their true cost of goods for all to see on their website. And by looking at the Traditional Price in the above breakdown, it's no big surprise.
Check out their about page to see for yourself, and to read their mission firsthand:
At Everlane, we want the right choice to be as easy as putting on a great T-shirt. That's why we partner with the best, ethical factories around the world. Source only the finest materials. And share those stories with you—down to the true cost of every product we make. It's a new way of doing things. We call it Radical Transparency.
---
Everlane Review
---
Here's the rundown on my essentials haul from Everlane:
Update 03/20: William had a chance to try the Everlane Tread Sneakers in Mustard and Charcoal. He's added to my review below. 
Wondering why I got what I did? Well, since you asked so nicely:
My thinking was to choose a range of fabric types so I could reach a more informed opinion on Everlane's overall quality for you guys.
Keep reading for my thoughts on each individual piece.
---
---
Straight up—I dig this jacket.
Built with a triple-stitched 9.3 oz 100% cotton canvas exterior it's got a real give to it. It fits well and I love the ochre color. It's different. I've racked up my fair share of compliments wearing it already.
With its 60g PrimaLoft insulation, it's heavy enough to keep you warm on a winter day but it's light enough that you can shed a layer underneath and still wear it when it's only cool out.
It has a two-way zipper and an interior snap pocket. I like that the exterior pockets are minimal and don't take away from the jacket's overall simple aesthetic.
---
---
So we're going back to back on the wins here. Yep, that's right. I'm also a big fan of the Skinny Fit Jean.
Made from 98% cotton and 2% elastane, they're premium 11 oz Japanese denim. And you can definitely feel the quality of the material.
They're lightweight and flexible—owing to their slight 2-way stretch. Oh, and they don't have that denim smell that you sometimes get with jeans at this price point.
The fit is also good. Skinny but not help-me-these-are-now-painted-on skinny. The color is dark indigo.
---
---
The 365 Fleece Crew is Everlane's take on the crewneck sweatshirt. Made from 82% cotton and 18% polyester, it feels soft and super cozy.
It's a bit of a shame that it's not 100% cotton, but that's just the purist in me talking. I don't really feel the difference with this sweatshirt.
Overall, I like it—it keeps me warm and the off-grey/blue color (mysteriously named 'harbor mist') works really well as a layering piece.
Note—the Fleece Crew is a standard fit but you may find it to run a little lengthy if you're shorter than 5'11".
---
---
Next up is The Heavyweight Long-Sleeve Crew in navy heather—a slim fit long-sleeve tee.
It's made from 6.2 oz 100% cotton. The fabric has a dry yet durable feel to it. I like the look of the seams, they're quite unique for a long-sleeve basic.
Other than that, it's comfortable and fits me well.
---
---
Similar to the skinny jean, these chinos are made from 98% cotton and 2% elastane for a slight 2-way stretch. They feature a slightly longer rise, two front slant pockets, and two back single welt pockets.
Overall, they're nice and comfortable. They're also quite light (which some guys may rate as negative) but it does mean they're very breathable. They're great for casual wear.
As a downside, I do find they crinkle frustratingly easy.
---
---
Back in April 2019, Everlane launched their first sneaker line: Tread. While we missed their Court Sneaker, I recently had a chance to try their Trainer in mustard and charcoal.
The new Trainer is built like a retro sneaker with plenty of what I call "chunk-factor."
Now, I know what you're thinking. That sounds awful. But just take a look for yourself.
Everlane is pleasing my '90s kid heart with these chunky sneakers. They're meant to be reminiscent of those good ol' days, playing tether-ball on the black top, drinking Capri Suns and eating Lunchables (I didn't realize it until just now, but apparently I grew up eating straight poison).
But what separates these Everlane Trainers from the sneakers of your youth is the quality of materials—which in turn gives these a more refined look.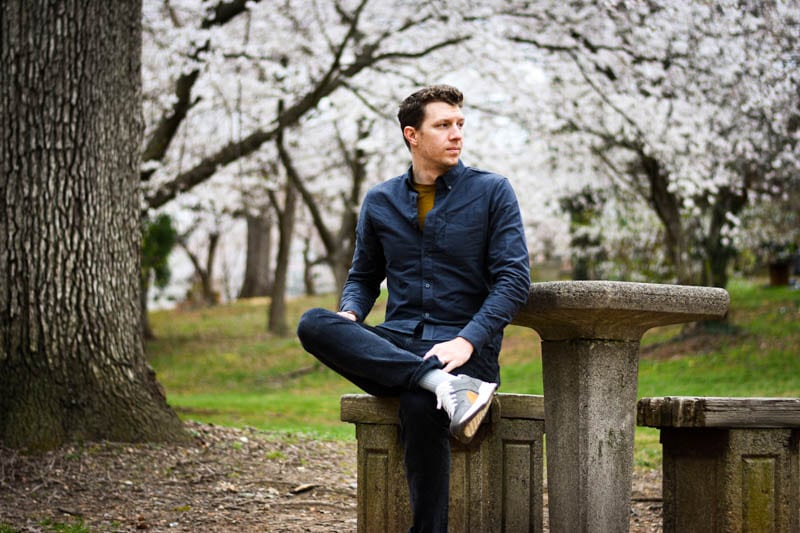 The upper and tongue are made with full-grain leather from a gold-certified tannery in Saigon. And of course, in true Everlane fashion, there's a sustainability aspect, too.
The sole is made from recycled rubber that's over 94% virgin-plastic free. What that means is this: rather than creating new plastic to make their shoes, the brand has dedicated themselves to removing plastic from the environment and repurposing it into a sustainable pair of sneakers.
But they didn't stop there.
Everlane is committed to offsetting their carbon production by 100%. So for every cubic centimeter of carbon that's made in the manufacture and shipping of these sneakers, Everlane donates money to a cause that removes the same amount of carbon from the atmosphere.
These Trainers are a lot more than a cool looking pair of sneakers. They're a guidepost showing how brands of the future will conduct business. They're a statement that says fashion doesn't have to be wasteful.
But they're also a cool looking pair of sneakers.
---
My Overall Thoughts on Everlane
---