Carhartt Review: The Iconic Workwear That's Not Just For Work
Disclosure: This is a sponsored post containing affiliate links. We received compensation and courtesy product from Carhartt in exchange for our honest review only. All opinions expressed here are our own. What's this?
Carhartt has once again expanded upon its core value of making high-quality workwear with the introduction of new material technologies that are sure to capture the attention of the detail-savvy millennial apparel buyer.
Take a minute to imagine that Barack Obama, a millennial skateboarder, a rapper, and a salt-of-the-earth blue-collar worker are all standing side-by-side in the same room.
Now try to put aside your curiosity about the kind of conversation they'd be having and close your eyes for a minute.
In your own imagination, do you envisage them all to be wearing the same brand of clothing?
I didn't think so. But maybe you should. Because each group has previously been won over by Carhartt's rugged made-in-America appeal.
Could we be too?
---
What Is Carhartt?
---
Honest value for an honest dollar.
Carhartt's first ever slogan says a lot about the vision that founder Hamilton Carhartt had for the company he founded in Detroit, Michigan in 1889.
After a few early failures, Hamilton honed in on making a bib overall specifically for railroad workers. It caught on, and the company quickly developed its reputation as the leading maker of quality workwear.
Both the Bib Overall, and the reputation are still standing tall over 130 years later.
While the brand has shown remarkable staying power over five generations and a unique chameleon-like ability to appeal to a wide variety of demographics, its core value of making the very best apparel for the active worker remains central to everything it does.
Ever-evolving, and with its eye on its newly captivated millennial market, Carhartt has recently developed and trademarked new material technologies that feature in both favorites and new pieces alike.
---
The Review
---
Carhartt is all about making apparel that can withstand the rigor of the rugged outdoors.
So what'd we do for our review? We picked up a bunch of Carhartt gear and wore it on a three-month expedition to the South Pole.
OK, I wish.
We did the next 'ruggedest' (I was pretty surprised to learn that's actually a word) thing and packed it all for a road trip through Northern California. Our team's stops included the Redwood Forests and a few stunningly secluded beaches along the West Coast.
Here's the full list of the Carhartt gear we took along for the ride:
Keep reading for our thoughts on how each one held up.
---
Force® Delmont Tee
---
First off the block is one of Carhartt's bestsellers.
The Force® Delmont Tee is a short-sleeved, relaxed fit t-shirt. It features a Carhartt orange colored neck tape, smooth flatlock seams, and raglan sleeves for better range of motion.
We picked up the navy version which is made from 65% cotton and 35% polyester jersey knit. The logo is on the left chest pocket and there's a Carhartt Force® label on the left sleeve.
So, what does Force® mean, anyway? Sorry Padawan, it has nothing to do with Star Wars.
As mentioned, Carhartt has recently expanded into technology pieces. Force® is Carhartt's trademarked name for the combination of its FastDry® and Stain Breaker® technologies.
The FastDry® technology wicks away sweat or any other moisture for comfort, while the Stain Breaker® tech fights odors and/or releases stains.
Check out this short clip for a visual breakdown of the tech. Heads up: if you're not convinced by your own masculinity, prepare to be emasculated:
Alright, enough about what it is. What do we think of it?
Our model, Taylor, tested the tee as a base layer underneath the Shoreline Jacket and Sweatshirt, as well as by itself, like when he was chilling in the Airstream above.
We found the material to be really durable. The cotton/polyester blend is thick which also means it doesn't wrinkle easily. The material is slightly rough against the skin, and while it's not the most comfortable tee we've ever tried, it's comfortable enough overall.
The FastDry® technology is actually noticeable. Taylor wore the tee for a whole day of hiking and didn't break a sweat. In terms of fit, he's 5'11" and is wearing a small and he found it to fit nicely. It wasn't too tight and ran just right in length, and ditto for the sleeves.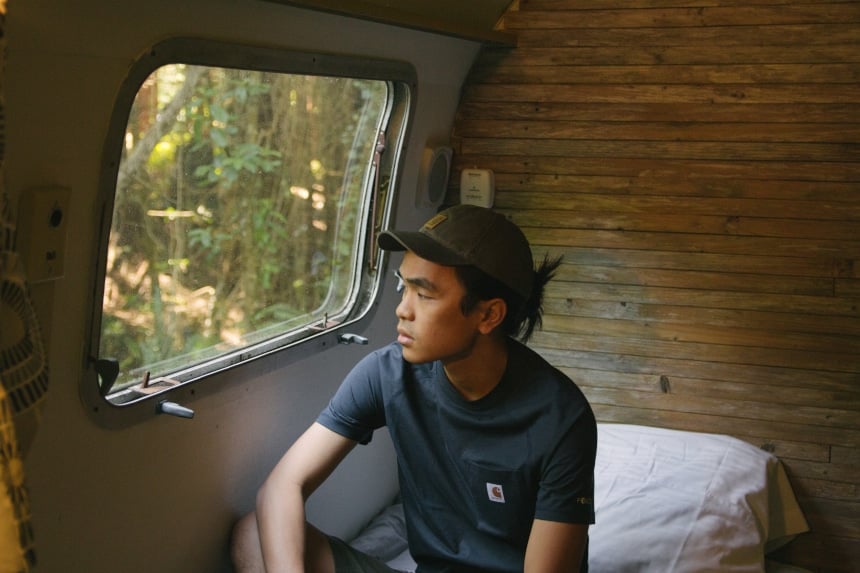 We like the simple style of it. The branding elements are minimal, yet tasteful. Overall, we dig the Delmont, and it's become an easy addition to Taylor's regular wardrobe.
Oh, do note that if you're used to Carhartt WIP sizes, this style does run one size larger.
---
Rugged Flex® Rigby Cargo Short
---
Another popular pick among seasoned Carhartt enthusiasts is the Rugged Flex® Rigby Cargo Short, which we picked up in color 'Tarmac'. Made from 8-ounce, 98% cotton, the shorts just look like they're designed with 'going about your business' in mind.
The other 2% is a spandex canvas and it's where the Rugged Flex® technology comes into play. The tech doesn't change the look, but it does make them noticeably more mobile, and a little slimmer fitting.
Check out this clip to learn more about Rugged Flex® (again, you've been warned—this one too is not for the faint of masculinity):
With an 11" inseam, these ran to the top of Taylor's knee at 5'11". The legs are a little longer than you'd generally see on modern, fashion-forward cargo shorts from other brands. But you're really buying these for function and durability over style.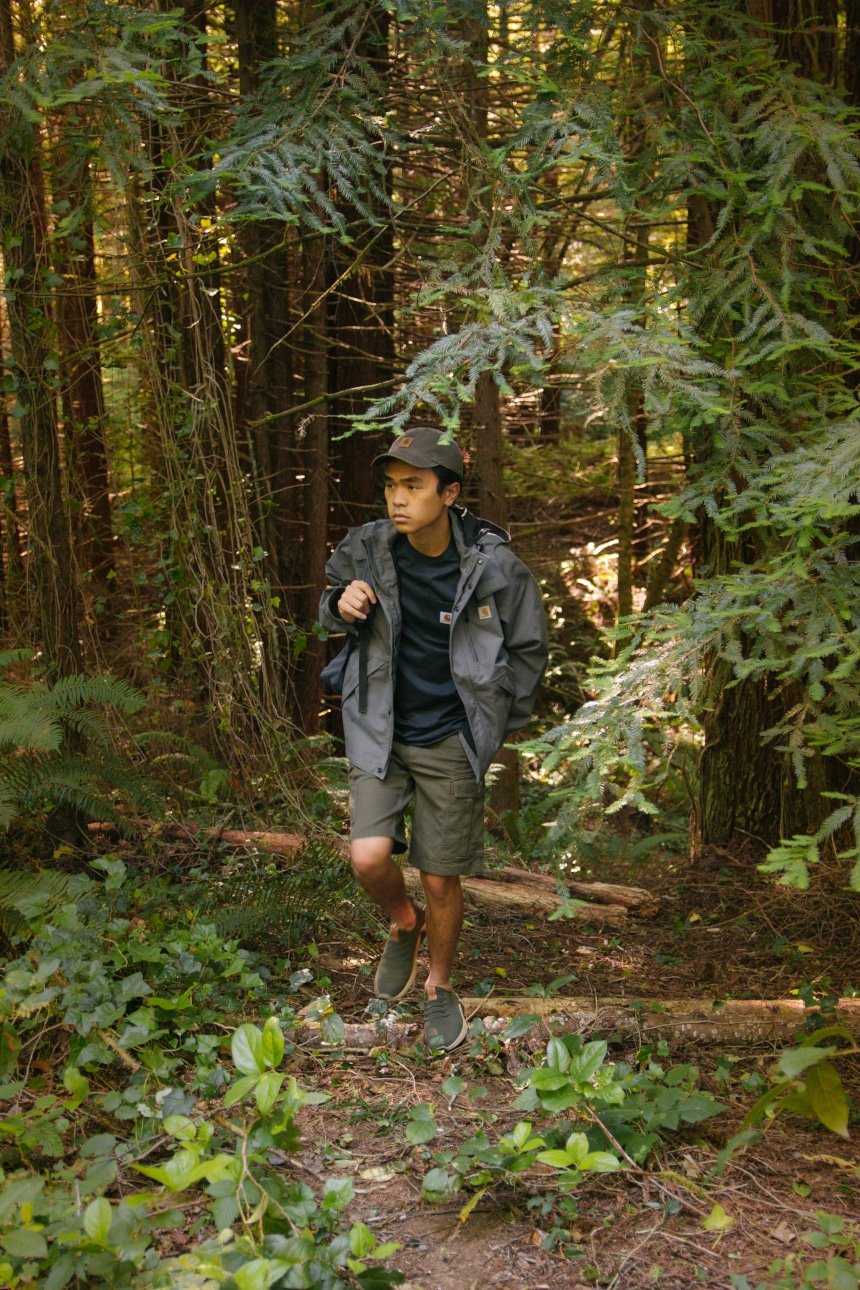 The long inseam allows for deeper pockets. There are two cargo pockets—one with a cell phone compartment, and the other a utility pocket—which is pretty handy for quick access. And here's an inside scoop. I'm told the pockets have recently been updated in the latest design to sit a little flatter for a little more subtlety.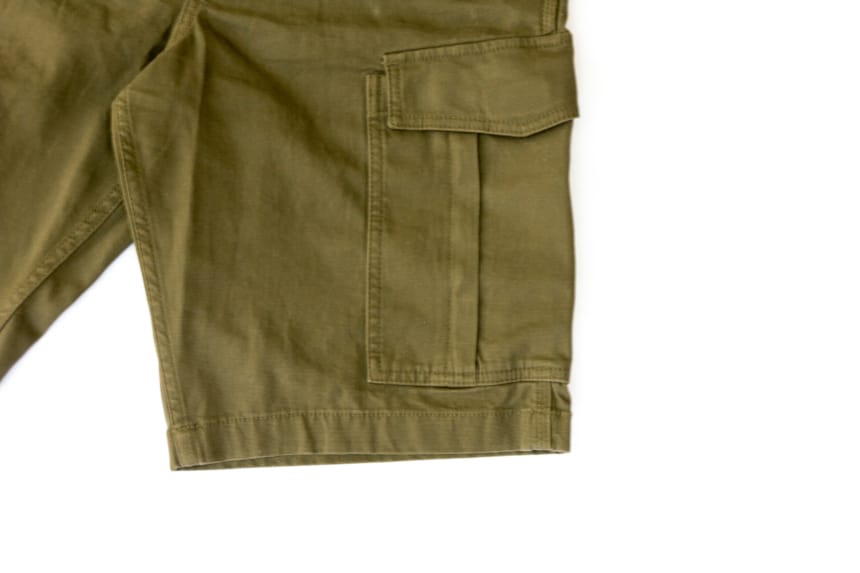 There are two side pockets and two back pockets, with the standard logo badge positioned above the back-right pocket.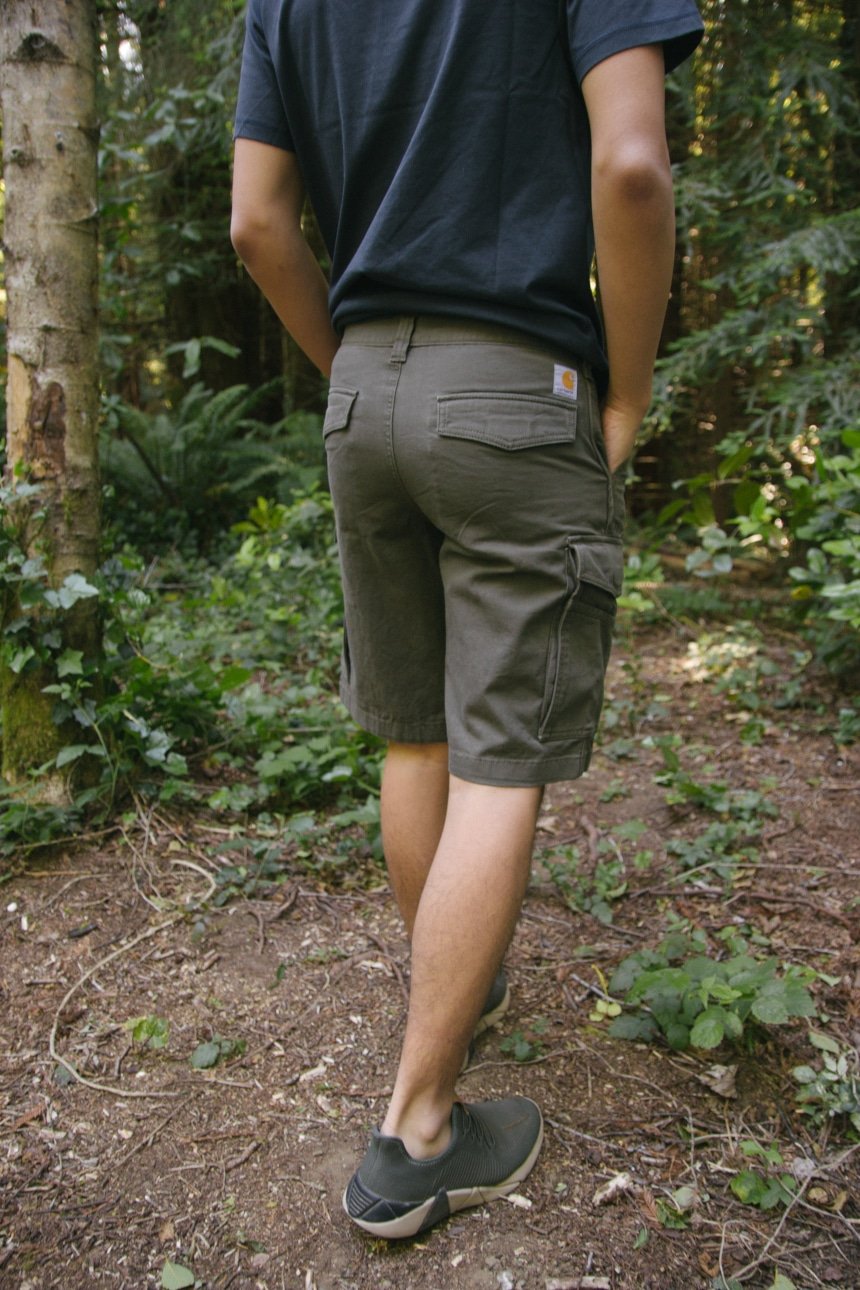 For cargo shorts, with their less obtrusive pockets, and slim fit (despite them officially being a 'relaxed fit') these don't look bad at all. But you should really only be wearing cargo shorts for a functional purpose, or for more casual settings, anyway.
You get six pockets with these, and we like that they've added the cell phone compartment and utility pocket. You do find yourself using them for their intended purpose—and the cargo pockets are easy to get in and out of.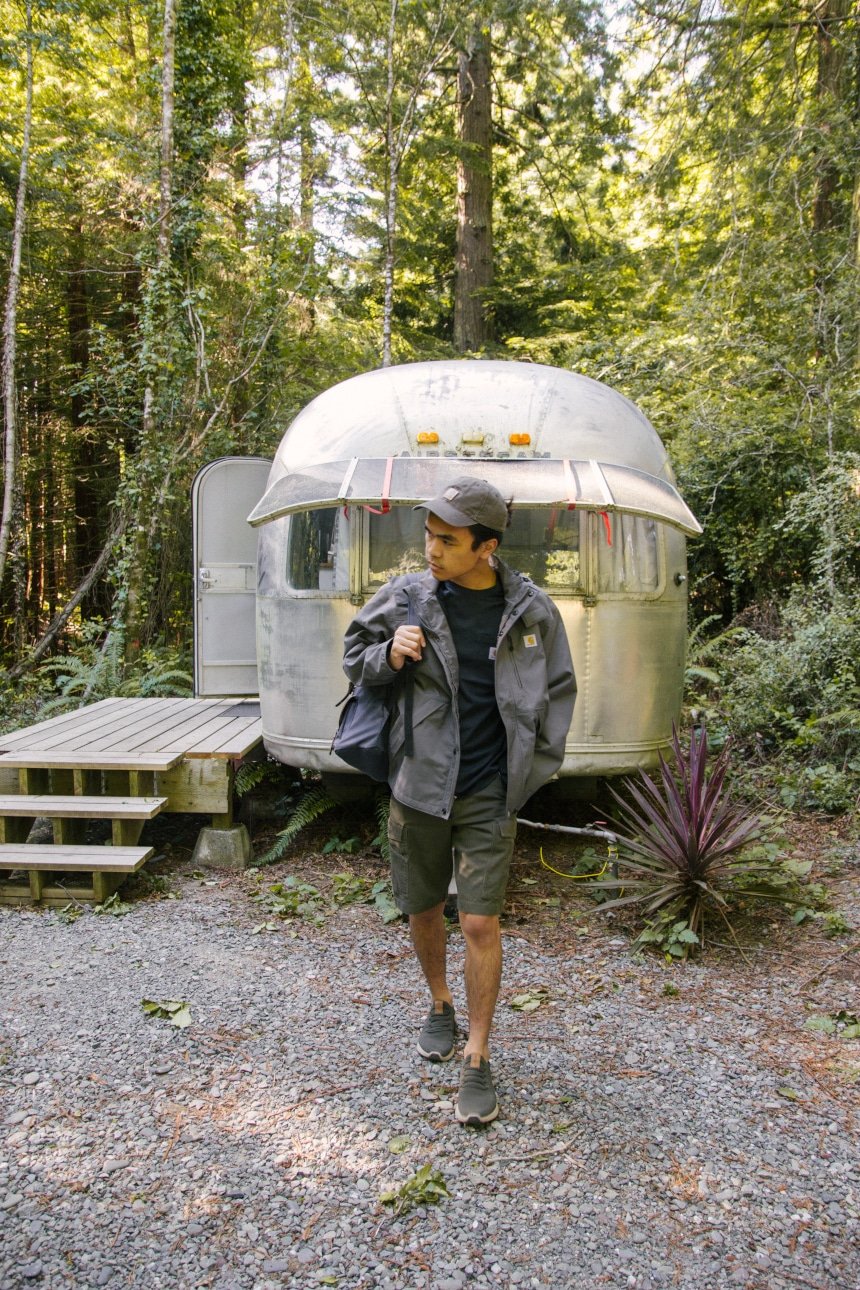 But where the Rigby scores top marks? Their durability and flexibility. The material has the toughness and thickness Carhartt are famous for, but they're not overly rigid. The spandex (or Rugged Flex® technology) gives them a little 'give' which we found to really add to the comfort, especially when hiking.
Overall, if you're in the market for a functional and comfortable pair of cargo shorts, you'd do pretty well to find a more durable pair than the Rigby, especially at this price point.
---
Rugged Flex® Rigby Dungaree
---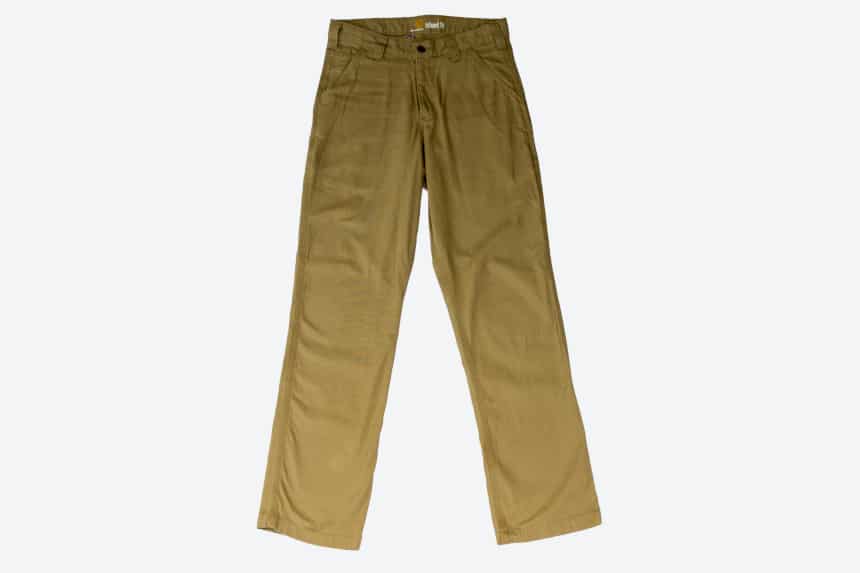 What do you get if you take the Rigby Cargo Short, make it into a straight leg pant and remove the cargo pockets?
You guessed it, you get the Rugged Flex® Rigby Dungaree.
Well, not quite. You also need to sew in a side pocket (Carhartt call them dungarees) for your phone, knife, tape measure, pencil, or whatever else you just have to carry around. Oh, and cut the side pockets deep.
With over 340 reviews on the Carhartt store, these are one of the brand's most popular pants.
Just like the Cargo Shorts, the Dungaree is also made in a relaxed fit and, of course, features the same 8-ounce, 98% cotton / 2% spandex canvas construction to give it its Rugged Flex® stretch. We opted for the Dark Khaki version.
As you might expect, we found these to be equally as durable as the Cargo Shorts, and the material to be of the same high quality. Even though there's of course extra length to the pants, they're still easy to move around in due to the 2% spandex (we even had Taylor doing squats on the beach to test).
Unfortunately, we did find them to run a little long and the fit to be a little baggy (we ordered 30×31). We were a little surprised by this given that the Cargo Shorts fit so well. But this will probably limit the amount of wear that Taylor will give them.
If you got the size right, we could definitely see these being great outdoor work pants. Despite being baggy for Taylor, we did find them to be comfortable and the side pocket is another handy feature for functionality.
And they feel like they'll last for about a decade.
(Heads up: Get 5% off Carhartt Pants until 09/29 by following the link below)
---
Shoreline Jacket
---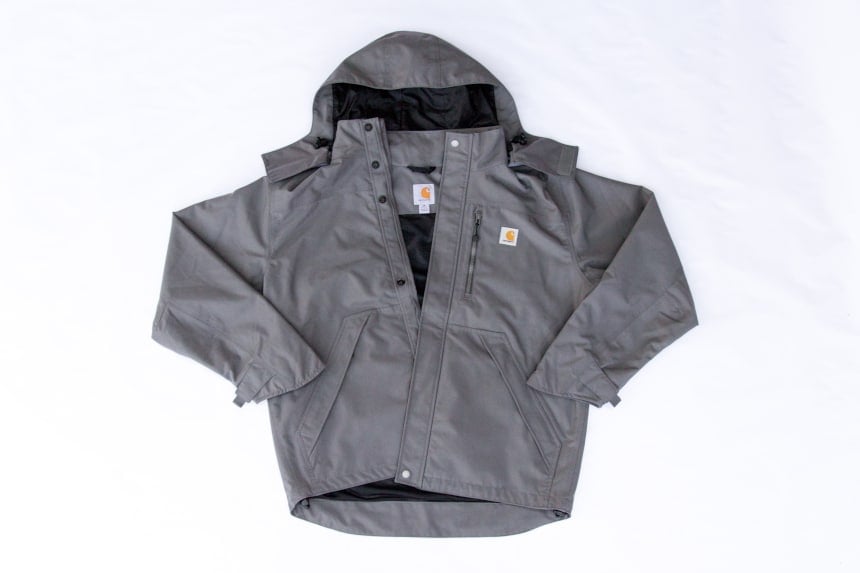 Next up is the Shoreline Jacket, Carhartt's bestselling rain jacket. We picked it up in color Gravel, which is pretty spot on as to what you'd think it looks like.
Crafted from 7.3-ounce, 100% nylon oxford shell, the Shoreline introduces another aptly named Carhartt tech to this review—Storm Defender®.
Have you ever been doing something physical outside while stuck in the rain, and you can still feel yourself sweating in your clothes?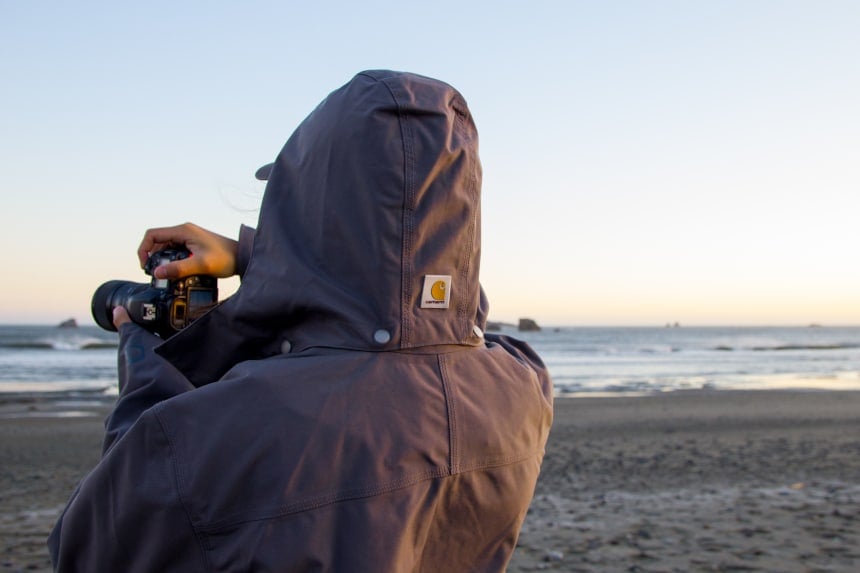 Carhartt's Storm Defender® technology claims to stop the rain from coming in, but lets sweat escape. The Shoreline is clearly built with this tech in mind with fully-tapered waterproof seams, full zip front with inner and outer storm flaps, and a polyester mesh lining in the body for breathability.
It also has a snap-on drawcord-adjustable hood with a visor (as Taylor is demonstrating above), and an elastic drawcord on the hem to keep you warm.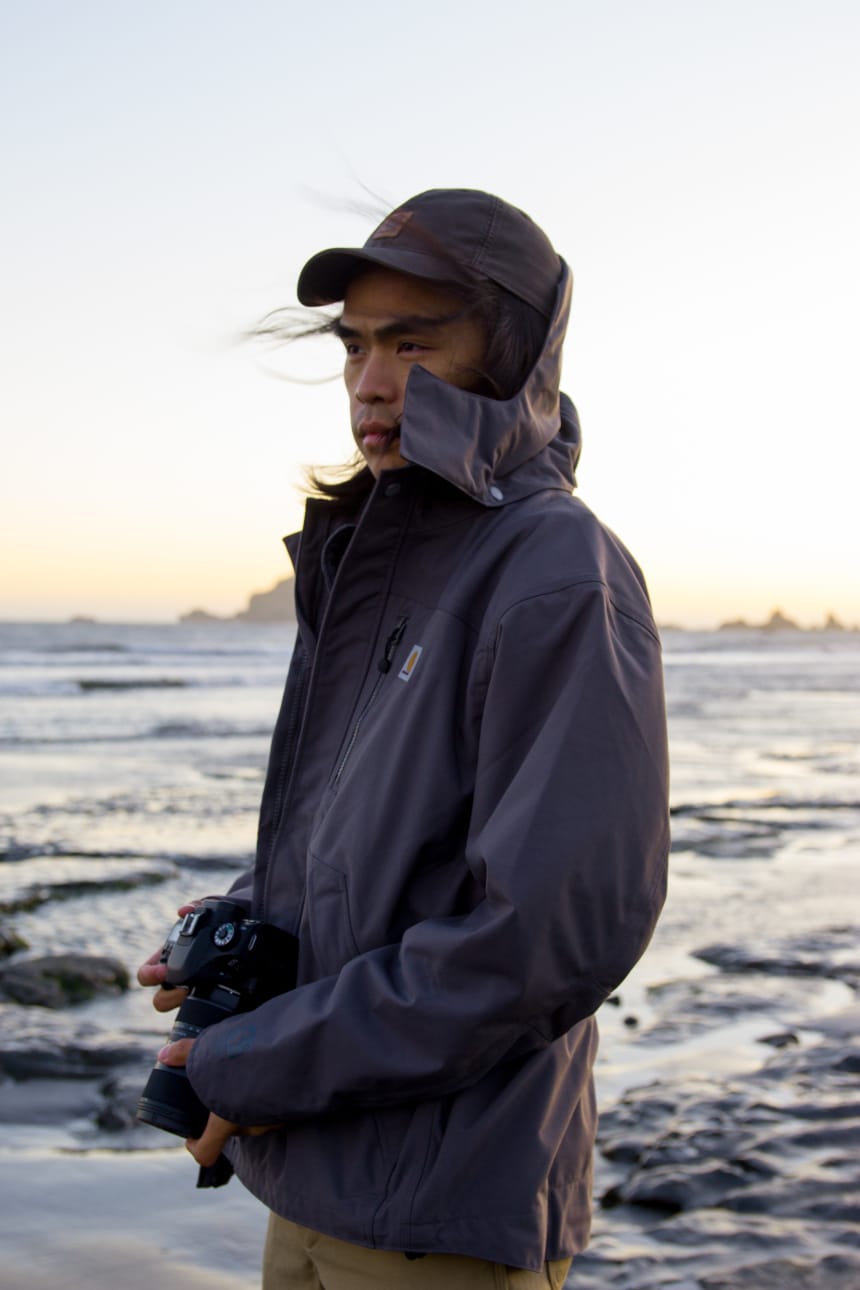 Inside the jacket are five pockets in total, including two inner pockets with hook-and-loop closures, two lower-front zip pockets with storm flaps, and a left-chest map pocket with a waterproof zip closure. Pretty handy.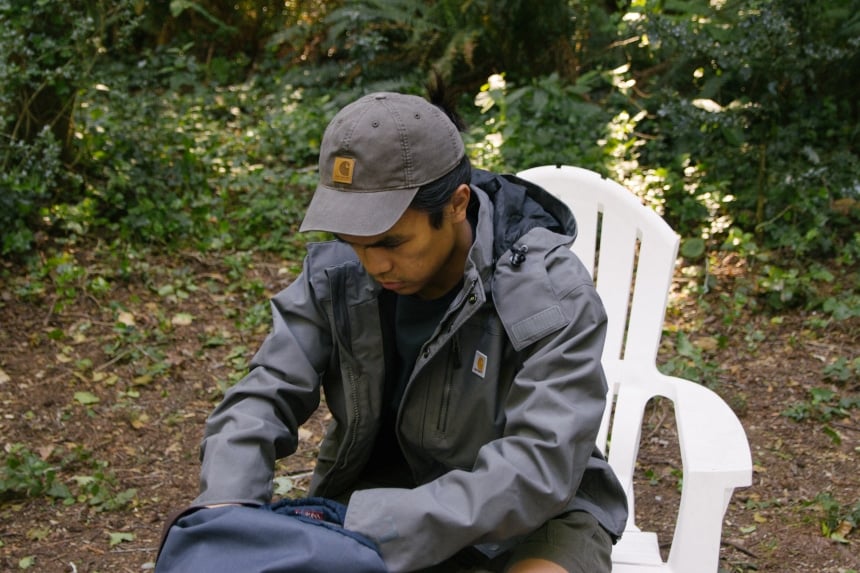 With it being windy and cold in places along the coastline, this jacket saw plenty of shoulder time on our team's trip.
In fact, it ended up being our favorite piece. It's incredibly durable and feels exactly how you want a midweight rain jacket to feel. With features like the elastic drawcord, the snap-on hood with visor, and the internal storm cuffs, this thing can keep you really warm and protected if you want it to.
Or you can simply wear it unzipped for some minor protection from the elements. Add the plethora of pockets to the mix and you've got yourself a really functional outdoor jacket here.
The medium size fit Taylor really well and we really like how it looks, especially with the stylishly placed logo on the back of the hood. I'm told this has already become Taylor's go-to outdoor jacket, and I'm not surprised. It's easily one of the best of its kind we've tried.
---
Rain Defender® Paxton Zip Mock Sweatshirt
---
Rounding out the list of Carhartt tops we tried is the Rain Defender® Paxton Zip Mock Sweatshirt in Carbon Heather.
If the Shoreline is for taking care of business in a rainstorm, the Paxton is for keeping you dry in a lighter shower. Made from a a heavyweight 13-ounce, 75% cotton / 25% polyester blend, the material is made to be durable water repellant. Enter the Rain Defender® tech, which forces water to bead up and roll off the material.
Here's one final manly Carhartt apparel tech video for you:
The sweatshirt also features a three-piece jersey-lined hood with drawcord and a mock neck collar with an antique-finish brass zipper.
It also has rib-knit cuffs and waist as an extra measure to keep the weather out, and a front handwarmer pocket with a hidden security pocket inside.
Given the cool temperatures at times, this sweatshirt was another welcome addition to the team's trip.
We like how thick and heavy it is. It's warm and comfortable and feels great against your skin. The medium fit Taylor well, but we found it to run a little baggy for him in the waist. But to be fair, this is by design. The Paxton is cut in a working man's fit to allow for a wide range of motion while on the job.
The stitch density is good around the seams, and the overall durability is high as we've come to expect from Carhartt. The zipper also feels nice and sturdy.
We didn't face rain on the trip, but we tried to simulate it with a water bottle to test the technology (how scientific of us, right?). The material does do a pretty good job of reppelling sprinkles of water, but we're yet to test this properly.
From the several reviews we've found, most have commented that it does do a good job of keeping you dry enough in light rain.
Overall, this is a nice and solid heavyweight sweatshirt and it ticks the major boxes that we look for in this category, and at a pretty competitive price.
---
Odessa Cap
---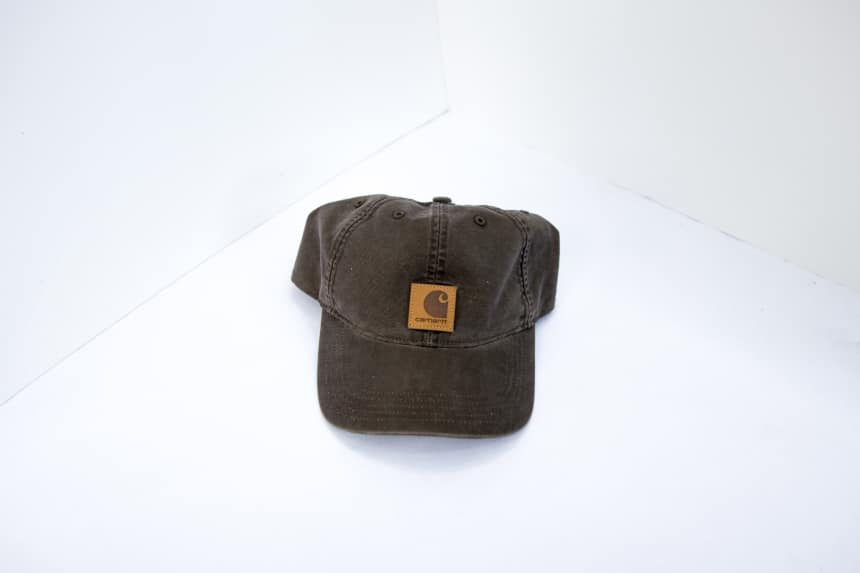 We didn't think this review would be complete without an accessory. So we've thrown the Odessa Cap into the ring (the color is 'Driftwood').
This cap boasts the same sweat-wicking and odor-fighting Force® technology that is a mainstay of the Delmont Tee, but it's made from 100% cotton washed canvas.
If you're paying close attention, you'll notice that Carhartt mixes and matches its materials and technologies depending on the intended functionality of each piece of gear.
The cap has a pre-curved visor and is an adjustable fit with a hook-and-loop closure. It's got a leatherette Carhartt label sewn front and center.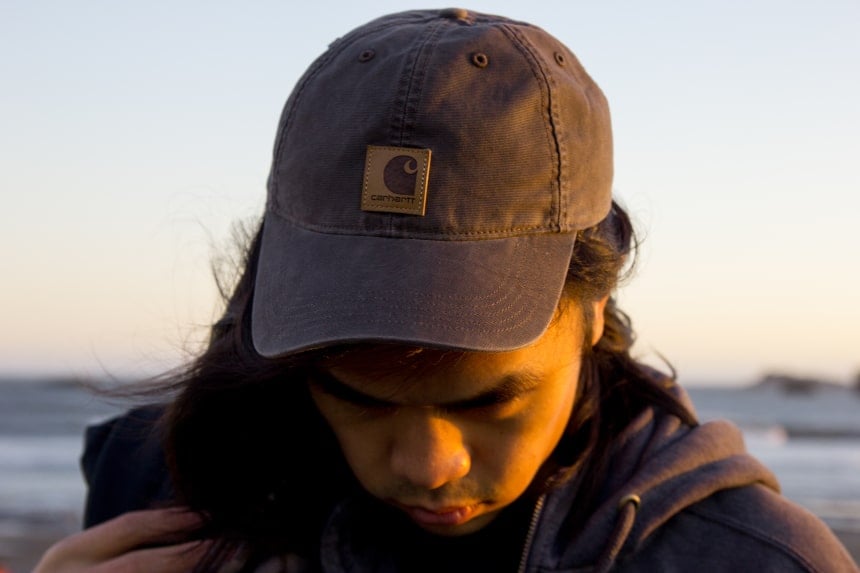 The 100% cotton canvas material feels great, and the tech works as advertised. Taylor said he's worn it pretty much every day since the shoot (which goes to show how much he likes it). Compared to other hats we've tried, Taylor hasn't noticed much sweat or odor after a few weeks, but we haven't tested this in any substantial way, so we can't definitively say it's the tech working.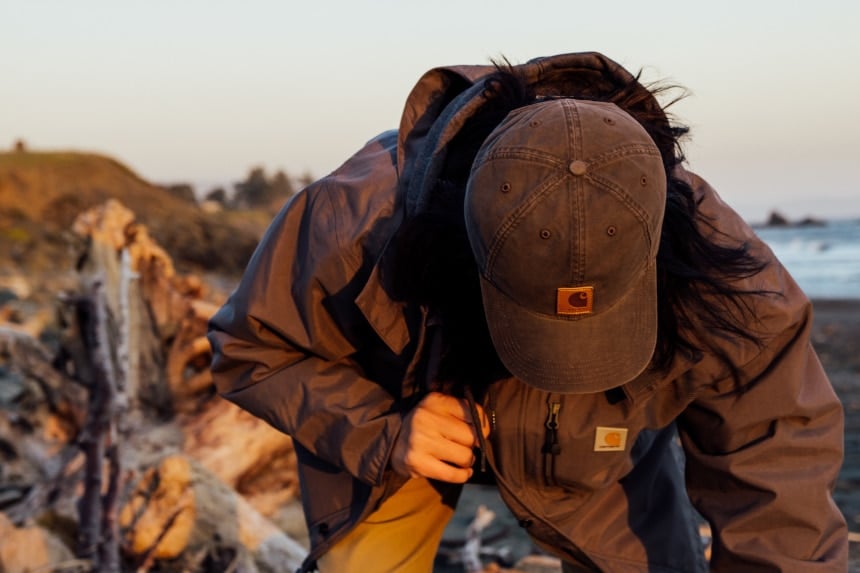 The fit is a little tight for Taylor, but he weirdly has an XXL head size and so he literally needs to visit other planets to find hats that fit him.
If you're a fan of the style and the Carhartt brand, we're confident that you won't be disappointed with this cap. It's stylish and comfortable, and surprisingly for the quality, quite affordable.
---
Our Overall Thoughts on Carhartt
---