Bluffworks Review: Is Their Suit Worth All The Hype?
Disclosure: This is a sponsored post containing affiliate links. We received compensation and courtesy product from Bluffworks in exchange for our honest review only. All opinions expressed here are our own. What's this?
Bluffworks created an unstructured suit and it's our new favorite travel item. The relaxed blazer, paired with trousers loaded with hidden pockets and secure zippers make this suit an indispensable addition to our wardrobe.
Imagine this for a moment:
You're in a small, candle-lit Roman trattoria. Your lover is sitting across from you. Wine glasses and half-eaten bowls of pasta crowd your table.
What are you wearing?
Probably something nice, right?
Well, what if I told you this mental image I painted for you was a scene from my honeymoon a few years ago? And what if I told you I was wearing a t-shirt with a hat-wearing alligator playing a saxophone and "New Orleans" written in comic-sans across the front?
Not exactly what you pictured, eh?
You were thinking something more like a simple, relaxed suit. A balance between formal and informal. Something sharp enough to look classy, but comfortable enough to jump on a vespa and ride into the night.
Yeah, well, I didn't know about Bluffworks at the time.
(Now you're saying "sure, you didn't know about Bluffworks. But why'd you wear a shirt with an alligator playing the sax?" Let's just say a giant bottle of olive oil exploded in my backpack and destroyed everything I owned. Except that stupid shirt.)
Bluffworks gave me the chance to try out their Gramercy suit, plus their dress-shirts, chinos, and tees.
I'm no stranger to performance menswear brands, so they know I won't go easy on them. Still, they were confident I'd love everything they sent along.
Read on to see if they were right.
---
What Is Bluffworks?
---
Bluffworks aim to make clothes that can fit in with the fashion of New York City, but hold up in the toughest travel scenarios.
Since 2012, the brand has been adding performance menswear staples to their collection. Bluffworks started their journey with performance chinos, but they offer so much more now.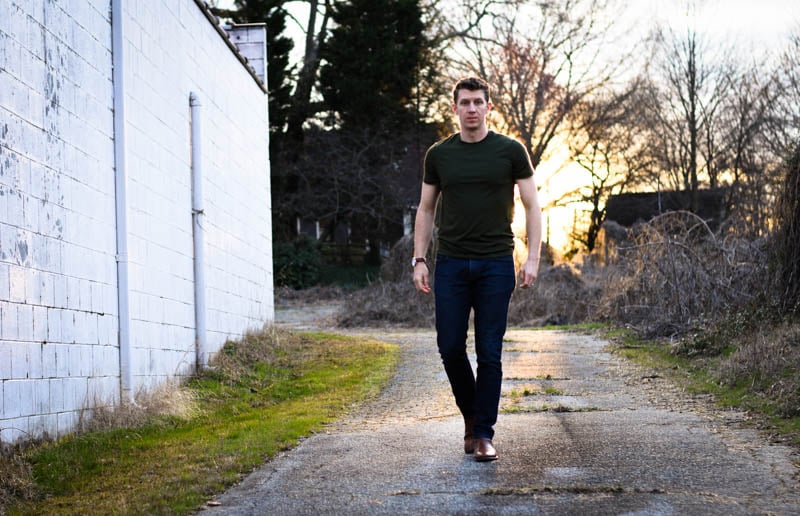 And it all started with the founder, Stefan Lobel. He'd spent a lot of time travelling throughout Asia, and after a few days soaking in regular cotton clothes, Stefan saw the appeal of performance fabrics.
Upon returning to NYC, Lobel had the desire to bring the sweat-wicking, stain-fighting, stretchy comfort of technical fabrics to everyday office attire.
So he designed a pair of pants.
They were a big hit—even gaining the backing of Shark Tank star Barbara Corcoran.
Since then, Bluffworks has added jeans, trousers, t-shirts, dress-shirts, polos, vests, jackets, and blazers. Oh yeah, and a whole women's line.
Like I said, my closet is filled with performance menswear brands that are aiming for a similar style as Bluffworks.
They were so confident in their clothes, they sent me some of their bestsellers to try:
I've been rocking all of it for three weeks and my verdict is in.
---
Bluffworks Suit Review
---
The first thing that jumped out at me when scrolling through the Bluffworks site is their blazer-trouser combo, which makes for an a la carte travel suit.
So when I say "Bluffworks Suit Review," I'm looking at the two components: the Gramercy Blazer, and the Gramercy Pants.
Gramercy Blazer Review
I was shocked to learn that the Gramercy Blazer is made almost entirely out of polyester (the thread and buttons aren't polyester, but that's it).
A lot of performance blazers on the market right now have a middle-aged ladies pant-suit vibe going on due to the stretchy fabric.
If I hadn't done research beforehand, I never would've been able to tell the Gramercy wasn't made with wool. The brand uses texturized polyester that both looks and feels rich.
Now, the Bluffworks blazer isn't as stretchy as other performance menswear brands out there, but it has the same wrinkle and stain resistance you'd expect to find. That's not a dig at Bluffworks by any means. You have the best parts of a performance suit, but it looks like its high-quality wool.
Unlike other dress-performance brands, the Gramercy blazer comes in suit sizing, rather than the generic 'small, medium, large' sizing. So if you take your measurements, you can expect to have a blazer that fits well right out of the box.
And I have to say that my blazer fits better than any of my other suit jackets (even though it doesn't cost as much, and I didn't alter it at all).
I picked up a slim cut which presents a neat silhouette without too much fabric sticking out toward the back. The blazer didn't create that strange "X" you see when you button the closures on a jacket that's too tight.
So the fit, look, and feel were all excellent. But there are a few extras that, in my mind, put the Gramercy blazer over the top if you travel often for work.
This is what my jacket looks like after I crumpled it into a ball and stuffed it into my backpack overnight.
You can see a few creases here and there (mainly in the right arm). If you did this with a wool suit, it'd be a disaster. I'd like to show a picture of that to illustrate, but I don't want to spend the time getting the suit pressed and redone. You just have to take my word for it.
Also, check out this nifty hidden pocket.
This is the perfect storage place for your passport or extra cash when you're travelling. If you're worried about thieves or pickpockets, they all know about the money belt. But they don't know about the Bluffworks secret pocket. Stay one step ahead.
Gramercy Pants Review
The Gramercy pants use the same rich material as the blazer, and while Bluffworks sells them separately, buying both gives you a complete travel suit.
Again, the pants come in two different styles: regular, and tailored (slim). I got the tailored fit, and they were nearly perfect.
The fit is excellent around my waist and through my thigh, but I have a small issue with the width of the leg-opening.
I typically like more taper below my knee than the Gramercy pants have, so I'm going to have that altered.
But that brings me to my favorite part of this suit: it fits well enough to wear right out of the box, but to get it to fit perfectly, I just need to go get one of the cheapest, simplest alterations done.
Never have I had a suit-buying experience where there weren't at least three different alterations that needed to be done to have it look tailored.
And if you feel you need more secure pockets, these pants have you covered. I'm hesitant to say how many pockets the pants have. I feel like I discover a new pocket every time I try them on.
But at my last count, there were seven pockets, three of them zippered with heavy-duty YKK hardware.
These pockets create a very slight bulging around the hips, but it's hardly noticeable unless you know to look for it. Otherwise, the designers have done an excellent job in adding security features while keeping a modern silhouette.
---
Bluffworks Chino and Shirts Review
---
The suit may be Bluffworks most popular offering, but it's not the only thing the brand makes. I also had a look at their shirts and chinos.
Ascender Chinos Review
In the same way that the Bluffworks suit can pass for wool, you'd have a hard time noticing the difference between the Ascender chinos and standard cotton chinos.
While they have a bit of "swoosh" in the leg, which is a slight downside for all technical fabrics, these chinos are built to go the distance.
The gusseted crotch eliminates the main reason I don't wear chinos—I feel like I'm sitting on a tightrope all day. Not the case with the Ascender. Overall, these fit well in the waist and through the thigh. Again, I'll probably narrow the taper below the knee by a half-inch, but that's my preference.
These chinos win the "William Barton Award for Sneakiest Pocket." (Trust me, it's a thing.)
Not only do they have the same seven pockets (with three zippers) as found on the Gramercy pants, but they also have this hidden gem:
No pickpocket will find that unless they literally steal your pants right off you.
Bluffworks offers the Ascender in a variety of great colors, including your standard khaki, navy, and grey. They also offer a mars red, a unique gold, and these Boulevard green chinos.
I'm feeling the green, white, and yellow combo this year (I'm calling it early—that's the spring and summer 2020 color combo of choice), so I decided on the Boulevard green.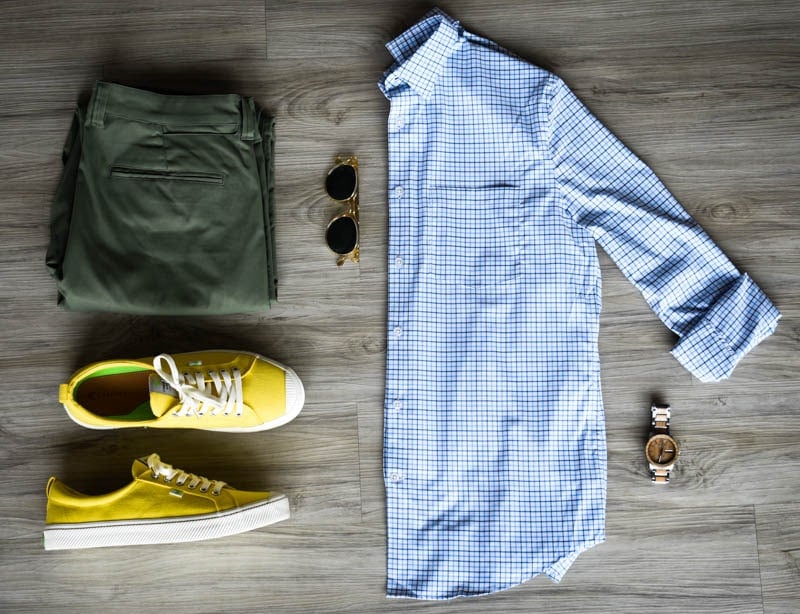 One thing I love about technical fabrics is that they don't lose color easily. It will take up to 10x as many washes until it fades as cotton does. For that reason, these chinos will probably look brand new in six months, even after wearing them every week.

Meridian Dress Shirt Review
I also picked up a Meridian dress shirt in Highland Grey Check.
I have a few other performance dress shirts that have a similar pattern, but this one is the most interesting to me. I like that the shirt includes brass collar stays—as some of us know, a collar stay is one of those items that only the best-dressed people in the room know about. It's one of the small details that keeps you looking sharp.
The fabric of the shirt is comfortable and doesn't get itchy like some other brands I've tried. I haven't spilled hot sauce on it yet, so I can't vouch for its stain fighting capabilities, though I'll take Bluffworks at their word.
The Meridian can be tucked or untucked, so depending on your preferred style, you can go either way. Paired with the Gramercy suit, I stay tucked. But when I wear the Meridian with jeans or my Ascender chinos, I usually go untucked (but as you can see from the pictures, it looks great tucked, too).
Threshold T-Shirt Review
Yes, I have been getting to the gym more often. Thank you for noticing.
If you're like me and you rely heavily on your casual wardrobe, a premium tee will elevate your style. I'm not saying that Bluffworks makes the best t-shirt out there—you can find amazing options from a few different brands—but the Threshold feels like it was made specifically to make me look more buff than I am.
So it's my favorite.
I wear casual clothes a lot more than business-casual or office attire. So t-shirts, polos, and oxfords are my mainstays.
While I've known for years that investing in a few quality items goes much further than buying a lot of crap, for some reason I hadn't applied that logic to t-shirts.
But over the past year, I've picked up three or four premium quality t-shirts. And let me tell you—it's worth it.
Premium t-shirts have that "bulking" effect (on me and a lot of guys I see out and about), which is why I won't ever buy another cheap 12-pack bundle shirt.
I still have bargain bundle shirts that have been sitting at the bottom of my drawer for years. Yes, they were cheaper, but I get more value out of my premium shirts.
---
My Overall Thoughts on Bluffworks
---