5 Best Chelsea Boots for Men in 2020: The Thinking Man's Boot
Disclosure: This post is sponsored by Moral Code and contains affiliate links. What's this?
I remember standing in a Banana Republic one day, staring at a pair of Chelsea boots up on the wall.
I turned to my wife and said, "I don't know if I'm ready."
She looked at me. "What does that even mean?"
See, I'd never owned a pair of Chelsea's before—I was stuck on the cap toe lace up boot style. I wasn't sure I was ready to step my style game up.
"Quit being an idiot," she said, gently. "Get the boots already and let's go." Ah, I remember the twinkle in her eye.
Well, I got the boots.
And I've been wearing Chelsea boots probably four to five days a week ever since.
In my humble opinion, they're the best shoe a guy can wear. You can find a sleek dressy pair that works well with a suit, or you can get a rounded toe version that pairs like a charm with all things casual.
Really, it's hard to go wrong with a Chelsea boot. They're sophisticated and masculine. They make a t-shirt and jeans combo look classy. What's not to love?
In honor of my favorite boot, I put together a list of the five best Chelsea boots out there right now.
Warning: if you're not ready to catch the Chelsea boot fever, stop reading now.
---
What Are Chelsea Boots?
---
Chelsea boots are traditionally slim, form-fitting ankle boots with gored elastic sides. They don't have laces and are easy to slip on and off.
They became wildly popular back in the '60s as bands like The Beatles and The Rolling Stones were seen wearing them often.
But while bowl cuts are a thing of the past, the Chelsea boots remains popular.
A lot of guys (myself included) love the style because it pairs well in a huge variety of outfits. Boxier style Chelsea's, like those from Moral Code, look fantastic under jeans and chinos. Dressier styles, like those from M.Gemi or Thursday, will pop with a suit or under more formal trousers.
In any case, Chelsea boots are an excellent way to elevate your casual style. As I said earlier, they can make jeans and a t-shirt look like an outfit masterpiece.
Originally, these boots were all made with leather soles, but over time, more modern updates became available.
Personally, I wear Chelsea boots too often to stick with the leather sole. I prefer a full rubber sole, or at least a rubber and leather hybrid. You'll see that preference throughout the list, too, so keep that in mind as you peruse your options.
I take good care of my shoes, but I do a lot of pavement pounding and my shoes have a limited lifespan because of it. For me, rubber soled shoes are a better investment (unless I'm shopping for a formal occasion. In that case, a leather sole is the better choice).
---
3 Things to Consider When Buying Chelsea Boots
---
1. What's the occasion?
I always buy my shoes based on what sort of occasion I'm looking to dress for. For instance, I'll ask myself: do I want a pair of shoes that are more casual, but I can pair with a suit? In that case, I'd look for a slimmer profiled boot.
Or: did I just get a new bomber jacket that looks awesome with a pair of jeans but needs something sleek to bring the outfit together? A relaxed, durable Chelsea might be the trick.
A slightly boxier style like Moral Code's Lawry is my top-choice if you're looking to fill out your casual shoe rack. While I love them for their ability to elevate a pair of jeans, they're not the best look when paired with a suit.
For that, I'd choose a slimmer, more European style Chelsea boot.
2. How's the leather?
With most Chelsea boots, there's no brogue pattern, no cap-toe—nothing to hide behind. If the shoe isn't made with high-quality leather, it can lose its shape quickly and cease to give you that effortless elegance.
I can vouch for the selections on this list (yep, even the budget pick). None of these choices will do that toe indent thing that looks floppy and terrible. You know what I'm talking about.
3. Will it last?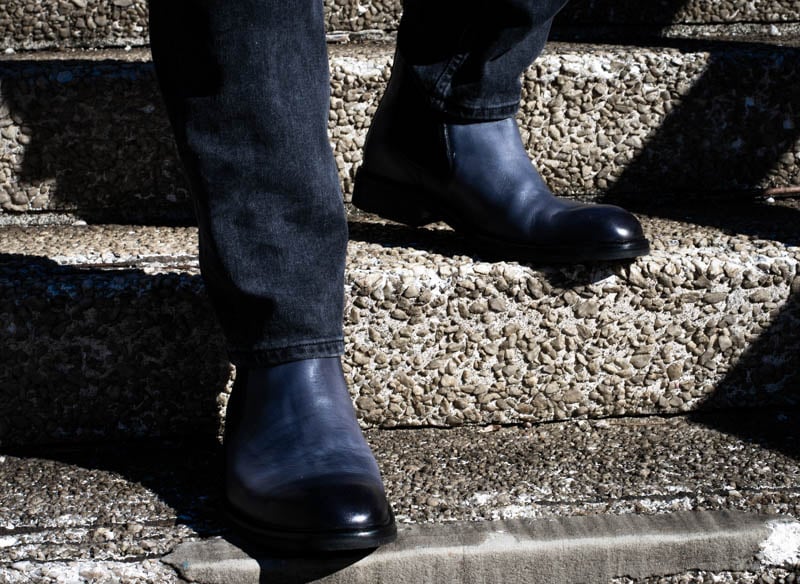 If there's one thing I've learned over the past 10 years, it's that there's no point in buying cheap clothes that don't last. When I was in my early 20's, I'd buy the cheapest stuff I could get away with and still look good.
The problem is, after you wash your clothes or go for a long walk in your shoes, it looks terrible.
I remember the last cheap pair of boots I bought. I stood in a hot parking lot in LA and literally watched my shoes change shape. They were never the same. And I never bought cheap again.
Don't be afraid to put some cash on the table here. Good leather boots are an investment. And if you care for them well, they'll last you for many fashionable years.
---
3 Ways to Wear Chelsea Boots
---
---
The 5 Best Chelsea Boots for Men in 2020
---